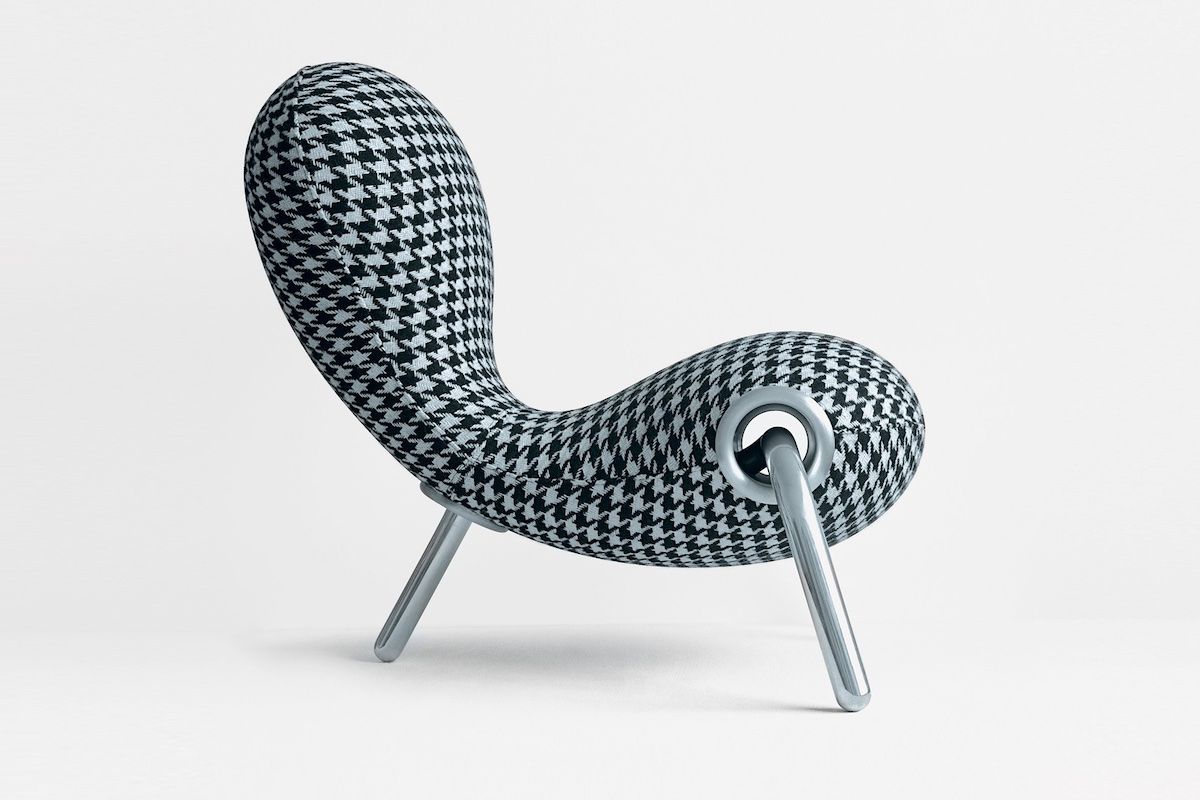 Marc Newson is one of today's most celebrated designers. He is famous for his fluid, blob like designs, such as the Lockheed Lounge chair, the Orgone chair, the Embryo chair and the Felt chair, all of which have a seemingly timeless futuristic quality to them. This is what for at least half a century people have imagined the future will look like. There is of course a competing modernist vision of the future, which celebrates right angles, but if you were to ask people to describe a blob like metallic shape, chances are they'd refer to it as futuristic.
There's something very 60s or 70s about many of Marc Newson's designs too, in his shapes and in his choice of colours, such as metallic, yellow, orange and Granny Smith green. His chairs are also reminiscent of Eero Saarinen's Tulip Chair (1955) and Arne Jacobsen's Swan Chair (1958), which you can see in the Design Museum's semi-permanent collection.
The problem with design exhibitions is that you can hardly ever try out the designs. Are those chairs as comfortable to sit in as they are visually pleasing to look at? How well do the cutlery and kitchenware handle? The one exception was the Skybed business class seat Marc Newson has designed for Qantas (2003). According to Newson existing business class seats are just a collection of elements that have been put together. For his design Newson took the functions and restraints that are the basis for all these various elements. He then designed a seat from the ground up in which all these functions form a fluid whole. The result is indeed well thought out and aesthetically pleasing. Its cocoon shape offers a sense of privacy. It features a shoe cupboard and a small box for spectacles, a water bottle holder, a power outlet for a laptop and enough adjustment controls to keep you busy for at least one hour. Unfortunately at 6 feet 6.5 inches or 199.4 cm at full extension, it is a fraction too short for me.
The centrepiece of the exhibition is the Kelvin 40 concept plane, which Newson designed at the invitation of the Fondation Cartier in Paris. It is a two-seater private airplane. Although it is a concept plane, Newson went to great lengths to ensure that it could fly. Various computer simulations were performed on the initial designs and the final model was even tested in a wind tunnel. The Kelvin 40 epitomizes the idea of a private jet. It is to a plane what fantasy sports cars are to the average mid-size sedan. Even if you don't care much for design, the Kelvin 40 will make your heart beat faster.  It is so cool, it is below zero.
Marc Newson is at the Design Museum, London until 30 January 2005.