Fashion exhibitions are always difficult, especially exhibitions of contemporary fashion. Quite often photos of the collection can be viewed online and sometimes even a video of the catwalk show, so you can see how the clothes move. If you want to see the actual clothes you can just walk into Harvey Nichols, the Galeries Lafayette or any other high end department store or of course the designer's own boutique if he or she has one. So what added value does an exhibition have?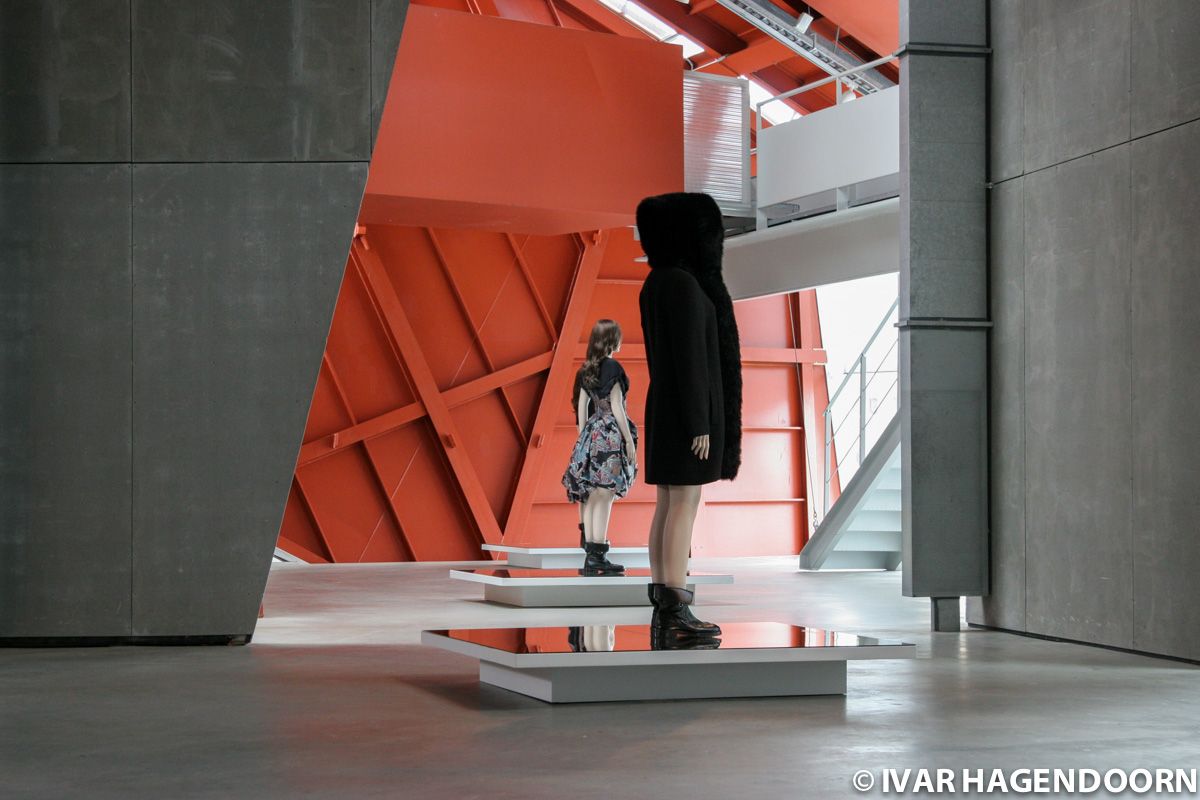 Many fashion designers themselves, when given the opportunity to do an exhibition, also grapple with this question. One option is to ask a famous scenographer to design the exhibition, as in the Giorgio Armani Robert Wilson show at the Guggenheim Museum and the Royal Academy in London. Another option is to do something experimental that would otherwise be difficult to realize. Martin Margiela collaborated with a microbiologist for an exhibition at the Boymans van Beuningen Museum in Rotterdam, The Netherlands. The clothes were hung outside. Each cloth was treated with a different bacteria, which over time and under the influence of moist and sun caused the clothes to discolour.
At the Hussein Chalayan retrospective at the Groninger Museum you can find the obvious models, photos, excerpts from videos of several collections and the installations that Hussein Chalayan often makes to accompany a collection, such as the furniture that folds into suitcases of his fall winter 2000 collection. Also on show is the futuristic short film Place to Passage that Halayan made in 2003 about a woman who travels inside a capsule from London to Istanbul and back.
The most interesting part of the exhibition is the setting Hussein Chalayan created in the Coop Himmelb(l)au pavilion of the Groninger Museum. I loved the reflections in the mirrors on which the mannequins are standing. It reminded me of one of those mash-ups made popular by Radio Soulwax and DJ Danger Mouse. I therefore called the photo series Hussein Chalayan vs Coop Himmelb(l)au.
Hussein Chalayan is at the Groninger Museum, Groningen, The Netherlands until 4 September 2005.