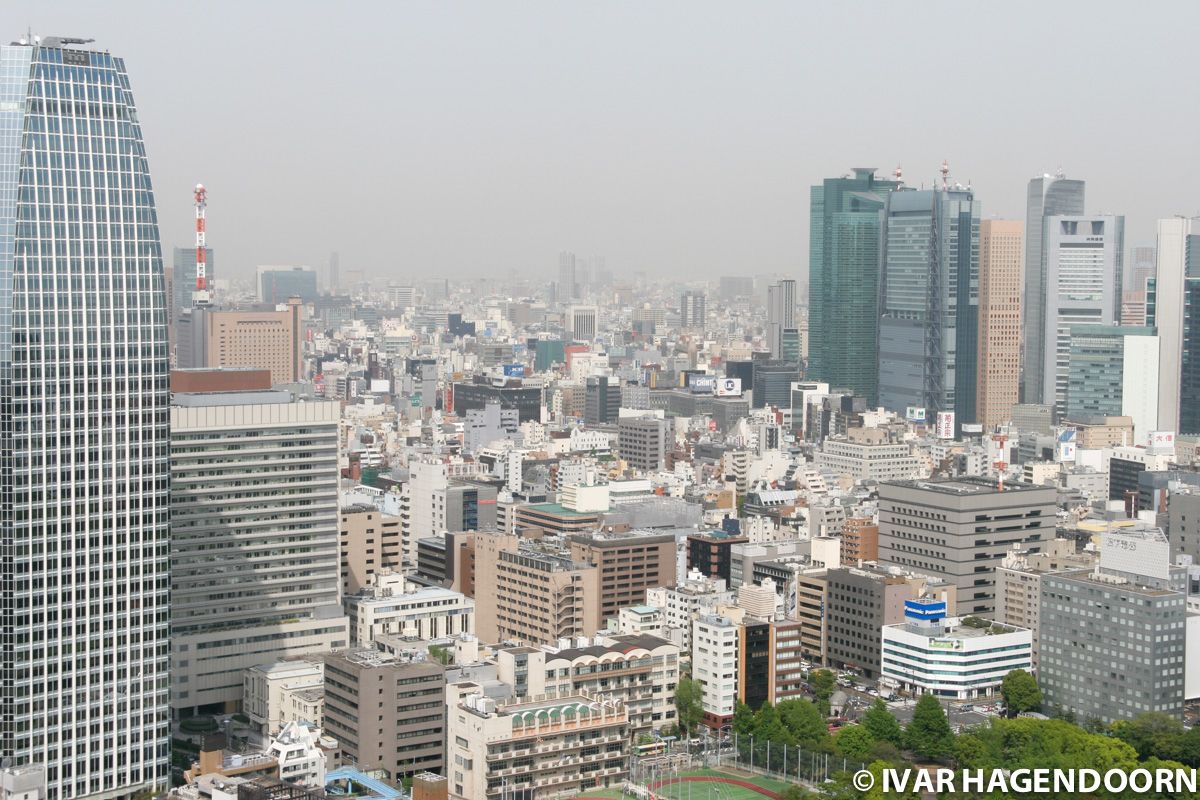 Global Cities is a pared down version of the main exhibition at last year's Venice Architecture Biennale. As in Venice, the exhibition has been curated by Richard Burdett. One of the exhibition's premises is the assertion that, in 2007, for the first time in history, one out of every two people on earth will be living in a city. I don't quite understand why this is presented as significant, especially since the exhibition doesn't really propose a definition of a city, but of course I may have overlooked it. The exhibition features many more statistics, which always make me wonder what they are based on and how they are calculated. This may be a natural reflex for someone with a quantitative background.
The exhibition focuses on the downside of megacities such as Mumbai, Shanghai and Mexico City: congestion, pollution, the fact that most people live in slums etc. However, I didn't read anywhere that cities are also efficient, although some more than others, and that the alternative of scattering the cities' inhabitants across the earth is perhaps even less attractive. Intensive agriculture for example is far more efficient than if everyone were to have his or her own vegetable garden.
The Tate being an art gallery the curators commissioned a number of artists and architects to submit a work that engages with the city. Installation was too big a word for the contribution by Rem Koolhaas, which was little more than a poster, as they call it in academia, of the lecture he gave in Rotterdam last year, on the occasion of the China Contemporary exhibition. But at least it was interesting, which cannot be said of the other commissions. Zaha Hadid's black and white video animation looked completely out of place amid the images of slums and suburban sprawl.
All of this aside, if you're interested in urbanism and the plight of cities, Global Cities has a lot to offer in terms of photos and videos from megacities around the world. One of the most interesting videos is a documentary by Paromita Vohra, Q2P (2006) about public ladies rooms in India. It is disturbing to learn that many girls and women in India try not to drink during the day so as not to have to go to the toilet. As a consequence many girls and women develop diseases that could be prevented if only there were enough clean public lavatories in schools, restaurants, public buildings and on the street. Paromita Vohra had the insight and the courage to make a documentary about this issue. And if this is an issue in India presumably it is an issue in other cities as well, even in Europe and the US.
The tone of the exhibition is serious and you would almost forget that cities can also be a source of adventure, discovery and joy. It was therefore a delight to see the video installation by Yang Zhenzhong, Let's Puff (2002).
Global Cities is at Tate Modern, London until 27 August 2007.