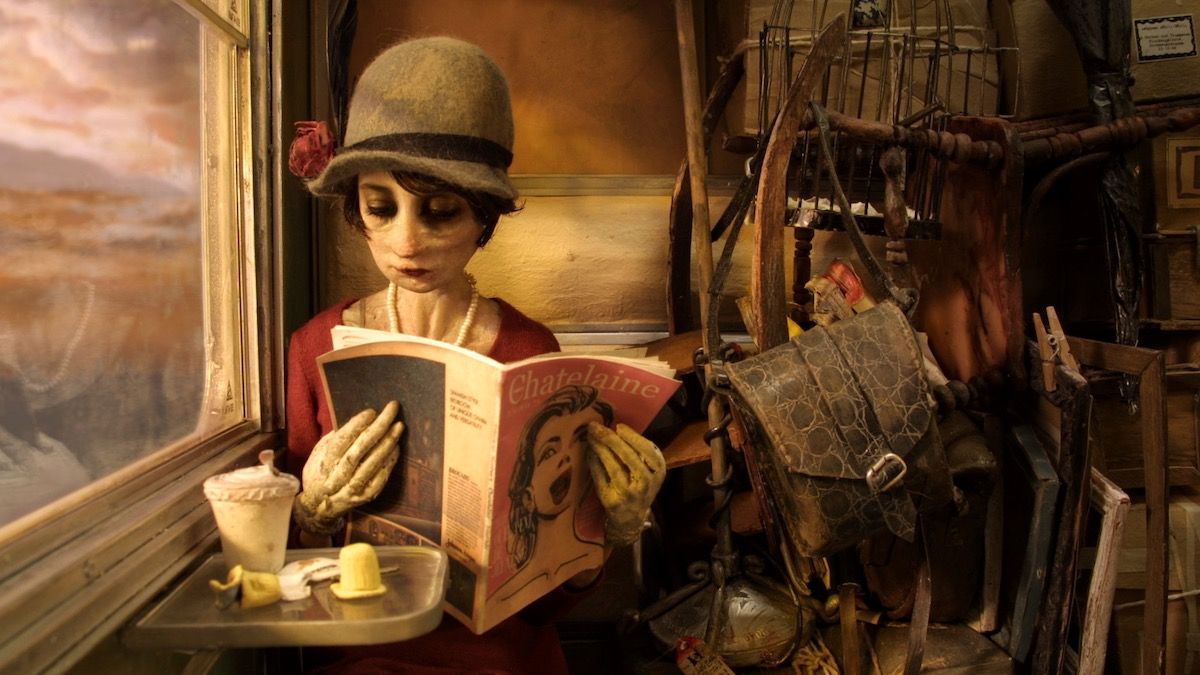 As with every edition of the Holland Animation Film Festival there were too many films. And as with every edition the films ranged from hilarious, touching and stunning to boring, tedious and outright dreadful. This year one of the winners fell into the latter category, as far as I'm concerned.
One of my personal favourites was the intensely moving and visually stunning Madame Tutli-Putli by Chris Lavis and Maciek Szcerbowski. Packed with all her earthly belongings Madame Tutli-Putli embarks on a train where she is confronted with her own memories and demons. Gradually the train ride transforms into an allegorical journey. It reminded me of The Tunnel, a story by Friedrich Dürrenmatt I had to read in secondary school. I think I was the only person in class who understood it and I was asked by the teacher to explain it to the rest of the class. Madame Tutli-Putli touches something deep down inside of me and for that I'm grateful to the film makers, strange as it may sound.
Muto by Blu won the award for best non-narrative short. It's a fascinating compilation of murals and graffiti come to life. It was also one of my favourites.
Another favourite was Life Line by Tomek Ducki, in which figures made of gearwheels skate on a rails until the line ends. The paths of the characters almost cross but never meet. An amazing visual metaphor of life. I also LOVED the music video for The Velvet Cell by Thomas Hicks. I guess I'm in a dark mood.
One of the things I like about animation is the wide range of styles and techniques and the fact that, since the making of an animation film is often a laborious process, the artist has to put everything in just a few minutes. This in turn means that in many films the focus is on a single idea. And of course a lot of animation films are surreal, moving and funny. Funny as in Même les pigeons vont au paradis (Even pigeons go to heaven) by Samuel Tourneux and Oktapodi by Julien Bocabeille, Olivi Chanioux and Francois Xavier. And talking of technique, Yours Truly by Osbert Parker uses a fascinating blend of animation and black and white film.
I also greatly enjoyed Bernie's doll by Yann Jouette and Shkizein by Jérémy Clapin about a man who, after being struck by a meteorite, has to adapt to living ninety-one centimeters from himself. Idiots and Angels, the latest film by Bill Plympton, is also interesting and hilarious.