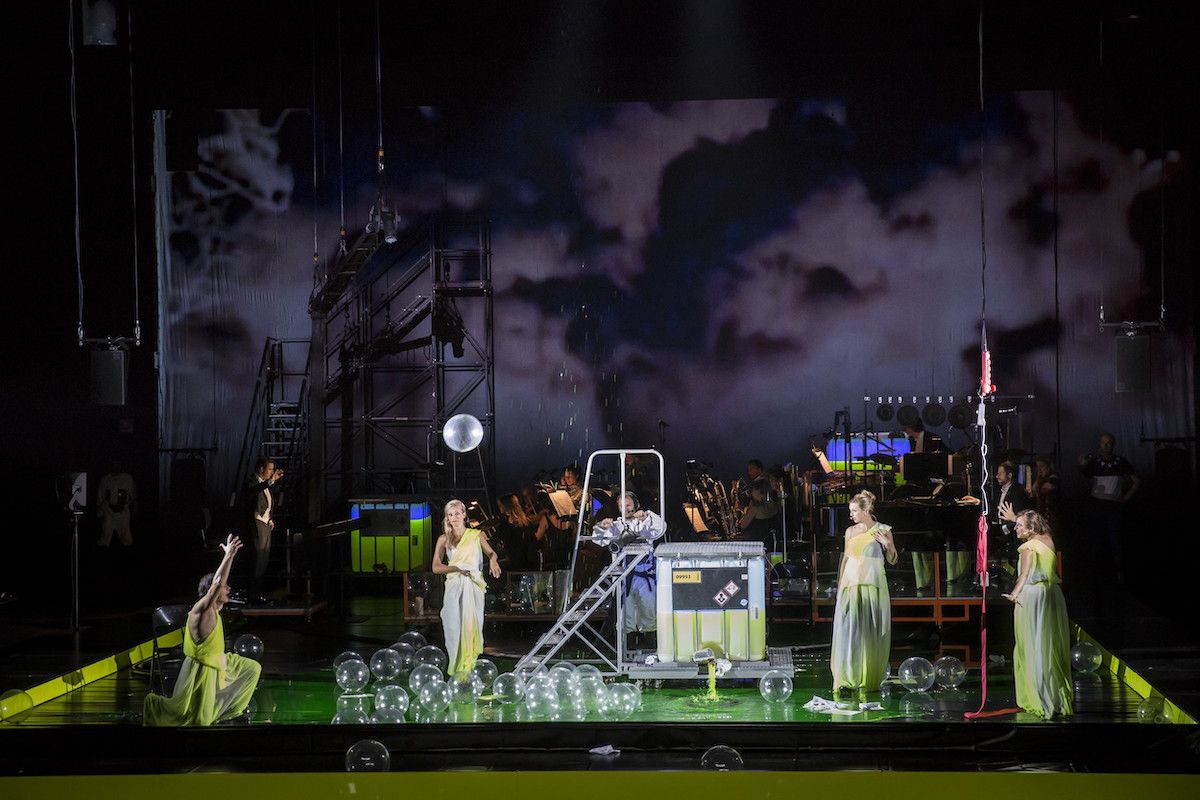 After reading a raving review of Kein Licht, an opera by Philipe Manoury, with texts by Elfriede Jelinek and directed by Nicolas Stemann I was eager to see it. I was unable to get a ticket for the final performance during the Ruhrtrienale, but I was lucky to still be able to get a first balcony ticket for a Saturday performance at the Opéra Comique in Paris. Now that I've seen it I'm left with that familiar feeling of happiness and sadness. It was funny, moving, interesting and inspiring and then it was all over. I wish I could replay it. I wish I remembered more of what I'd seen and heard.
Kein Licht is the kind of music theatre production that is only conceivable in Germany or France and then only in the form of a co-production between various theatres and festivals and with additional support from numerous sponsors and donors. It was more than a year in the making, required months of rehearsals and was performed about two dozen times.
Kein Licht (2011/2012/2017) is based on three texts by Elfriede Jelinek: Kein Licht (2011), Epilog? (2012) and Der Einzige, sein Eigentum (Hello darkness, my old friend) (2017), which was written at the request of director Nicolas Stemann for the premiere of Kein Licht. The first two texts deal with the aftermath of the Fukushima nuclear disaster. The third text is a sarcastic commentary on Donald Trump's decision to pull out of the Paris climate agreement and his intention to modernize the U.S. nuclear arsenal.
The theatrical work of Elfriede Jelinek is a collage of words and sentences without an obvious narrative structure. In the case of Kein Licht Jelinek makes the despair and the confusion following the Fukushima disaster felt. When I state that, following the Fukushima nuclear disaster, despair and confusion reigned, you take it for a fact, but you don't feel it. Elfriede Jelinek's texts are performative in that the confusion that you experience upon hearing or reading them is intended.
Nicolas Stemann has directed many recent works by Elfriede Jelinek and in Kein Licht he succeeds once again in bringing her texts to life. With the stage design Stemann has pulled out all the stops.
Unfortunately, the music was the weakest link of the entire production. Apart from the electronically enhanced trumpet solo in the opening scene I found it largely forgettable. The instrumental sections and the arias, while beautifully sung, were little more than background music.
Caroline Peters and Nicolas Bormann were great as the two speakers. But the star of the show was Cheeky, a little dog whose howling and barking was electronically altered to mesmerizing effect, creating lamenting, haunting sounds.
Links
Trailer for Kein Licht.
Excerpt from Kein Licht starring Cheeky.