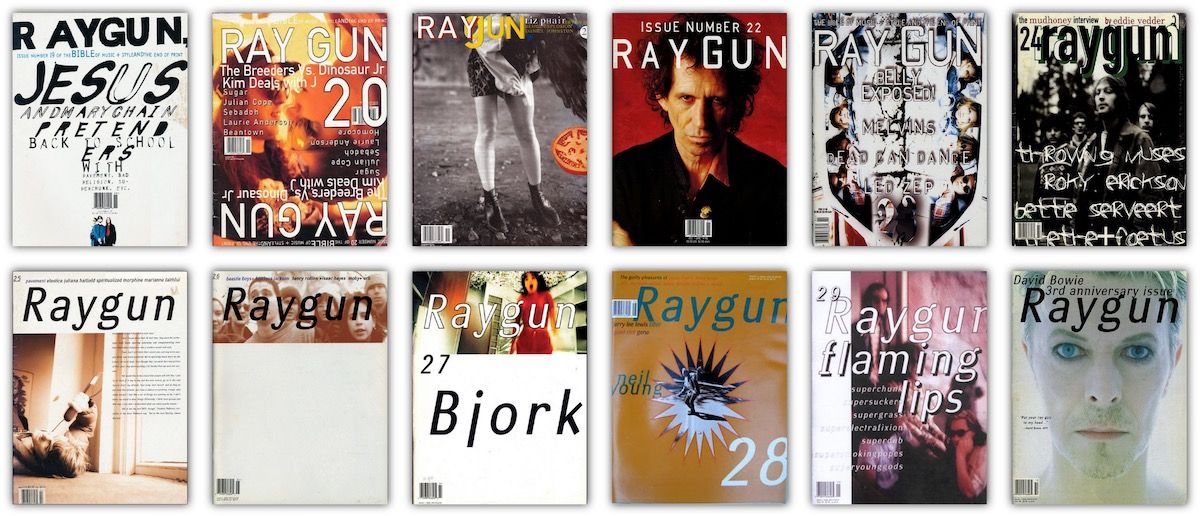 I first discovered RAYGUN in 1994, while browsing magazines at a bookstore in London, where I was at university. At the time I was into deconstruction and RAYGUN seemed to be the typographic and graphic design equivalent of deconstruction in architecture.
RAYGUN was founded in 1992 in Malibu, Los Angeles by Marvin Scott Jarrett with the intention of creating a platform for the kind of alternative music and street style that wasn't covered by other magazines.
Led by art director David Carson RAYGUN quickly established itself as one of the most innovative magazines around. There was no strict format and each issue was essentially different. RAYGUN's anarchic treatment of typography, page layout, graphics and photography still stands out to this day.
RAYGUN came to drive the culture that it had set out to document. It featured photography by Corinne Day, Rankin and Wolfgang Tillmans, contributions by the likes of Spike Jonze and articles on the Smashing Pumpkins, Nine Inch Nails, Sonic Youth, The Pixies, Radiohead, Pj Harvey and other era defining bands and artists.
David Carson left the magazine after three years in 1995. In 1997, Chris Ashworth and Amanda Simmons took over as art directors, putting the magazine once more at the forefront of graphic design. In January 2000, Jarrett shut the magazine down. The times had changed and the magazine had lost its edge. Jarrett went on to co-found Nylon, with a totally different visual style.
RAYGUN: The Bible of Music & Style, compiles the best covers, fashion shoots and interviews from its 8-year history. Even though some content now looks like a testament to the mid 90s, the spirit of experimentation that speaks from nearly every page I still find inspiring.
Brian Eno once said that the first Velvet Underground record sold only 30,000 copies in its first five years, but that everyone who bought one of those 30,000 copies started a band. It's the same with RAYGUN: everyone who saw it wanted to become a graphic designer. Heck, for some time even I aspired to be a graphic designer. I installed Adobe Photoshop and Illustrator on my computer and even designed some flyers. The first instalments of my website were also indebted to David Carson and Chris Ashworth.