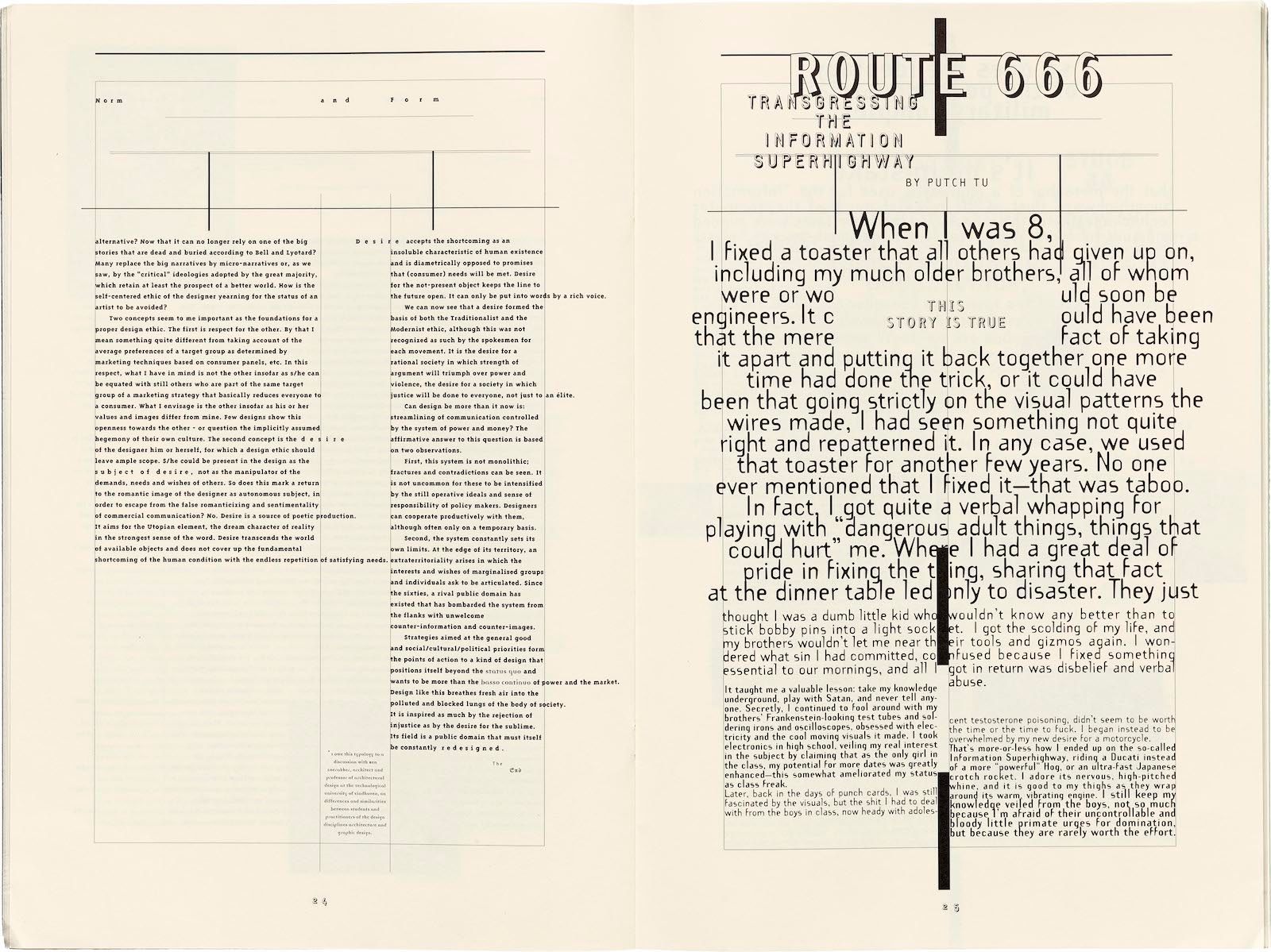 I recently discovered that the full run of legendary graphic design magazine Emigre is now available online at the Letterform Archive. This brought back a lot of memories. Browsing the back issues gave me the same jolt of inspiration as when I first discovered Emigre and the designers featured in its pages.
When I was a student I couldn't afford to buy either Emigre or any of the other cutting edge magazines that had to be imported from the US. And so I would browse whatever was available at either Zwemmer's at London's Charing Cross Road and Athenaeum News Centre at the Spui in Amsterdam. I have to confess that I never actually read any of the articles, I merely admired the page layouts, which I still do.
It's interesting to notice that Emigre actually started out in the 1980s as a cut and paste gonzo literary magazine and only later became one of the hotbeds of deconstruction in graphic design. The issues from the early and mid 90s, which is when I discovered the magazine, are still the ones that I like best and that stand out as landmarks in graphic design. In the spirit of deconstruction Rudy Vanderlans, Zuzana Licko and their co-designers questioned every design and typography assumption while exploring the limits of the software that made it all possible.
It's a shame that this kind of experimentation is now largely a thing of the past. Perhaps now that the back issues are available online new generations of designers can be inspired by the sense of freedom that springs from these pages.
If you're reading this you might be wondering how to square my love for this type of work with the design of this, my website, which I designed myself. I might write about this more at length in a future post, but the short answer is that each of the pages in Emigre, Raygun, Blah blah blah (does anyone remember that one?) had a custom layout, whereas a template for a webpage should work for all pages, that's why it's a template, duhh. Of course, HTML5 and javascript offer endless possibilities for experimentation, but if you want to design something that works on multiple pages you have to learn how to love grids.