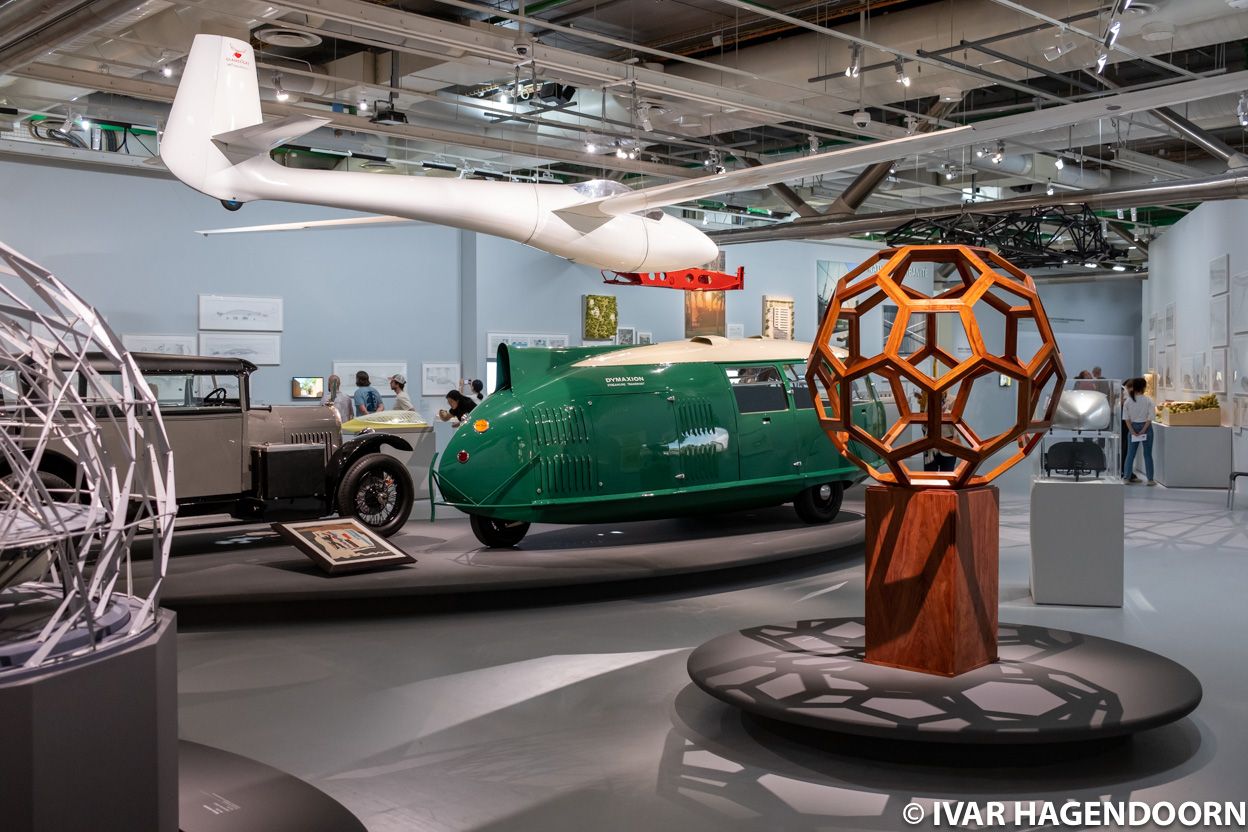 Norman Foster is one of today's most prolific and most highly regarded architects. He has designed many notable projects such as Hong Kong International Airport, the restoration of the Reichstag in Berlin, the Millennium Bridge and 30 St Mary Axe (aka the Gherkin) in London, the Hearst Tower in New York and more recently the corporate headquarters of Apple.
Norman Foster is one of the principle architects associated with what has become known as high-tech architecture. Its main characteristics are the incorporation of advanced construction techniques into the building design, which is clearly visible in Foster's redevelopment of the Great Court of the British Museum, the use of open floor plans and flexible interiors, of which Foster's HSBC Building in Hong Kong is a prime example, and the use of building materials typically associated with structural elements for the building's exterior, such as aluminium and steel, which can be seen in many of Foster's designs.
The large-scale Norman Foster retrospective currently on show at the Centre Pompidou marks the first time that Gallery 1 on the top floor has been solely dedicated to an architect. The Centre Pompidou was, of course, designed by Renzo Piano and Richard Rogers, with whom Norman Foster set up a practice, together with Su Brumwell and Georgie and Wendy Cheesman, as Team 4 in 1963. By 1967, Team 4 had split up and Foster and Wendy Cheesman, whom Foster had married in 1964, founded a new practice, Foster Associates, which would grow into what is currently known as Foster + Partners.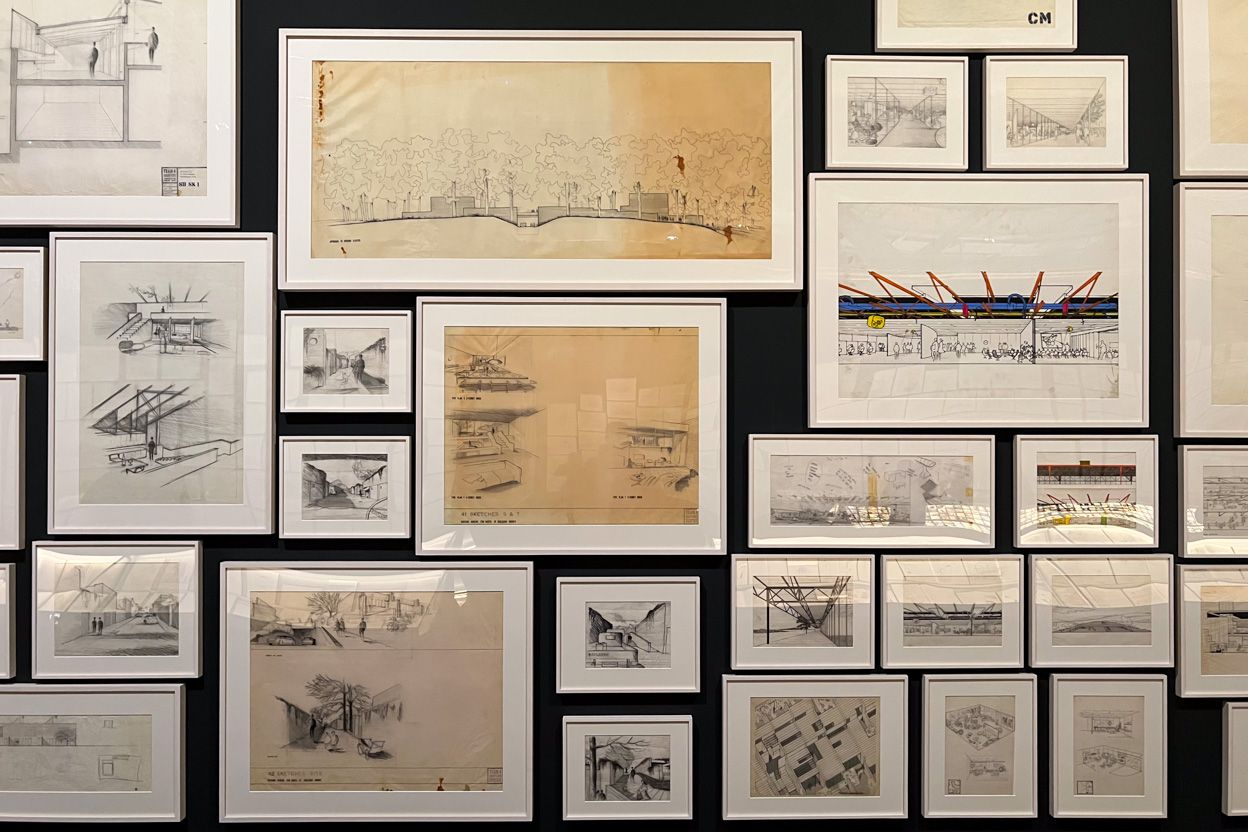 The exhibition opens with a drawing gallery, the walls covered from floor to ceiling, well almost, with drawings that track Foster's career from the 1960s to the present day. In 1975 Foster started the habit of carrying an A4 notebook for sketching and writing, a selection of which are displayed in the room's central cabinets. Even though it's a bit overwhelming, this is the type of presentation that I like: an overload of information. I could easily have spent an hour or longer in this room alone.
The main space is divided into seven segments: 'Nature and Urbanity', 'Skin and Bones', 'Vertical City', 'History and Tradition', 'Planning and Place', 'Networks and Mobilities', and 'Future perspectives'.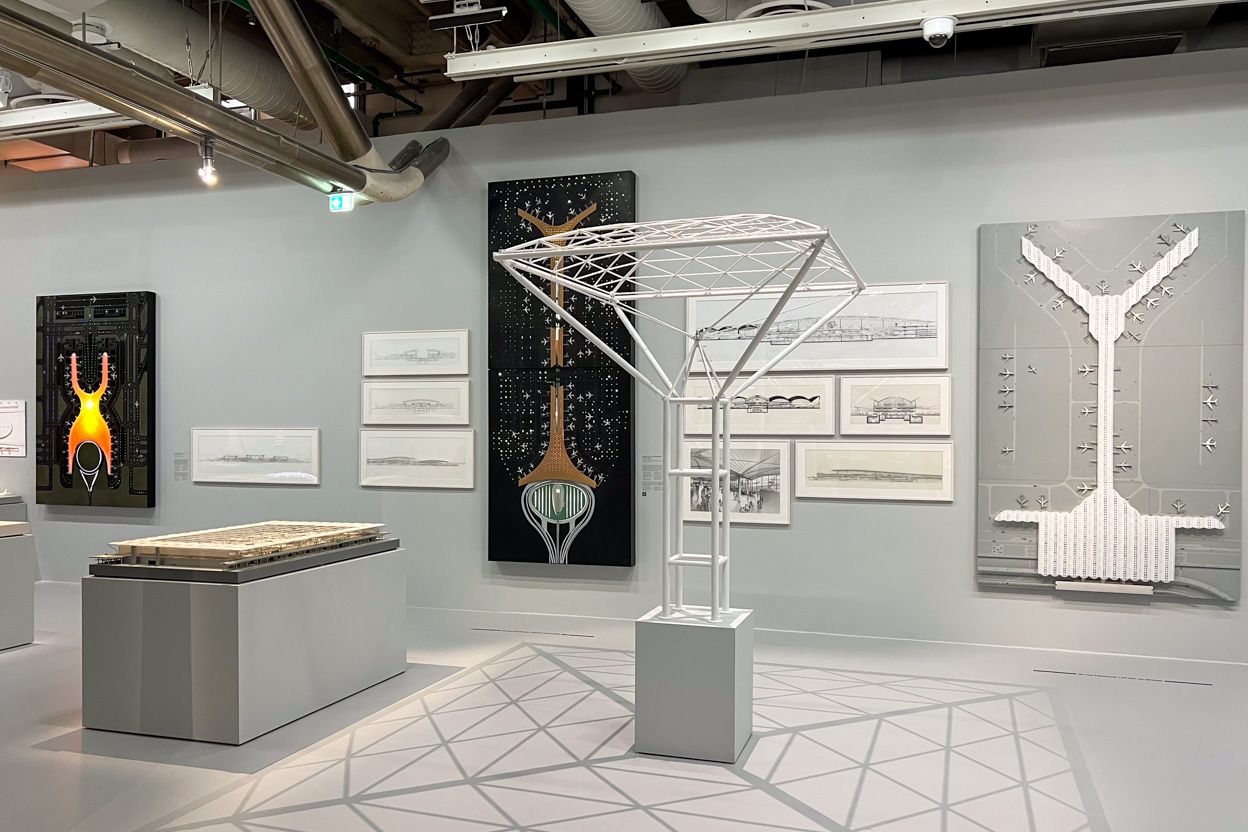 I knew that Foster + Partners is one of today's largest architecture practices, but even so I was surprised to learn that the firm currently employs 1,800 people. I was equally surprised to learn that Norman Foster himself still creates sketches for each major commission, which a team of senior and junior associates then elaborates.
The exhibition showcases more than 120 projects from Foster's six-decade-long career. There are many large and highly detailed models, which must have taken a huge amount of work to build. Some even include model desks, chairs and little puppets. Surprisingly there are only few photos of the finished projects. I found it fascinating to see the various shapes Foster considered for the dome of the Reichstag. If you're ever in Berlin I highly recommend visiting the Reichstag, the staircase is pretty awesome. So is the staircase of London City Hall by the way, another building designed by Foster + Partners. Judging by the model the central staircase inside Bloomberg's European headquarters in London is also pretty cool.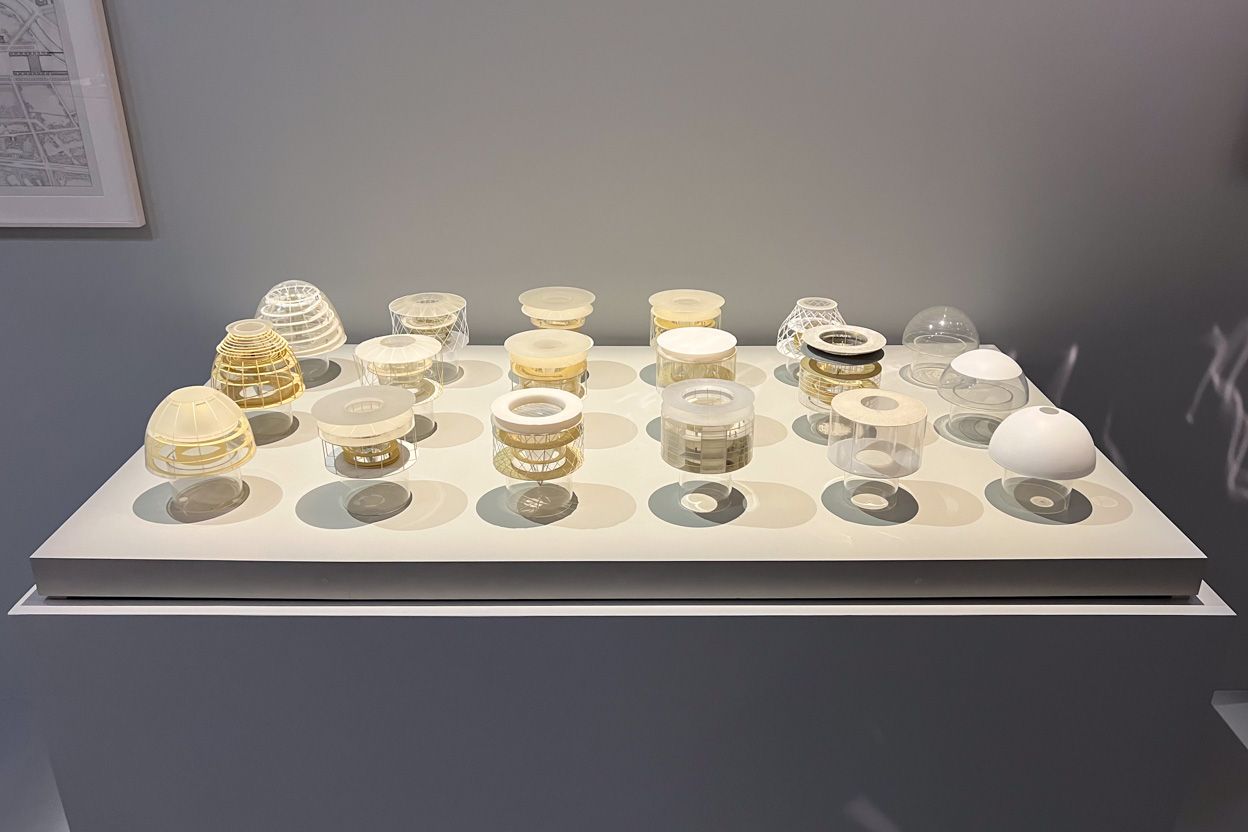 The exhibition also includes some artworks by Brancusi, Sol LeWitt and Ai Weiwei, a dome by Buckminster Fuller, a model plane and some automobiles that Foster considers among his influences. But they appear as an afterthought in the densely packed exhibition space. When checking my photos I noticed that I had completely missed a painting (?) that is exhibited on the floor.
Architects are almost by definition optimistic about the future. After all, they design the future. That's why I always enjoy listening to architects such as Bjarke Ingels, because they brim with energy and enthusiasm. Norman Foster is no exception. Both his firm and the Norman Foster Foundation are very much involved with themes of sustainability, the quest for a better quality of life and reinventing the workplace. The exhibition ends on a futuristic note with a room that showcases Foster's collaboration with NASA and the European Space Agency exploring Lunar and Martian habitations.
I still find the work of OMA / Rem Koolhaas and BIG / Bjarke Ingels Group more interesting, but I left the exhibition invigorated and with a renewed appreciation of Norman Foster.
Norman Foster is at the Centre Pompidou in Paris until 7 August 2023.