It's been awhile since I spent half a day at an exhibition of contemporary art without feeling exhausted and wishing I could stay longer. At 13,000 square meters the Friedrich Christian Flick collection at the Hamburger Bahnhof in Berlin is about as large as the Documenta in Kassel. With numerous excellent works by the likes of Bruce Nauman, Cindy Sherman, Pipilotti Rist, Paul McCarthy, Wolfgang Tillmans, Fischli & Weiss, Jason Rhoades and Thomas Struth and some classic works by Marcel Duchamp, Marcel Broodthaers, Nam June Paik and Gordon Matta-Clark, the exhibition easily surpasses the collections of many museums for contemporary art.
It is easy to criticize the Flick collection. Flick started building his collection in the 1980s, but most works were acquired over the past 7 or 8 years through the Zürich based gallery Hauser and Wirth. Walking through the exhibition one encounters all the usual suspects. There are neither young artists, who have yet to establish themselves nor artists from Asia, Africa or South-America.
But does a private collection have to be representative? What's wrong with buying great works by great artists? Museums and collectors who, during the 80s, bought into the rage of graffiti art and the transavant-garde are now stuck with many works of dubious value.
Some German art critics wrote that, as a collector Flick himself remains invisible in his collection, that there is no personal statement of taste or fascination. I think this criticism is wrong and also somewhat premature. The current exhibition "only" shows about one fifth of Flick's collection.
Any criticism should therefore be directed at the curator, Eugen Blume, who had the difficult task of organizing an exhibition out of a collection of over 2000 works of contemporary art, most of which, going by the present selection, of high quality. I think that for this opening exhibition, by leaving out some artists, such as Gerhard Richter, whose work can be seen in many museums, Blume tried to select works, which, when seen together, are at once representative of the collection as a whole and make a difference in the present German cultural landscape. Had the exhibition been organized in New York, London or Paris he would no doubt have made a different selection.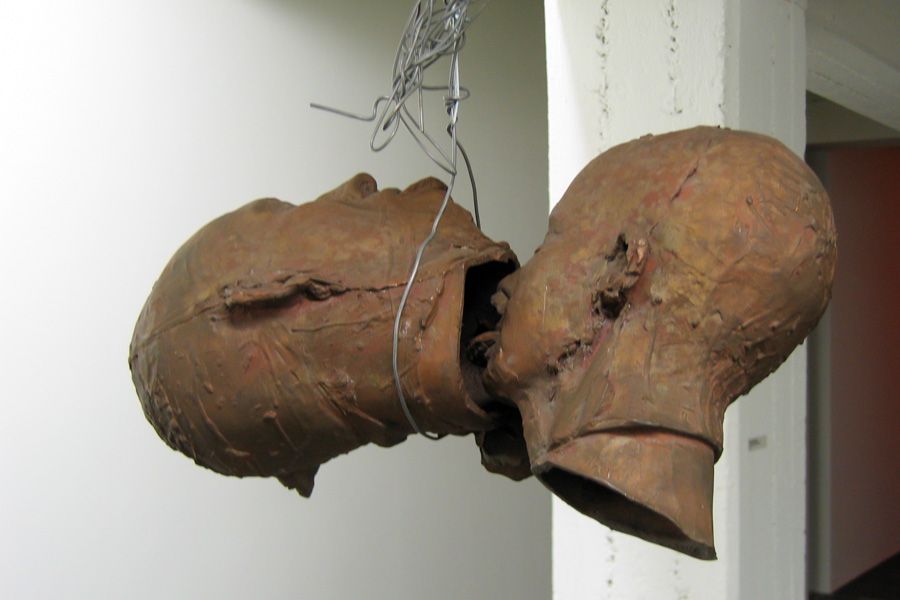 A central figure in the Flick collection is Bruce Nauman, by whom Flick owns one of the largest collections in the world. Indeed, as a Bruce Nauman retrospective the current exhibition is worth visiting in itself. In the last room of the exhibition, although this doesn't have to be the last room in each visitor's itinerary, at least it wasn't in mine, Nauman's Model for Trench and Four Buried Passages (1977), which consists of some half broken circles made out of plaster, his eerie Four Pairs of Heads (1991) and some of his video works from the late 60s, have found their perfect space. The catacombs with their low ceilings and columns in combination with the shrieking noises from the videos make these works even more intense. The same holds true for the neon sculptures and spatial installations, which occupy the right wing of the museum's main building. Here it is the number and density of the works that makes them even more oppressive. After the claustrophobic Corridor Installation Nick Wilder Installation (1970), a narrow corridor with two monitors at the end and a security camera above the entrance, the two opposing stands of Indoor Outdoor Seating Arrangement (1999) and the confrontation with Five Pink Heads in the Corner (1992), leaving the space almost feels like a relief.
I was intrigued by the theatrical installation of Marcel Duchamp's Roue de bicyclette (1913/1964), Porte-bouteilles (1914/1964) and In Advance of the Broken Arm (1915/1964), that is, his readymades of a bicycle wheel mounted on a stool, a bottle-rack and a snow shovel. One could argue that literally putting Duchamp's readymades in the limelight makes them appear as great, classic works of art. This of course is what they are, but by coining an ordinary object as art Duchamp aimed to question the nature of art and art institutions. Putting them in the limelight would then go against the artist's intentions by making them appear extraordinary instead of ordinary. But does it? One could also see it as a sense of irony, which doubles Duchamp's subversive act.
There are many great works in the exhibition, some of which are familiar to whoever has walked into a museum or gallery of contemporary art in the last few years, such as the photos by Cindy Sherman and Larry Clark, the video installations by Pipilotti Rist, Duane Hanson's Motorcycle Accident and Gordon Matta-Clark's Splitting (his recording of the cutting in half of a house). But what a joy to see all these works in one exhibition! And what a joy to see Fischli & Weiss' flower projections again! What a joy to see the incredible mess Jason Rhoades has created in the exhibition's opening room! I think that in particular when it comes to large installations such as those by Jason Rhoades, Bruce Nauman and Dieter Roth, Flick deserves praise for buying otherwise unsaleable works.
It is impossible not to mention the controversy surrounding this exhibition. Friedrich Christian Flick's grandfather, the industrialist and steel magnate Friedrich Flick, was one of the principal arms suppliers of the nazi-regime, producing everything from ammunition to the steel plates for tanks, submarines and armoured vehicles. With the help of the nazi leaders his company took over many Jewish businesses for a fraction of their worth. During WW II his company employed many thousands slave labourers who had to work under the most appalling conditions. By the end of the war Friedrich Flick owned the largest industrial conglomerate in Germany and with an estimated wealth of 2 billion Deutsch Mark he was the wealthiest man in Germany, ahead of other German industrialists such as Siemens and Krupp. After the war he was found guilty of war crimes at the Nürnburg war tribunal and sentenced to 7 years in jail of which he served only 5. Although most of his companies had been located in what was now the German Democratic Republic, within 10 years he managed to build a new industrial conglomerate, once more becoming one of Germany's richest persons. Until his death he refused to pay any money into the reparation fund for former slave labourers, arguing that this would be a confession of guilt, whereas he felt he had merely run his company, if he hadn't done it, somebody else would. What is wrong with this reasoning is, of course, that it doesn't release him of HIS guilt.
Friedrich Christian Flick defends himself against accusations that he is using art acquired through his inherited family fortune to try and rehabilitate his family's name, by saying that he cannot be held responsible for his grandfather's deeds. However it doesn't speak in his favour that he himself has never contributed to the compensation fund for former slave labourers either. Instead he established a Foundation Against Racism and Intolerance, but he only did so in 2001.
The controversy is very much a German controversy though, for even if he had donated 100 million euro to the compensation fund, his intentions would have been mistrusted. It is easy for others to feel morally superior by saying he could have rejected his inheritance. Although it opens up old wounds, paradoxically, because of the controversy the voices of those who suffered as slave labourers are now once again heard.
The Hamburger Bahnhof has done well to document the controversy surrounding the exhibition in the form of a newspaper, which includes a lengthy interview with Christian Friedrich Flick and the articles that have appeared in the German press in the months preceding the exhibition opening. The works of art themselves are indifferent to who owns them. If you want to see some great works of contemporary art, go and see this exhibition.
The Friedrich Christian Flick Collection is at the Hamburger Bahnhof, Berlin until 28 March 2005.