Why go to a photography exhibition when you can also view the photos in a book, a magazine or on your screen? The size and texture of paintings means that they can only be properly viewed in their actual form or else they will be reduced to the image they represent. In case of a photograph one might argue that the image is all there is and that it doesn't matter how and at what size the photo is exhibited. Most photographers however still regard print as the optimal medium to view a photo and some also prefer a certain size.
On the occasion of a retrospective of his work Henri Cartier-Bresson once mocked the exhibition organizers by saying that his photos should be seen in a book and not on the walls of a gallery. And after a brief spell during which he exhibited his photos in galleries Guy Bourdin worked exclusively for magazines. It was therefore interesting to see the travelling Guy Bourdin retrospective, also because the curators had chosen a variety of formats to show the photos, including some of the magazines in which they first appeared.
Most photos were shown as large print outs in glass covered frames. Depending on the distance and viewing angle this means that you sometimes see your own reflection in the glass. This can be a bit of a nuisance. In one room you had to peek with one eye through a small hole in a box to see a tiny picture. Presumably this was meant to illustrate the voyeuristic nature of some of Bourdin's photos or maybe it was supposed to represent a viewfinder. In any case it didn't add anything to my experience of the pictures. In another room you could sit down for a continuous slide show of 40 or so photos. I couldn't help thinking that this was given in by spatial rather than artistic considerations. I don't think these were originally shot as slides, but I may be wrong. Finally a small cabinet showed some of Bourdin's early photos and the polaroids he took throughout his career.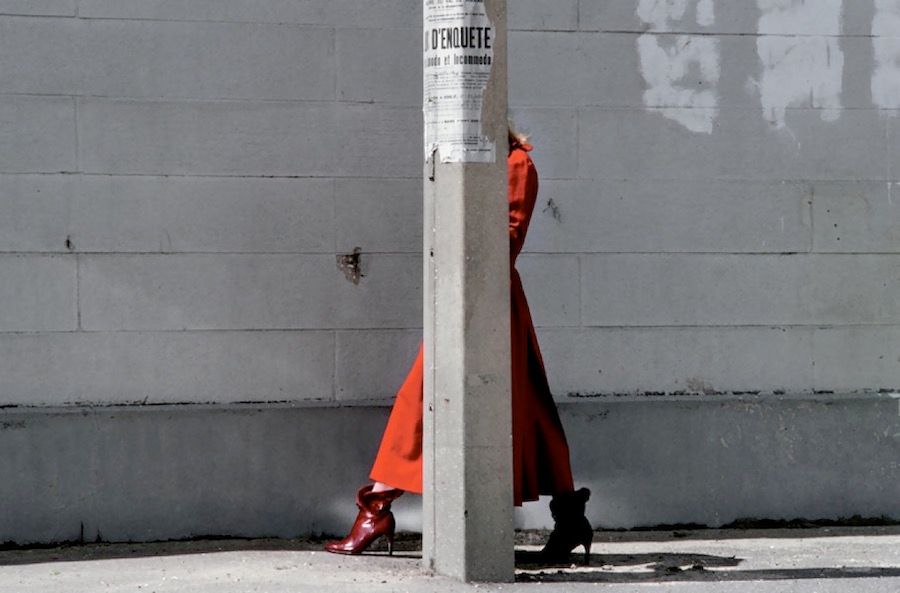 Together the different rooms give a good overview of Bourdin's work. Bourdin has created some striking images. He was one of the first photographers to introduce a storyline into fashion photography. Many of his photos have a dark undertone and you sometimes wonder how they ever got published. His settings are often artificial, bordering on the surreal. I especially like the photo-within-a-photo images and the semi-occluded scenes.
Perhaps I should say that I was already familiar with his work. So why did I pay 5 euro to see the exhibition? I must say that I enjoyed seeing the large prints. They made me wonder even more how Bourdin achieved his bold, striking colours. I also enjoyed seeing his work as an exhibition. Walking past the walls and looking from side to side is a different experience than browsing through a book. But, having seen the exhibition I've put one of the books documenting Bourdin's work high on my list of things to buy. I'd like to be able to study his photos more closely and compare them with some of my own.
Guy Bourdin is at FOAM, Amsterdam until 5 January 2005.