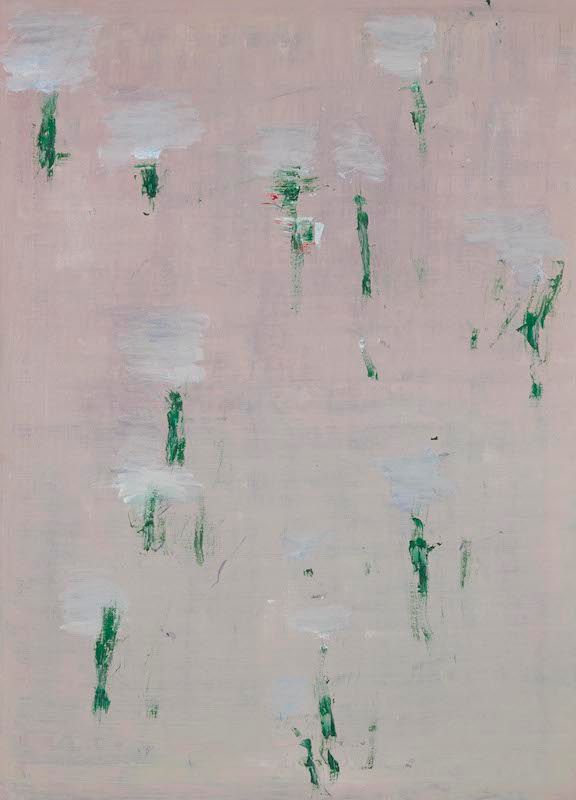 The layout of the travelling Raoul de Keyser retrospective currently at the De Pont Museum for Contemporary Art in Tilburg, The Netherlands, is simple but effective. A few walls define an interior and an exterior and create a simple course through space. There are two such rooms for the works of De Keyser. The paintings have been hung in no particular order on both sides of the walls. No particular route has been dictated either. You can enter and leave both rooms on either side. The paintings seem to share in this openness. There is no story except for the stories they tell, of their own history as a painting, of the history of painting and of the painter's own history.
To reach the rooms you first have to cross the museum's huge main hall and walk past two large sculptures by Richard Long. There is an interesting dialogue going on between the different scales of the space, the works by Richard Long and the paintings by Raoul de Keyser. The yellow blue canvas that faces the line and the circle of stones laid out by Richard Long is perfectly placed.
As I approach the first room one painting instantly catches my eye. It is a small strip of untreated canvas on wood with some strokes of white paint on it (Untitled, 1987). It is one of two paintings in the show in which De Keyser experiments with the shape of the canvas. There is something almost self-effacing about it. It doesn't cry out for attention. It is there for those who want to see it. In this and various other paintings it is, as Adrian Searle writes in the catalogue to the exhibition, "as though the painter has paused in what he has been doing and asked of himself: 'Is this a painting?' Not a good painting, a bad painting, a completed painting or an unfinished painting, but more whether what he has been doing is a painting at all, whether it is nothing more than the residue of abandoned work."
As I walk on two paintings struggle for my attention. One consists of four bluish dots on a brownish beigish background (Dalton, 1990), the other, which is slightly larger, consists of some coloured patches on a grayish background (Untitled, 1983-84). There is something joyful about these paintings that I find hard to explain. Their secret or so it seems, is that they are just paint on canvas. But to 'just' apply paint to canvas is more difficult than it seems. Danger looms in almost every corner, meaning, historical references, figuration. To let the paint speak for itself the artist has to be aware of all this without letting it stifle him.
Raoul De Keyser's paintings are unfashionably small. They don't overwhelm. Instead they draw you near and take you in. From up close the paintings reveal the gestures with which the paint was applied. Sometimes slow and gentle, at other times angry, quick, careless or rough. In some paintings it is as if a few drops of paint have been accidentally spilled on the canvas and then left to dry, as in Valley (1992). I find them very expressive. Quite often De Keyser appears to be drawn towards the edges of the canvas, leaving the center for what it is. You can see how color after color has been applied and sometimes brushed or scraped away. Sky Blue (1992) reminded me a lot of Gerhard Richter, who also likes to scrape the paint from the canvas.
One wall is covered by three paintings De Keyser made of a monkey-puzzle tree next to his house. I had never heard of this tree before and when I read the title Soft Monkey-Puzzle (1982) I was, well, puzzled. In all their bareness these three paintings are surprisingly lyrical.
De Keyser's paintings frequently derive from his daily surroundings. Laundry hanging from a clothes line, Venetian blinds, the vapour trails of a plane, a tree next to his house, the lines and shades where two walls meet, the chalk line of a football pitch. The references are still there, but only if you want to see them.
More than anything De Keyser's paintings celebrate painting and as such life itself. It's just paint on canvas, nothing more, nothing less. There's no ideology, no meaning, no hidden manifesto and no bravura. Just paint on canvas, but sometimes the paint speaks for itself.
De Keyser, now in his 70s, only gained widespread international recognition following his inclusion in Documenta IX in 1992 organized by his fellow countryman Jan Hoet. There are traces in his work of Jackson Pollock, colour-field painting, lyrical abstraction and all those other movements in painting of the second half of the 20th century. The artist after all, does not work in isolation, cut off from the rest of the world. It is easy to imagine the response of the art world to his work from the late 60s throughout the 80s. Here's some Belgian artist doing Marc Rothko, Frank Stella or Brice Marden. Sometimes it takes time before the world realizes that an artist has been doing all along what all great artists do, digesting the world around him and making it his own.
Raoul de Keyser is at De Pont, Tilburg, The Netherlands until 9 January 2005.
Links
Raoul de Keyser is represented by David Zwirner.