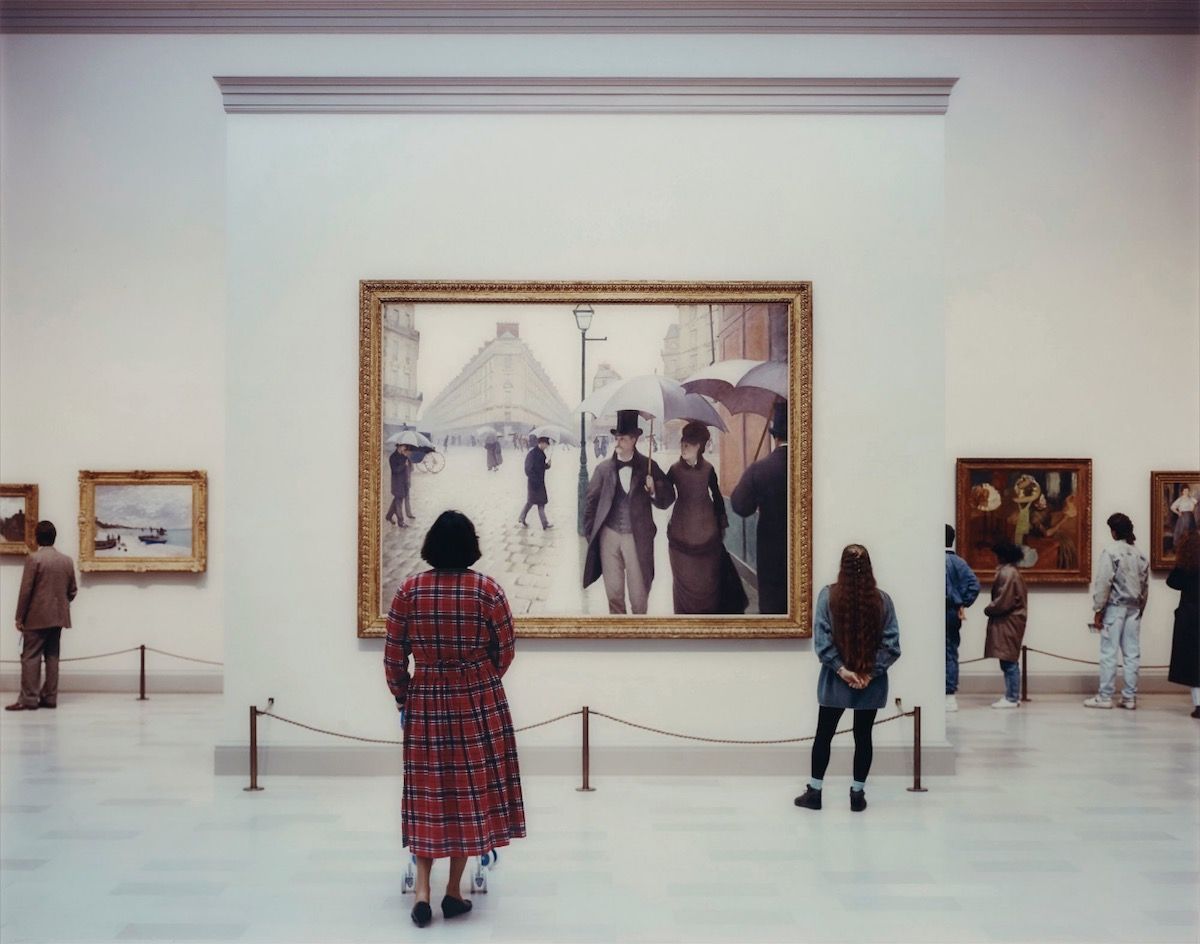 Perhaps one of the most appropriate works in the exhibition Universal Experience. Art, Life and the Tourist's Eye is a photo from Thomas Struth's series of museum photographs. It works as a mirror, because yes, that's you and me, strolling past a sculpture by Jeff Koons of a blown-up souvenir toy, past some photographs of the Hollywood sign transposed to a landfill site in Sicily, stopping briefly to look at an aerial film of Rome by Olivo Barbieri in which parts of the picture have been de-focused making the streets and buildings look like a scale model, walking up a ramp and then past a series of screens showing people sleeping and waking up in hotels and airport terminals, which belong to a video installation by Doug Aitken, then up the stairs to see yet more works of art, then down another staircase to visit the remaining galleries on the lower floor, to leave the exhibition through the exit, which, appropriately leads into the museum shop where you can buy the postcards and browse through the exhibition catalogue to look at all the works which you no longer recall seeing inside the exhibition.
Thankfully, you can re-enter the exhibition with your ticket to once more walk through Thomas Hirschhorn's overwhelming installation bringing together copies of Egyptian antiquities, cardboard sacrophagi, newspaper stories about the war in Iraq, lots of pornographic magazine photos, even more pornographic magazine photos, empty beer cans, refrigerators that have been taped shut with brown tape, a collection of dildos and crack pipes and four adjacent television screens showing an archeological documentary, a man in ancient Egyptian costume walking along a canal, a compilation of hardcore porn films and news footage of mutilated bodies.
You can look at Phil Collins' video of a group of journalists photographing a family of Kosovan refugees. You can once more walk past the 15 tables each showing 4 x 50 holiday snapshots by Fischli & Weiss. You can even take some photos of the London skyline yourself from the Hayward Gallery's sculpture court, where you can also see a model of the London skyline made from hundreds of stainless steel pans and other cooking utensils by the Chinese artist Zhan Wang.
When you leave the gallery a second time, to continue shopping, to have a drink at the nearest Starbucks, or to go back to wherever you came from, you may still not be able to answer the questions the exhibition set out to explore, but you will have seen some interesting works of art.
Universal Experience. Art, Life and the Tourist's Eye is at the Hayward Gallery, London until 11 December 2005.