The Bettina Rheims retrospective at the Kunsthal in Rotterdam is pretty standard fare in so far as photography exhibitions go. Photographs that were previously published in magazines or books are printed at monumental size as if to emphasize that they deserve to be exhibited in a museum or gallery. As to the photographs, some are good, some not so good and some are pretty bad.
Before turning to photography, Bettina Rheims worked as a model, journalist, and an art dealer. She began by making black & white photographs of stuffed animals and by making portraits of half-naked or naked women. Rheims would scout her models herself and photograph them in seemingly natural surroundings, such as a bedroom or a living room. A selection of these photos were published in Female Trouble. Some of these photographs are great. They look casual, even though they are carefully posed. For years I had a postcard of a photograph from this series on my bookshelf, showing a half-naked woman in front of a poster saying "Art is a word".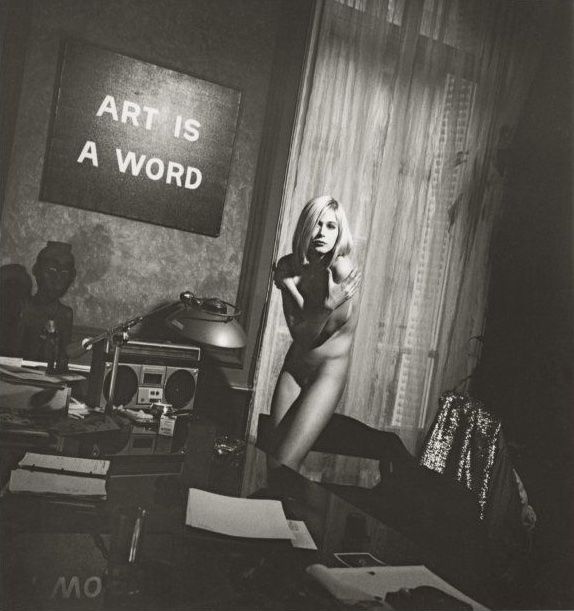 In interviews Bettina Rheims often says that throughout her career she has had to defend herself for taking photos of naked women as a woman. Indeed why not? Why should only men take photos of naked women? I don't believe in there being such a thing as a male of female gaze. This was invented by critics and cultural theorists who never tested their theories by presenting test subjects with a random selection of images asking them to identify the photos taken by a male or female photographer. It may be that female models feel more comfortable in front of a female photographer and are therefore more inclined to assent to the photographer's instructions.
In the early 1990s Rheims made a series of portraits, Modern Lovers, of boyish looking girls and girlish looking boys in their late teens. With her choice of subject Rheims was well ahead of her time, but as photographs I find them interchangeable and not all that interesting.
As Bettina Rheims ascended to fame she was commissioned to create work for all the top fashion magazines, photographing everyone from Madonna to Catherine Deneuve. By this time Rheims had changed to colour photos. Her photos also became less and less distinctive. She also gained the (financial) freedom to embark on ambitious private projects. Together with French writer and critic Serge Bramly, Rheims reimagined the life of Christ in a series of photographs and texts. As so often when (fashion) photographers try to create "Art" the resulting images are pretty stupid, with fashion models posing as Mary Magdalene and Salomé.
Bettina Rheims is at the Kunsthal, Rotterdam until 19 March 2006.