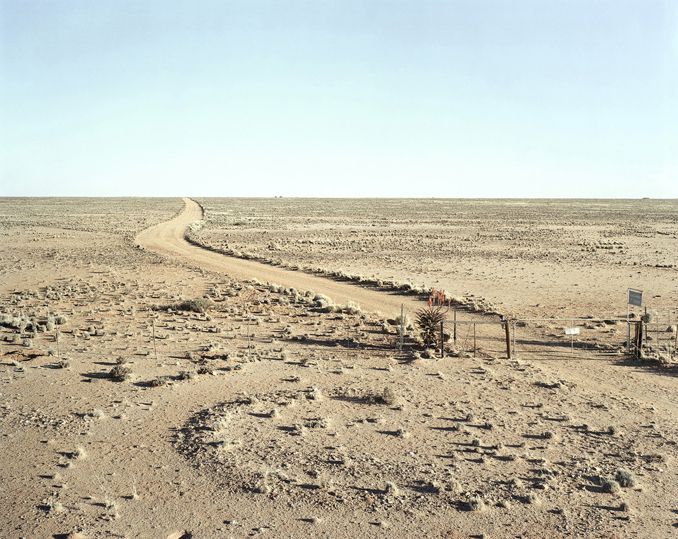 The light in the photos of David Goldblatt is harsh, the colours washed out, because that's what the light and the colours are in the deserts of South Africa where most of the photos were taken.
Until a few years ago David Goldblatt worked primarily in black and white, because he felt colour photographs didn't render what he wanted to express. Intersections, the travelling exhibition currently at Huis van Marseille in Amsterdam, shows a selection of his recent work in colour. The photos have been printed on paper normally used for watercolours and are left unframed. As a result the corners curl, but at least there are no reflections. The photos are rich in detail. They demand to be seen printed at A2 or A1. One photo is titled Sheep, but I had to take a close look before I detected the sheep.
Goldblatt's photos emphasize the vastness and unwelcoming conditions of the South-African landscape. This is how David Goldblatt photographs a bungee jumper. Within these landscapes manmade interventions often seem futile and ridiculous, but they also filled me with a sense of sadness. It seems silly to put up a fence in the middle of nowhere, but there is something disarming about the flowers at the gate, which need to be watered regularly, assuming they are real.
The photos on show are at the intersection of social, documentary and landscape photography. One series documents the Aids ribbon that has been placed all over South Africa as part of Aids awareness campaigns. They are signs of the hidden drama that is cutting deep wounds across (South) Africa. Memorials for a tragedy that is taking place in the present, not in the past.
David Goldblatt: Intersections is at Huis van Marseille, Amsterdam until 27 May 2007.
Update
David Goldblatt died in 2018 aged 87. An obituary.