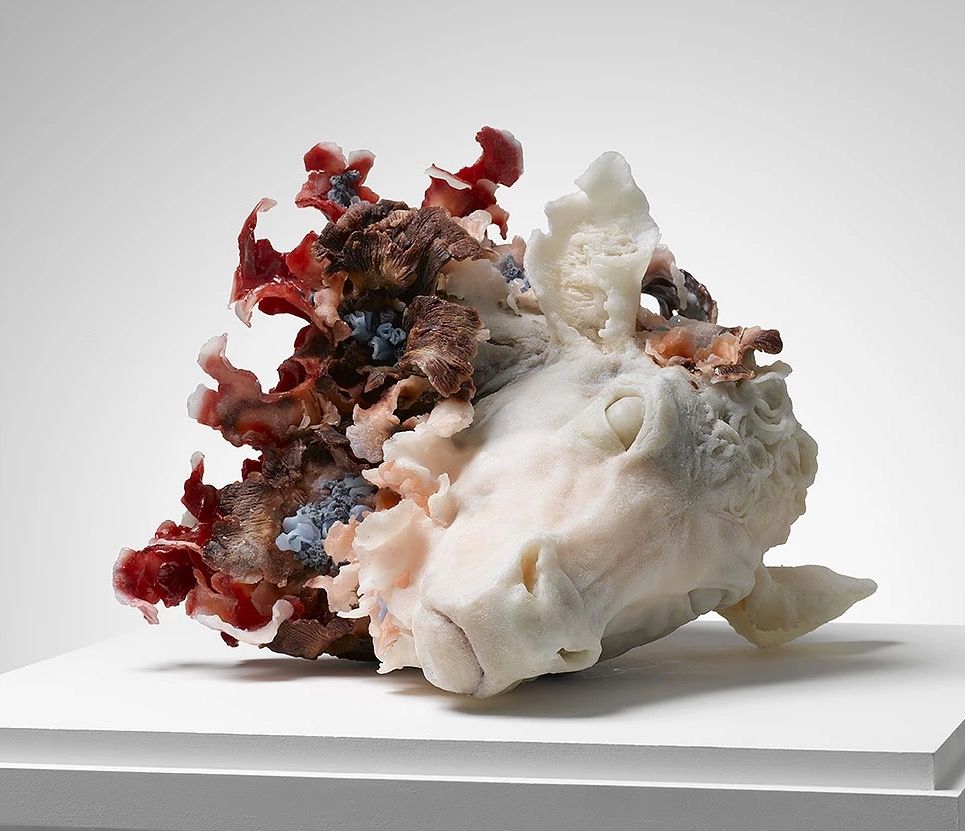 After Frieze I went to the Zoo Art Fair, which used to be held at the London Zoo in Regent's Park, next to Frieze, but this year had relocated to the Royal Academy of Arts. The Zoo Art Fair supposedly only showcases under 6 year old galleries. I don't know whether all galleries do indeed fit into this category. The atmosphere was different than at Frieze. It was still crowded, but somehow more relaxed. The works on show were also more exciting than at Frieze, but that may be because I already knew many of the artists showing at Frieze.
I loved the wax sculpture of a deer by Rebecca Stevenson at Copenhagen based Mogadishni Gallery. Its back had been cut open. The wound consisted of flowers and berries. It was gruesome and touching and I wish I had bought it. There were some other interesting works at Zoo as well. I liked the photos taken from Japanese photographer Izima Kaoru's landscape with a corpse series. I also thought that the sculpture by Jose Davila of some empty HP toner cartridge boxes in a Donald Judd style stacking was pretty hilarious. It's one of those works that made me wonder why I hadn't thought of that myself. I mean, I just threw away about 70 identical cardboard boxes.
The next day I went to the Year_07 fair which was held at County Hall, the same building that until a few years ago was home to the Saatchi gallery. It's a rather dreadful, labyrinthine former office space, but there was some interesting art on show. I really liked the wrinkled empty cans made of porcelain by Chinese artist Lei Xue. The Man and Eve gallery has an interesting line-up of artists and I wouldn't be surprised if in a few years they will be exhibiting at Frieze. The scaffolding sculptures and dust drawings by Ben Long were fascinating and the projects by Ryan Ras intriguing. Berlin gallery Jarmuschek und Partner exhibited a photo printed on metal by Berit Myreboe that I would have liked to buy. At Danielle Arnaud gallery Heather and Ivan Morison had displayed an old copy of 2001 A Space Odyssey and another science fiction book whose title I've forgotten with dried leaves and flowers sticking out from between the pages. I liked the contrast between science fiction and dried leaves.
Perhaps visiting four big art fairs in two days was not such a good idea. By the time I made it to the Bridge Art fair I was suffering from art fatigue. The fair was held in a hotel, with the galleries occupying the hotel rooms. The idea is that you get to see the artworks in a more natural environment, on a wall above a sofa or in a bedroom. But the rooms were crammed and most works on show were of lesser quality than at Frieze, Zoo and Year_07.