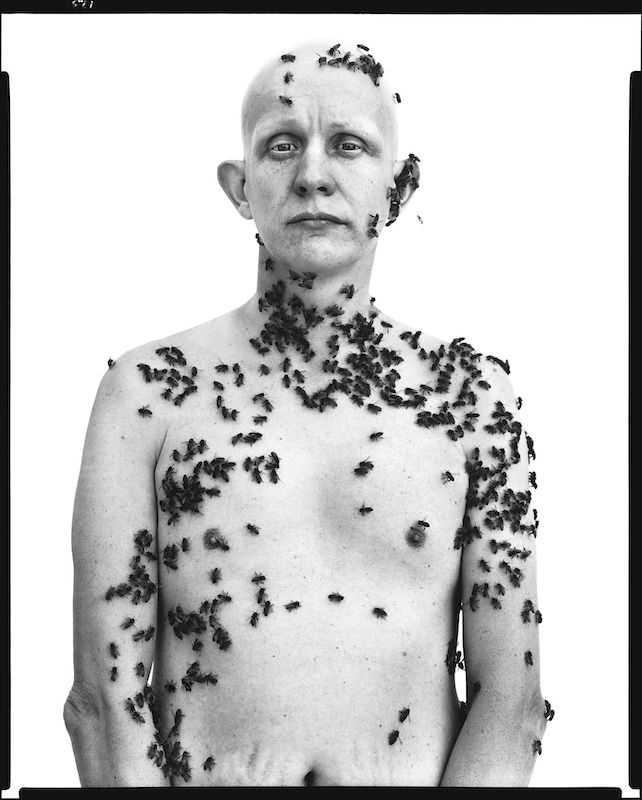 For years two postcards of a photograph by Richard Avedon adorned my bookshelves. One shows a bald man, who looks a bit like Pinhead from Hellraiser, his body covered with bees. The picture looks eerie, but also tranquil. The other photograph shows a little boy. The photo is slightly out of focus, Avedon probably moved the camera when he took the photo. But the technical imperfections make the photo look even more real. It is obvious that the little boy was proud to have his photo taken by the stranger with the camera. He presses his arms against his body the way children do when they pose for a photo. Avedon made the photo in 1947, on a journey through Sicily. The other photos from that trip show that Avedon could have become a documentary photographer in the tradition of Henri Cartier-Bresson and Helen Levitt, but there was more money to be made as a commercial photographer.
Richard Avedon (1923-2004) started his career in 1944 as an advertising photographer for a department store, but from 1946 onwards his photos began appearing in Harpers Bazaar. By that time he had set up his own studio and also became a regular contributor to Vogue and Life magazine. In the 1960s he became the lead photographer at Vogue where he would shoot most of the covers until 1988. His growing fame also meant that Avedon was commissioned to make portraits of the rich and famous. In 1990, upon leaving Vogue, he became the first staff photographer of The New Yorker.
Whereas Irving Penn meticulously arranged his models, Richard Avedon had his models, walk, jump or dart around the studio. Many of his fashion photographs therefore look very dynamic and playful.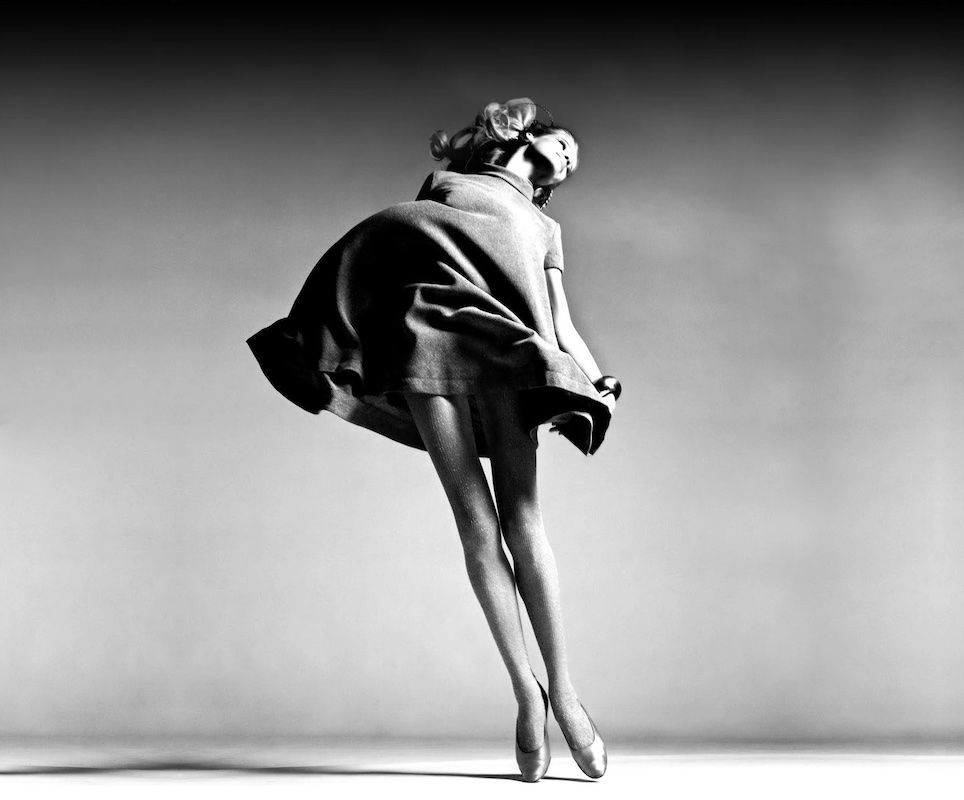 In 1979 a museum in Fort Worth, Texas commissioned him to create a series of portraits of people in the American West. For five years Avedon travelled through the American West, together with a team of assistants, making portraits of miners, waitresses, oil rig workers, farmers, truckers, drifters and whoever else agreed to have their photo taken. In contrast with his fashion work, the subjects in these photos are all positioned in front of the camera, Avedon used a large frame camera mounted on a tripod, against a white backdrop that was hung against a wall or the side of a van. The exhibition includes only some of the thousands of photos that Avedon took along the way and I would have liked to see a wider selection to learn more about the implicit criteria that guided Avedon's choice of the final images to be published. I always find it interesting to observe what is left out. When I'm in the US South West I'm intrigued by the landscape, the urban fabric, but it looks like Avedon only searched for subjects for his portraits.
Today Richard Avedon is considered one of the most influential photographers of the 20th century. As The New York Times put it in his obituary, "his fashion and portrait photographs helped define America's image of style, beauty and culture for the last half-century". And that may indeed be his main contribution.
Richard Avedon: Photographs 1946-2004 is at FOAM, Amsterdam until 13 May 2009.