Carambolages, which is on at the Grand Palais in Paris until 4 July 2016, is one of the most refreshing art exhibitions I have seen in a long time. The exhibition is curated by Jean-Hubert Martin, who also organized the legendary exhibition Magiciens de la Terre at the Centre Georges Pompidou in 1989. It is based on the premise that artists approach art in an associative fashion, unguided by art historical categories, which is indeed how I myself approach art.
The exhibition consists of an eclectic selection of around 180 artworks and cultural artifacts from around the world. The works are arranged in a continuous sequence where each work depends on the previous one and announces the following one. Even though I normally prefer a networked presentation, which allows me to make my own connections, the trajectory that Jean-Hubert Martin has set out is both informative and entertaining. The works are grouped based on shared forms, materials or ideas. Thus a sculpture of a cat by Giacometti is shown next to a 2,000 year old sculpture of a mouse from Oceania, while an 18th century self-portrait by Flemish artist Nicola van Houbraken, in which we see the artist peeping through a hole in the canvas, is presented next to a "slash painting" by Lucio Fontana. While some connections are obvious others are less so. Perhaps I should add that I didn't actually look for each and every connection: I mostly enjoyed looking at the works Jean-Hubert Martin has brought together.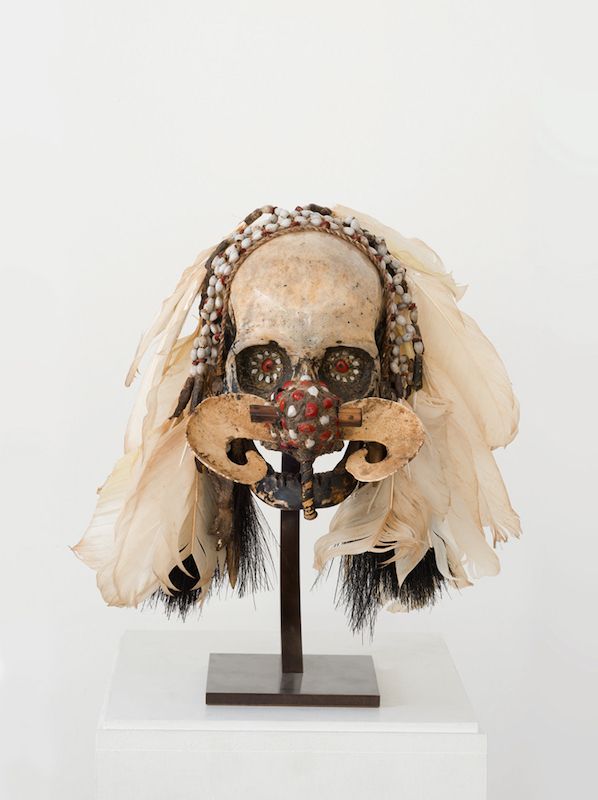 Most of the works and artists included in the exhibition are relatively unknown, at least to me. Jean-Hubert Martin must have spent quite some time browsing through various museum archives. There are no labels beneath or next to the objects. Instead there are small screens at the beginning and end of each aisle with a slideshow listing the previous and the next works. While this forces one to focus on the object instead of the label I found it somewhat unfortunate that the slideshows revealed the upcoming works before I'd seen them.
Carambolages won't appeal to everyone. I can imagine that some visitors may feel lost and puzzled. I found it inspiring and invigorating.
Carambolages is at the Grand Palais, Paris until 4 July 2016.
Links
The exhibition leaflet (in French).
In this film directed by Alain Fleischer, Jean-Hubert Martin presents sequences of works from his exhibition and the way they were juxtaposed according to their formal or mental affinities.