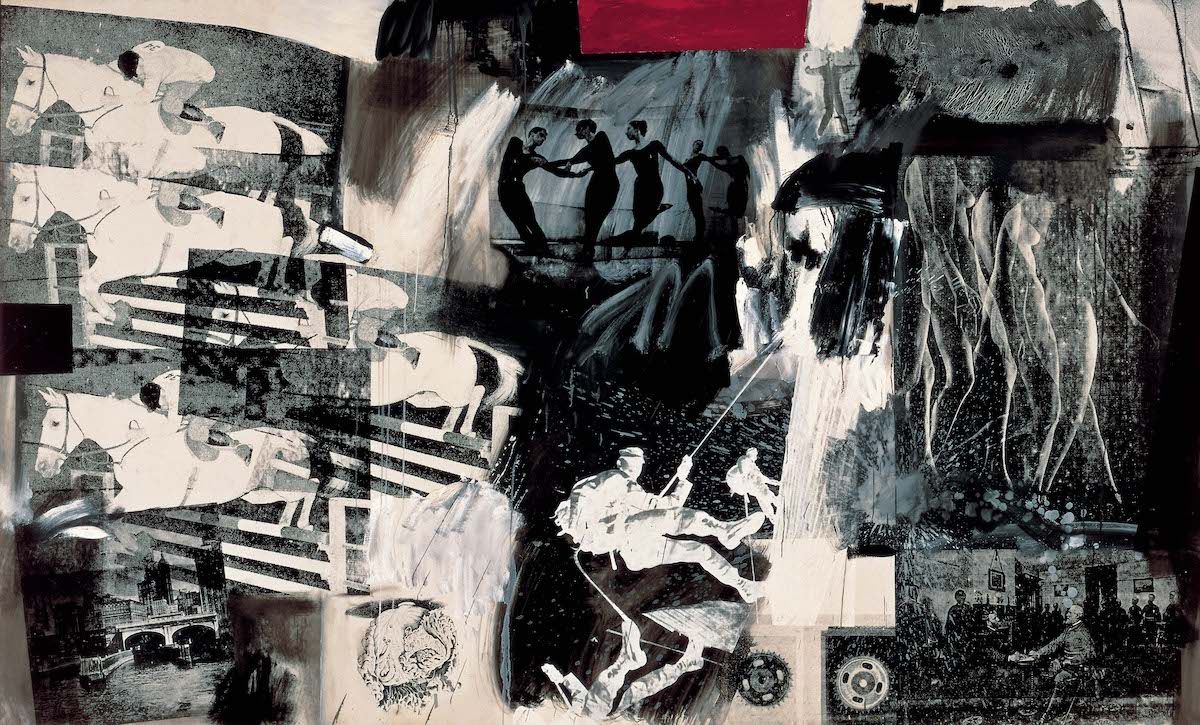 At the very last moment I visited the Robert Rauschenberg retrospective at Tate Modern. It's an excellent introduction to Rauschenberg's work, but I'd expected the exhibition to be larger. The exhibition spans Rauschenberg's entire six-decade career and does a good job of showcasing each and every aspect of his prolific output. However, I had hoped to see more: more combines and more silkcreens. A reproduction of Express (1963), pictured above, has been on my bookshelf since I first saw it at the Museo Thyssen-Bornemisza.
One room shows the set design Robert Rauschenberg created for Glacial Decoy (1979), a ballet by Trisha Brown. It consists of four panels exhibiting a slideshow of photographs taken in and around Fort Myers, Florida. The idea is simple enough, but the execution is perfect. I saw it performed many years ago and I enjoyed seeing it again, albeit on video. Robert Rauschenberg also frequently collaborated with Merce Cunningham and the exhibition includes some of the designs Rauschenberg created for Travelogue (1977) as well as a video of the designs in action. What I didn't know was that Rauschenberg also created some dance performances himself.
Another room is dedicated to a single work, Mud Muse (1968-71), which consists of a large metal tank filled with 1000 gallons of bubbling water mixed with clay. I don't think it is "good" or interesting as a work of art, in fact it left me largely indifferent, but it is a perfect metaphor for Rauschenberg's work and career. If anything Robert Rauschenberg was constantly bubbling with creativity. It didn't always result in interesting artworks, in fact, judging by the works in the exhibition, more often than not the result was mixed at best. But this is precisely what I like about Rauschenberg, he didn't let failure hold him back and he didn't pursue success either, he just moved on to wherever his creative impulse led him.
I'm glad I was able to visit the exhibition. I left reinvigorated and eager to start creating myself again.
Robert Rauschenberg at Tate Modern, London until 2 April 2017.
Links
An excerpt from Glacial Decoy as performed by the Paris Opera Ballet.