Joost Swarte (1947) is a Dutch cartoonist, designer and architect who enjoys cult status in the Netherlands, France and the US, at least among readers of The New Yorker magazine. For years some of Swarte's postcards have adorned my bookshelf.
The exhibition Joost Swarte Overal/Everywhere at the Kunsthal Rotterdam presents a selection from the work Swarte has produced over the past fifty years: from his first ventures into comics to his recent work for The New Yorker and an album celebrating the artists of De Stijl. The exhibition is long overdue: in 2014 the Cartoon Museum Basel already honoured Joost Swarte with a career retrospective.
Joost Swarte originally studied industrial design, but he quickly switched to comics and cartoons. In 1976 Swarte curated an exhibition of Tintin creator Hergé's work. In the exhibition catalogue Swarte coined the term klare lijn or ligne claire ("clear line") to describe Hergé's style. Although Swarte is the first to acknowledge that there is more to Hergé's genius than the use of clear strong lines. The term took on a life of its own and today Joost Swarte is one of the foremost representatives of the ligne claire.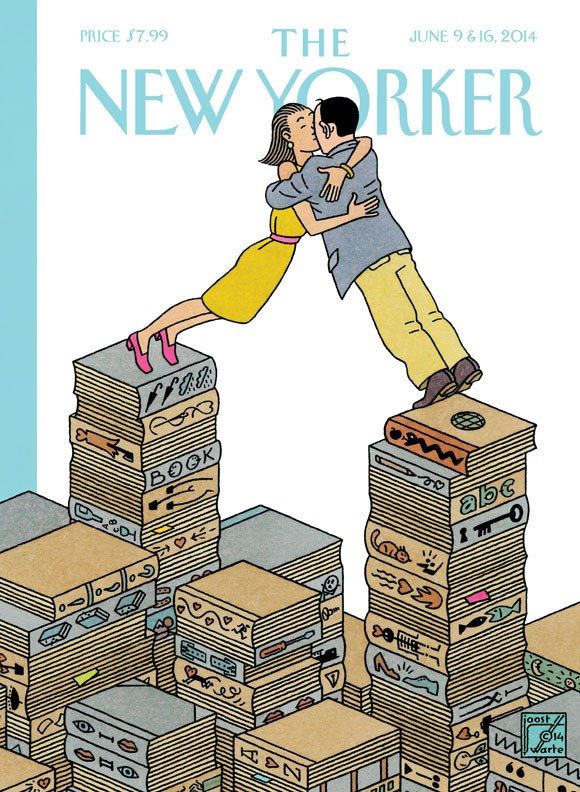 Swarte never wrote albums, like Hergé, or graphic novels, like Chris Ware. Much of his work consist of a single panel, which tells the story. For this reason Swarte has become a frequent contributor to The New Yorker. Over the past twenty years Swarte has made more than 450 illustrations for The New Yorker, including many covers, which were recently collected in New York Book.
Swarte's work is noted for its bold lines, geometric compositions, in which foreground and background are given equal weight, its monochrome colours and subtle irony. He specialises in what one might call humour at second sight.
The exhibition is called Everywhere, because Swarte's work is everywhere, at least in the Netherlands. It's just that few people associate his work with his name. Swarte has designed stamps, the plastic bag of one of the largest book stores in Amsterdam (why didn't I keep one?), album covers and the stained glass windows of a swimming pool. In 1996-1998 together with Dutch architectural practice Mecanoo, Joost Swarte designed De Toneelschuur, a theatre in Haarlem, which opened in 2003.
The exhibition shows how in a matter of years Swarte developed his own signature style, which he then elaborated and refined. As always I particularly enjoyed comparing the initial sketches with the final illustration, as this shows the artist's mind at work. One of the key aspects of the creative process is discarding what is merely good for what is better.
Joost Swarte Overal/Everywhere is at the Kunsthal Rotterdam until 19 January 2020.
Links
You can buy (signed) prints by Joost Swarte at Griffioen Grafiek. They ship around the world!
Interview with Joost Swarte on the occasion of the publication of New York Book.