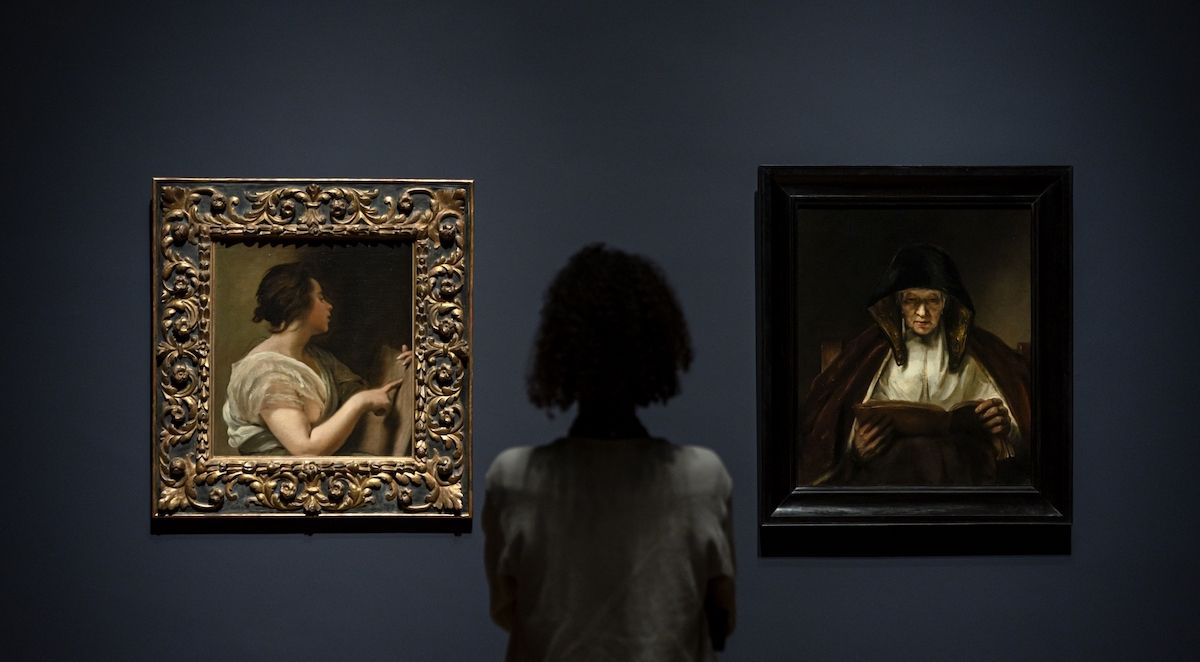 The exhibition Rembrandt-Velázquez: Dutch & Spanish Masters brings together works by Rembrandt and Velázquez and their contemporaries. The exhibition is pretty amazing thanks in large part to a number of phenomenal works on loan from other museums and private collections.
Rembrandt and Velázquez were direct contemporaries, but they never met or encountered each other's work. It is worth noting that the Netherlands and Spain were at war for much of the period. The Eighty Years' War, in which the (protestant) Dutch Republic battled for independence from the (catholic) Kingdom of Spain lasted from 1568 to 1648 and coincides with the life of Rembrandt (1606-1669) and Velázquez (1599-1660) as well as Frans Hals (1582-1666) and Francisco de Zurbarán (1598-1664).
The exhibition pairs some 60 canvases by 17th century Dutch and Spanish artists. Spanish transcendence vs Dutch earthiness, catholicism vs protestantism, naturalism vs realism, formal vs informal. The latter shows in the pairing of Flowers in a Glass Vase (1668) by Juan de Arellano, a formal arrangement of flowers, and Vase with Flowers (1700) by Rachel Ruysch in which the flowers are more loosely arranged. It also shows in the pairing of two life-size double portraits of married couples by Velázquez and Rembrandt. Next to Velázquez's stiff and stately portrait of Doña Antonia de Ipenarrieta y Galdos and Don Diego del Corra y Arellano, Rembrandt's portrait of Marten Soolmans and Oopjen Coppit looks energetic and joyous.
Even though the exhibition is relatively small there is much to enjoy. From the wonderful Saint Paul the Hermit (1635-1640) by Jusepe de Ribera to Jan Asselijn's powerful The Threatened Swan (ca. 1640-1650). Seeing Velázquez's Buffoon with Books (1640) and Rembrandt's Self-Portrait as the Apostle Paul (1661) on their own is a joy, seeing them side by side is pure bliss.
The only miss, in my view, is the face-off between Rembrandt's The Syndics (De Staalmeesters) (1662) and Velázquez's Vulcan's Forge (1630), in which Rembrandt comes out as the clear winner. Far more interesting is the pairing of Rembrandt's An Old Woman Reading (1655) with Velázquez's Female Figure (Sibyl with Tabula Rasa) (ca. 1648). Velázquez shows a young woman in her prime, Rembrandt a wrinkled old woman whose face seems to be illuminated by the pages.
I also really liked the pairing of the amazing Finis Gloriae Mundi (ca. 1670-1672) by Juan de Valdés Leal, which shows a half-rotten corpse covered with insects, with Frans Hals's The Regents of the Old Men's Almshouse (1664) to the left and his The Regentesses of the Old Men's Almshouse (1664) to the right.
One of the more surprising pairings is the combination of Vermeer's Little Street (1658) and Velázquez's View of the Gardens of the Villa Medici in Rome (around 1630 or 1650). It is an invitation to look for differences and similarities in content and technique. Velazquez shows a laundress throwing sheets over a balustrade, Vermeer shows three women engaged in various household chores. Velázquez's brushstrokes are loose, whereas Vermeer's are precise. Both capture a simple scene, a moment in time, so unspectacular that you wonder why they bothered to paint it. But perhaps that is the reason why. Perhaps they wanted to apply their skills to something unnoteworthy, to see if they could make it noteworthy. In that both Velázquez and Vermeer succeeded.
Rembrandt-Velázquez: Dutch & Spanish Masters. Dialogues on reality and eternity, religion and beauty is at the Rijksmuseum, Amsterdam until 19 January 2020.