The Neue Nationalgalerie reopened this summer after an extensive, six-year refurbishment led by British architect David Chipperfield, who also presided over the rebuilding of the Neues Museum. The Neue Nationalgalerie, designed by Ludwig Mies van der Rohe, is a modernist masterpiece, an icon of twentieth-century architecture, albeit slightly dysfunctional.
I only found out by accident that the Neue Nationalgalerie had just reopened, - I didn't even know it had been closed -, and I was lucky to be able to book a ticket.
The Neue Nationalgalerie is also home to a rich collection of modern art. The opening exhibition Die Kunst der Gesellschaft 1900-1945 showcases highlights from the collection. Like any good collection presentation it offers a new perspective on the collection. Die Kunst der Gesellschaft is an exemplary exhibition in this respect. It shows works by Max Beckmann, Otto Dix, Ernst Ludwig Kirchner and Paul Klee and other usual suspects alongside lesser known artists such as Hannah Höch, Georg Muche and Nadesha Udalzowa. I discovered some real gems.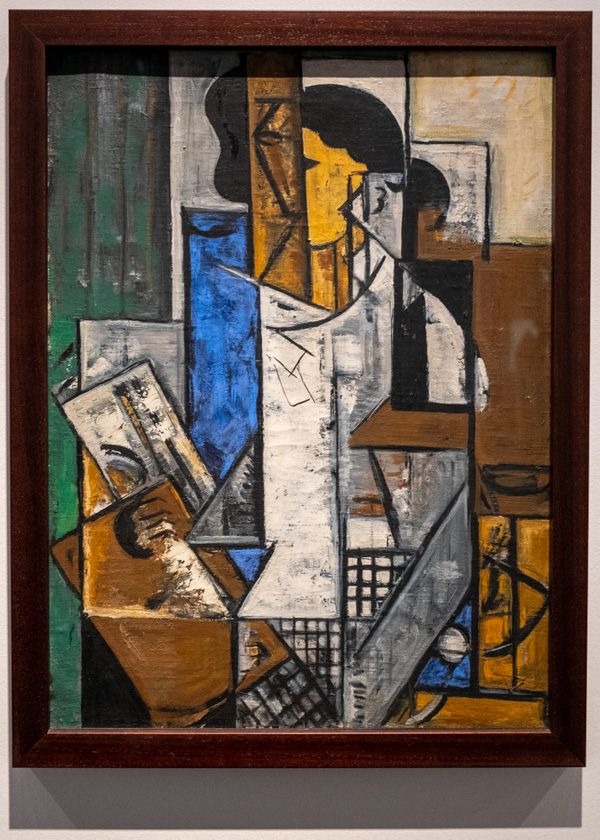 The exhibition is thematically organized. The emphasis is on German artists, the Neue Nationalgalerie is a German museum after all. Upon browsing the catalogue when I got home it occurred to me that I had completely forgotten to return to some of the sculpture exhibits. So if you're planning on visiting the exhibition, don't forget the sculptures.
Also not to be missed is the exhibition Die Neue Nationalgalerie. Ihr Architekt und ihre Baugeschichte, which tells the history of the building and the work of its architect, Ludwig Mies van der Rohe. The exhibition has been enhanced with works by contemporary artists Isa Genzken and Veronika Kellndorfer. I quite like the collages Mies van der Rohe did as architectural studies.
Die Kunst der Gesellschaft 1900-1945 is at the Neue Nationalgalerie in Berlin until 2 July 2023.