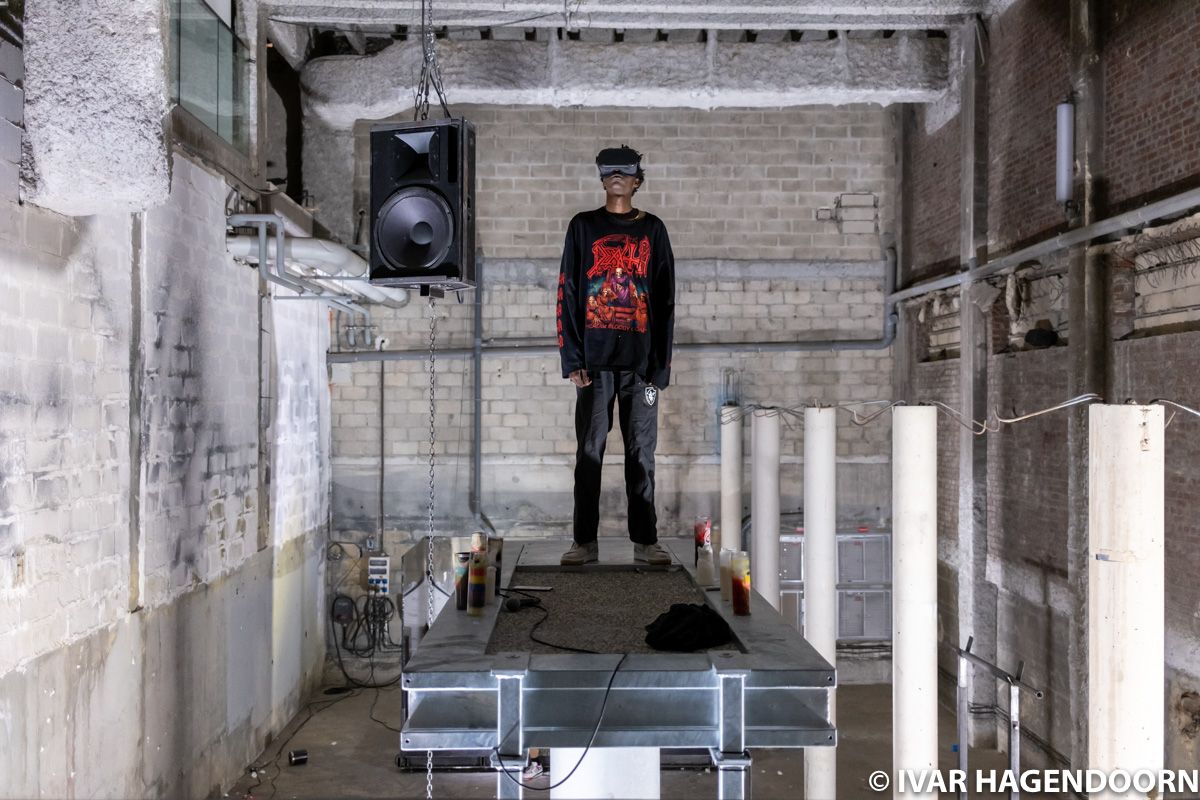 I was lucky to obtain a ticket for one of the final performances of Anne Imhof's Natures Mortes at the Palais de Tokyo. The performance lasted a full four hours, which I spent watching the performance and walking around the exhibition. Had I known in advance how good the exhibition would be I would have booked a separate ticket for the exhibition. I could easily have spent four hours just wandering around the Palais de Tokyo taking in all the artworks and installations.
The performance consisted of twenty or so fashionably dressed young people sitting, standing, walking, crawling, running, dancing, singing, screaming and doing things like pouring candle wax or water onto another person. All this in various settings. There were skaters, a falconer and bikers. And ohh there was also loud live speed metal with Igor Cavalera, formerly of Sepultura, on drums and Anne Imhof's long time collaborator Eliza Douglas, who signed for the sound design, on guitar.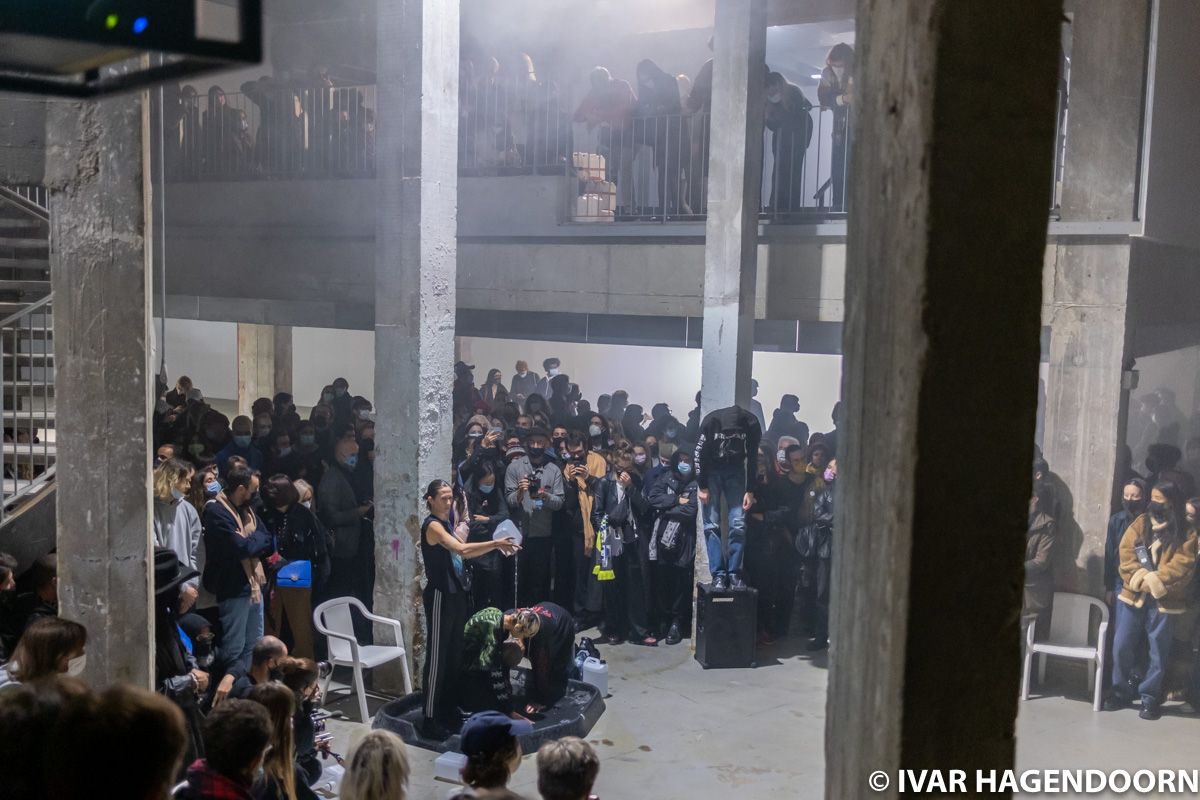 Of course, neither a description, nor a photo or a video does justice to a performance. Performance art has to be experienced. That's the whole point. Performance art is about intensity. Performance art is someone combing her hair again and again and again and again until you want to say "stop it, enough". Performance art is someone sitting on a chair staring at a wall or someone rearranging a chair and a table for hours on end. None of this sounds particularly interesting if you read the description. Indeed performance art can also be pretty boring. But if it is intensely boring it becomes interesting again.
There were many moments of great intensity in Natures Mortes. At first I didn't want to break the spell by taking photos, but in the end I did take a few snapshots. I was very happy with my new Fujifilm X100V. Both the lens and the sensor are amazing, allowing me to take decent photos at ISO 3200 or even 6400 and with the lens wide open. The choreographed sections were not that good, then again there is not much that you can do on a concrete floor and in the middle of a crowd.
The Palais de Tokyo is one of my favourite contemporary art venues. I love the stripped down architecture by Lacaton & Vassal. While I'd been there many times since its opening in 2002 this was the first time I got to see the building's labyrinthine catacombs, which had been opened and stripped bare at the request of Anne Imhof (or so I read somewhere).
The Palais de Tokyo invited Anne Imhof to create an exhibition as part of its "Carte Blanche" series. The result is a polyphonic Gesamtkunstwerk bringing together architectural interventions, paintings, drawings, music, installations, video and performance art. The exhibition consists of a selection of works that Anne Imhof has created in recent years. Unfortunately I only had time to watch a brief fragment of a recording of "SEX", a performance by Anne Imhof at Tate Modern.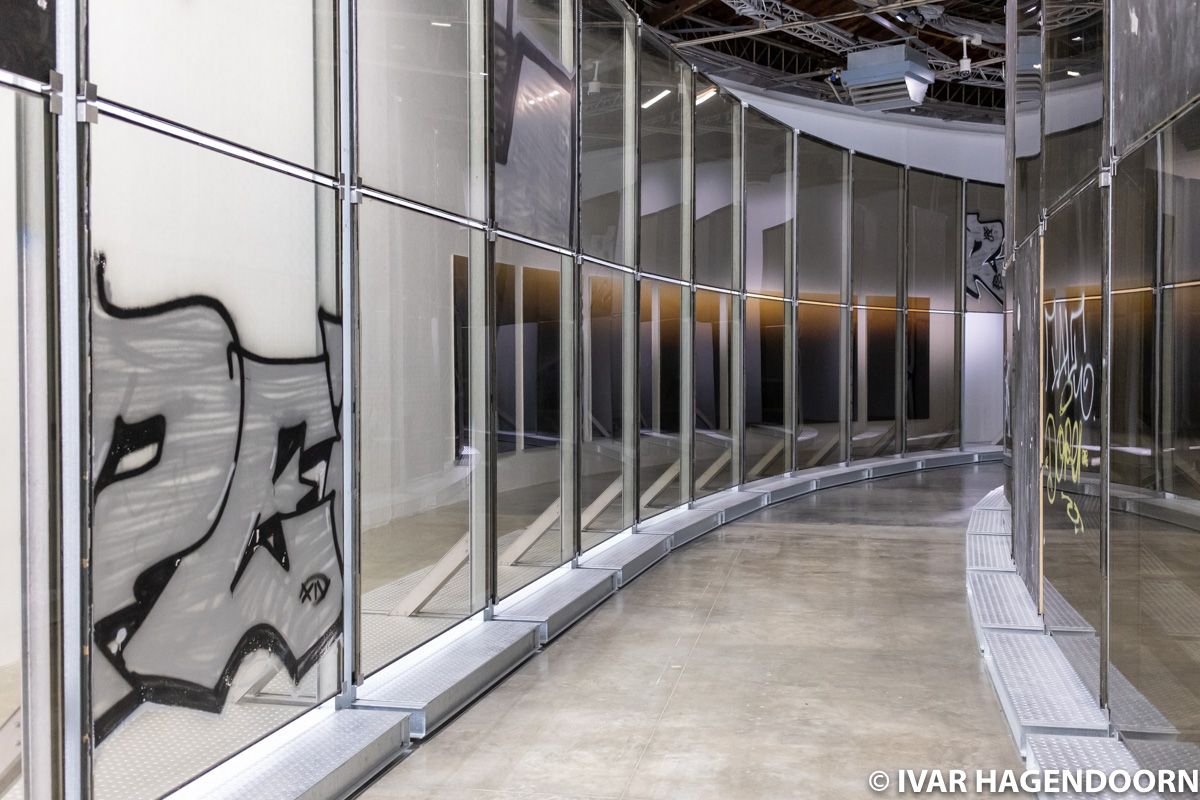 Imhof asked for the graffiti covered glass facade of a Turin office building to be installed. These glass panes function as a wall, frame and screen dividing the upper floors of the Palais du Tokyo into corridors and a maze of cubicles.
Anne Imhof also asked for works by thirty other artists to be included in the exhibition, from Francis Picabia, Sigmar Polke, Cy Twombly and Mike Kelley to contemporaries such as Wolfgang Tillmans, David Hammons and Mohamed Bourouissa. The exhibition thus doubles as a group show. I loved the installation of the rarely exhibited Axial Age (2005-7) by Sigmar Polke, which consists of seven paintings which alter under the influence of light and which in itself would have warranted a visit to the exhibition. Also included was a drawing by Piranesi, which resembled the catacombs of the Palais de Tokyo.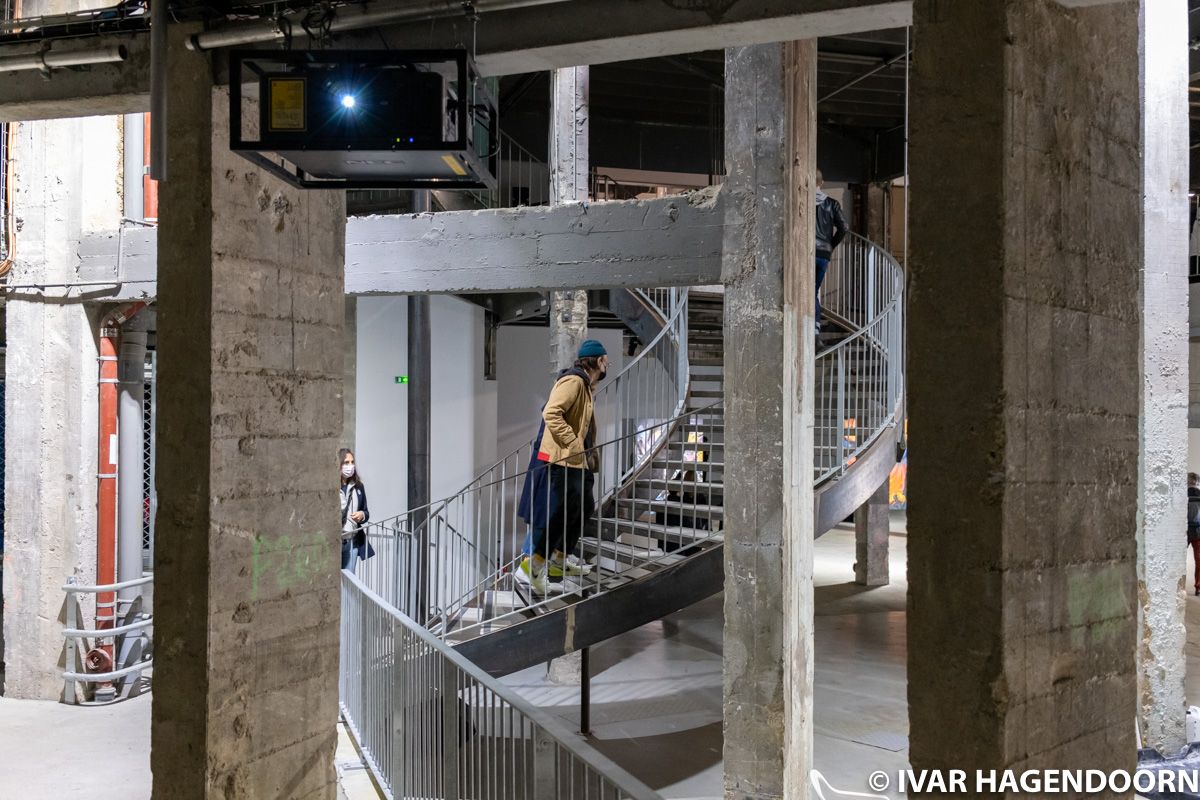 In the performance the spaces became settings for various events and tableaux vivants. The main performance led the audience through some of the spaces while at the same time some of the other performers, who appeared to communicate with each other by texting on their phones, were present in some of the other spaces.
As an aside, you could easily tell performers from audience, because the latter were masked and the former were not, because yes, the pandemic isn't over yet. Indeed, I'm happy to have attended the performance, but admit to having been a bit nervous in advance. However, everyone's COVID-pass was checked upon entering.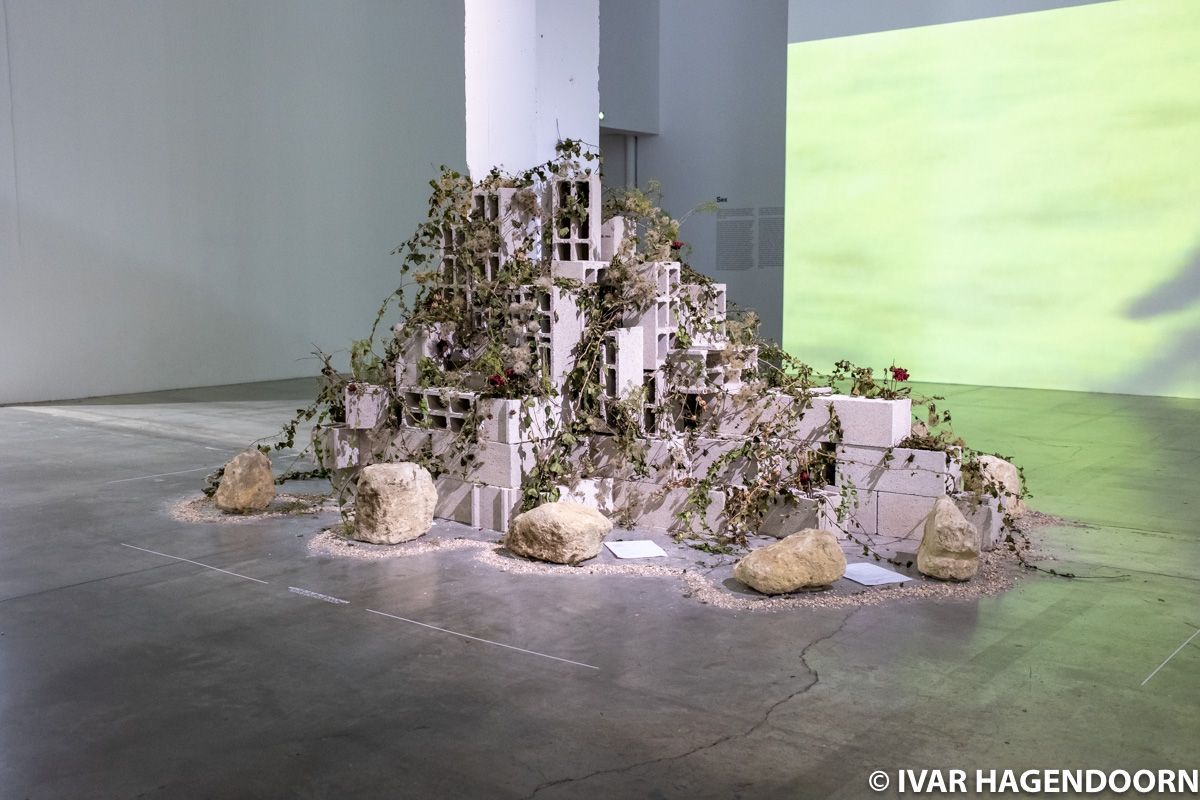 Natures Mortes is open to interpretation. You can think of the exhibition layout as the levels in a video game. The spaces themselves are at once installations, scenes and runways, but they can also be thought of as an arena or a playing field where people and ideas meet. This interpretation is enhanced by the boxing ball that is installed in one room and which refers to an early piece by Anne Imhof. Another room, the floor of which was littered with empty cans and pizza boxes, consisted of a sofa in front of a screen that showed a video game, which again enhances the idea of a meeting place.
I admit that it was all very fashionable, the graffiti, the music, the 90s grunge and metal t-shirts, the VR headsets donned by some of the performers. Anne Imhof is one of today's most popular artists. The exhibition and performance were sponsored by Burberry, which also organised a VIP performance and after party. I once read that David Bowie used his fame to do what he believed in. The same applies to Anne Imhof. This kind of installation and performance would not be possible without corporate sponsors.
I wish I'd had more time to wander around in the exhibition spaces. I wish I had arrived earlier so that I would have been one of the first to enter the performance. I wish I could have seen it under different circumstances. But I'm happy to have been able to visit the exhibition and the performance at all. It was one of the most inspiring exhibitions I've seen in recent years.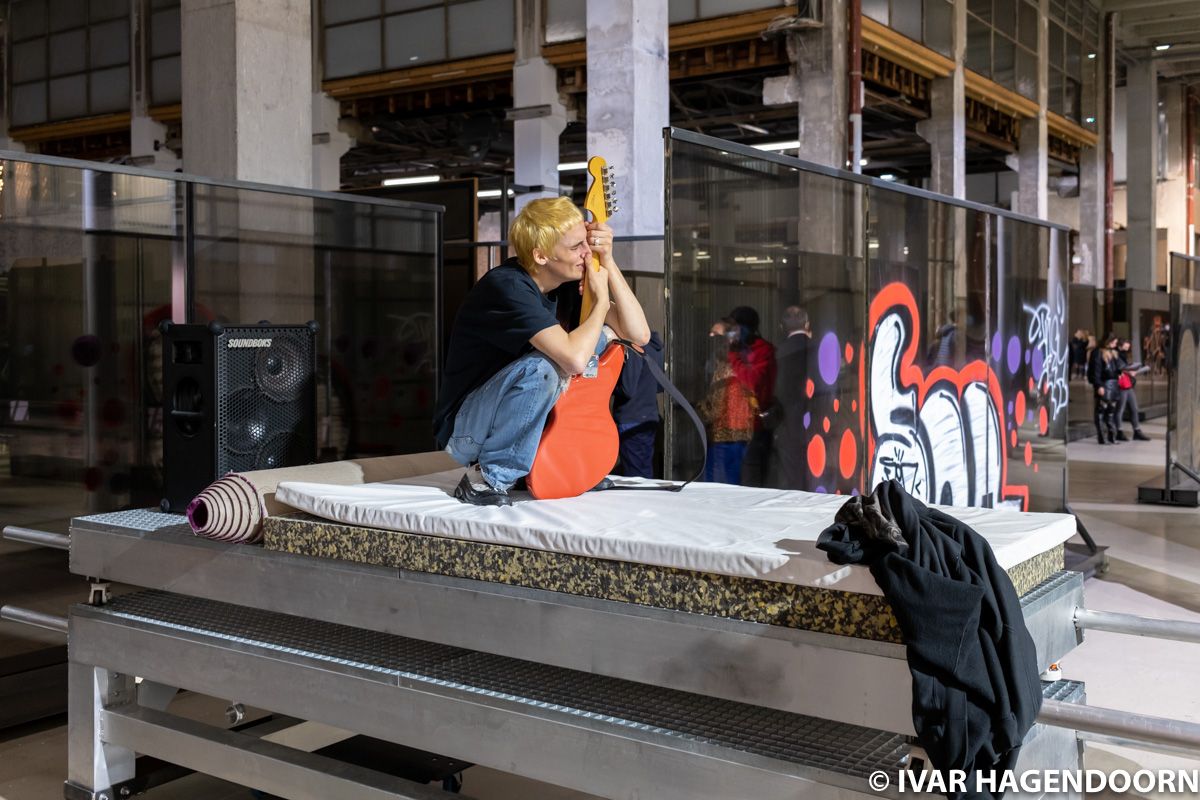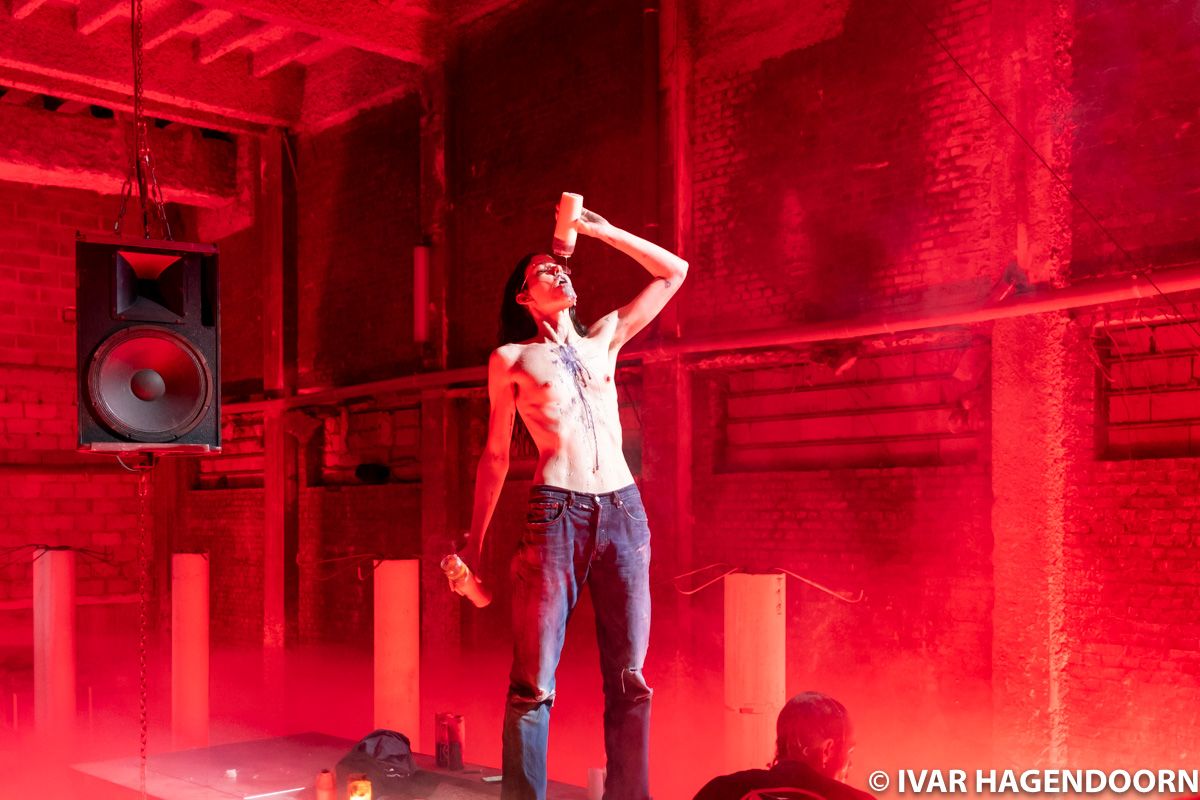 Anne Imhof: Natures Mortes is at the Palais de Tokyo until 24 October 2021.

Note: In case it isn't obvious, I took the photos but the artworks and the performance are of course © the artist.