In 2017, at the last minute, I visited the exhibition of the Shchukin Collection at the Fondation Louis Vuitton. I was enthralled and inspired by the wealth of works on show. The Fondation Louis Vuitton has now followed up with the Morozov Collection, the second in its Icons of Modern Art series, bringing together some 200 works from the French and Russian modern art collection of the brothers Mikhaïl Morozov (1870-1903) and Ivan Morozov (1871-1921). It is in fact the first time the collection is brought together after having been distributed across the Hermitage and Pushkin museums.
The exhibition had to be postponed because of the Covid-19 pandemic, but at the end of September it finally opened. Afraid that travelling might become difficult during winter if and when Covid cases start to rise again, I had secured a ticket for mid October.
The Morozov Collection is an excellent exhibition and yet I was somewhat underwhelmed, largely because it pales somewhat compared with the Shchukin Collection. This is because Shchukin was the more adventurous collector. Shchukin amassed a large number of works by Picasso and also acquired numerous works by Russian artists Malevich, Tatlin, Popova and Rodtchenko. I should add that Ivan Morozov did purchase the first Picasso to enter Russia, the wonderful "The Harlequin and his Companion" (1908). He also acquired no fewer than 18 Cézannes.
It is always a joy to see some excellent paintings by Matisse, Renoir, Cézanne, Monet and Van Gogh, especially long-hidden gems such as "The Sea at Saintes-Maries" (1888) and "The Prison Courtyard, Saint-Rémy" (1890) by Vincent van Gogh. The latter stands out among Van Gogh's late work and has been given its own room. It was also interesting to see the paintings of the Russian artists who were inspired by the works that the Morozov brothers (and Shchukin) took with them from Paris.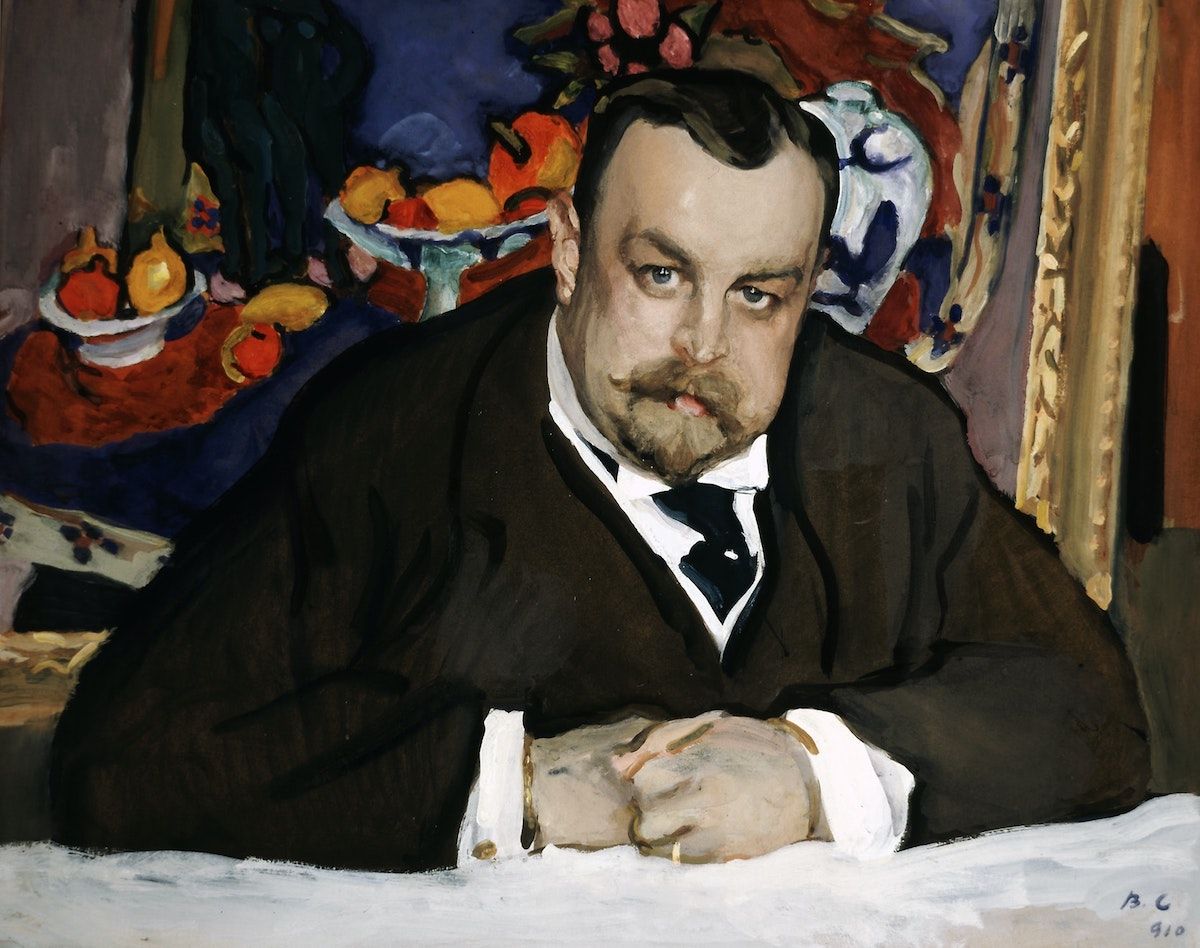 Ivan Morozov had himself portrayed in front of what I imagine one of his favourite paintings, "Fruit and Bronze" (1910) by Henri Matisse. What I find interesting about this portrait is that, in order to paint it, Valentin Serov had to partially reproduce a painting by Matisse. The painting hangs next to the original painting by Matisse and another work by Matisse, "Still Life with the Dance" (1909), in which Matisse reproduced part of one of his own paintings, "The Dance". Another wall of the same room is occupied by Matisse's Moroccan Triptych, which radiates cobalt, ultramarine and turquoise. I can imagine Matisse found himself in paradise when he visited Morocco, with its blue houses and colourful markets.
The Morozov Collection. Icons of Modern Art is at the Fondation Louis Vuitton until 3 April 2022.