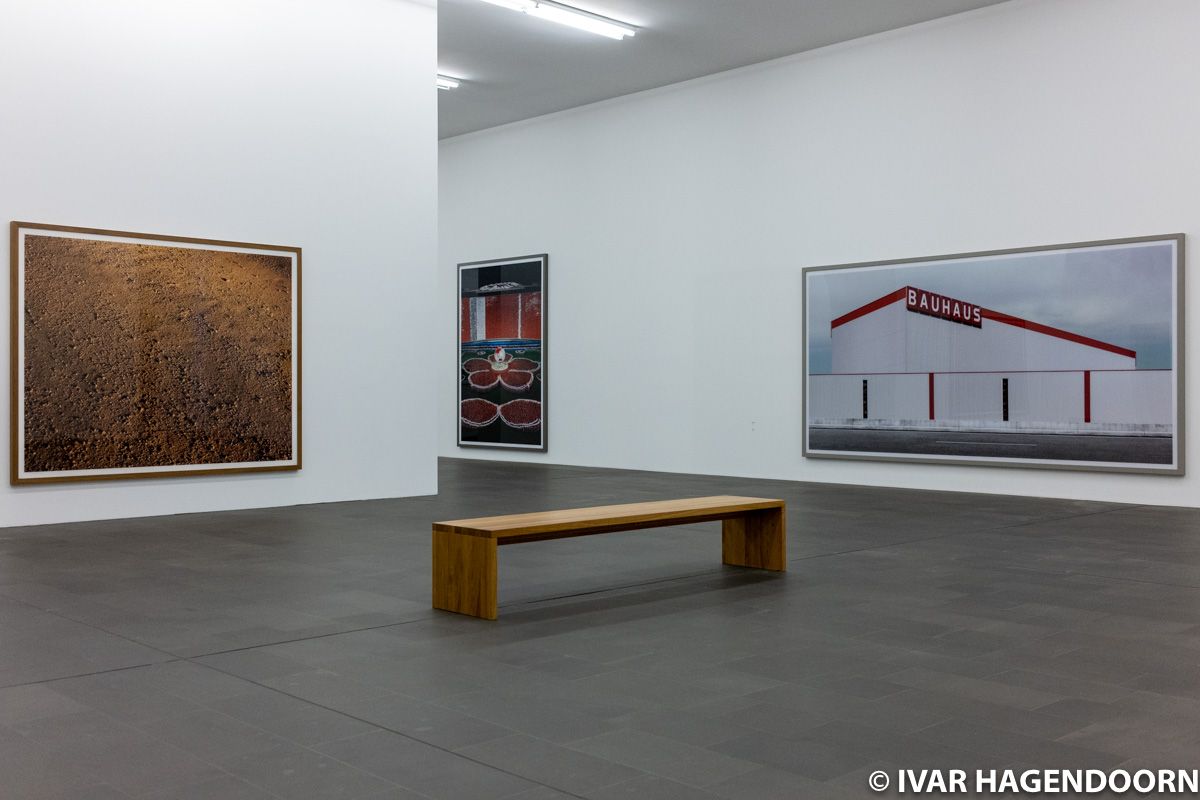 The reopening of the Museum Küppersmühle für Moderne Kunst in Duisburg was a good reason to visit the Andreas Gursky retrospective, while the Andreas Gursky retrospective was a good reason to visit the recently reopened Museum Küppersmühle.
Museum Küppersmühle is located in a historic grain mill on the Duisburg harbour front which was originally converted into a museum by Herzog & de Meuron in 1999. Herzog & de Meuron have now created an extension to the museum, which adds about 2,500 square metres of exhibition space. Museum Küppersmühle is best known for its staircase and the extension adds another beautiful staircase that rivals the original.
The Andreas Gursky retrospective consists of 60 works spanning nearly four decades, starting with early works from the Ruhrgebiet, taken during and shortly after his studies at the Kunstakademie Düsseldorf with Bernd and Hilla Becher.
Andreas Gursky is best known for his monumental, billboard size photographs. But he actually started out by taking photos of a gas cooker (1980), a storage room (1981), a mountain pass (1984) and a flyover (1989).
At some point Gursky began making large panoramas and blowing them up to monumental proportions. As a matter of fact these large pictures are digitally enhanced collages of multiple photos. Paris, Montparnasse (1993) for example, one of Gursky's most famous pictures, shows all apartments in the apartment block designed by Jean Dubuisson in 1959. It was taken from different vantage points and then edited together into a single image in post-production. What Gursky has done is to overcome the frustration of not being able to capture the building in its entirety in a single photograph, of not being able to capture the experience of seeing this immense façade in a single photograph. By printing the picture at scale it too becomes imposing though not as imposing as the actual building. Gursky's work is thus mimetic on two fronts: the image and the experience. (I am aware that this reading is inspired by Deleuze and Lyotard. I don't have time for a more elaborate analysis, so this review remains tentative and cursory).
Gursky's pictures are incredibly detailed. Everything is in equal focus. Works like Kreuzfahrt (2020) and Amazon (2016) have to be seen in a museum gallery. A reproduction in a book or on screen doesn't do them justice.
In a number of recent works Gursky has taken this process one step further. Review (2015) shows four German chancellors seen from behind sitting in front of a Barnett Newman painting. This moment never happened. The image is a composition, much like classic paintings, except that Gursky used digital graphics editing software to compose his images. I don't find these works convincing. Politik II (2020) shows German politicians against the background of large clock at five to twelve. I get it. But it's pretty banal.
Gursky's success as an artist can in part be attributed to a number of classic images of the Chicago Mercantile Exchange (1997), the Chicago Board of Trade (1999), the Hong Kong Stock Exchange (2000) and the Kuwait Stock Exchange that every hedge fund wants to have in its office. Unfortunately for Andreas Gursky most trading floors have closed.
Like every photographer Gursky also makes "normal" photographs such as this one taken in Ibiza (2016) and this portrait of A and E (2020). These photos show that Andreas Gursky is a highly accomplished photographer with a keen eye for composition.
My favourite works are his pictures from the 90s and 00s which showcase hypermodernism and capitalism at its apex. In these works everything comes together: concept, technique, content and execution.
Andreas Gursky is at Museum Küppersmühle für Moderne Kunst, Duisburg until 30 January 2022