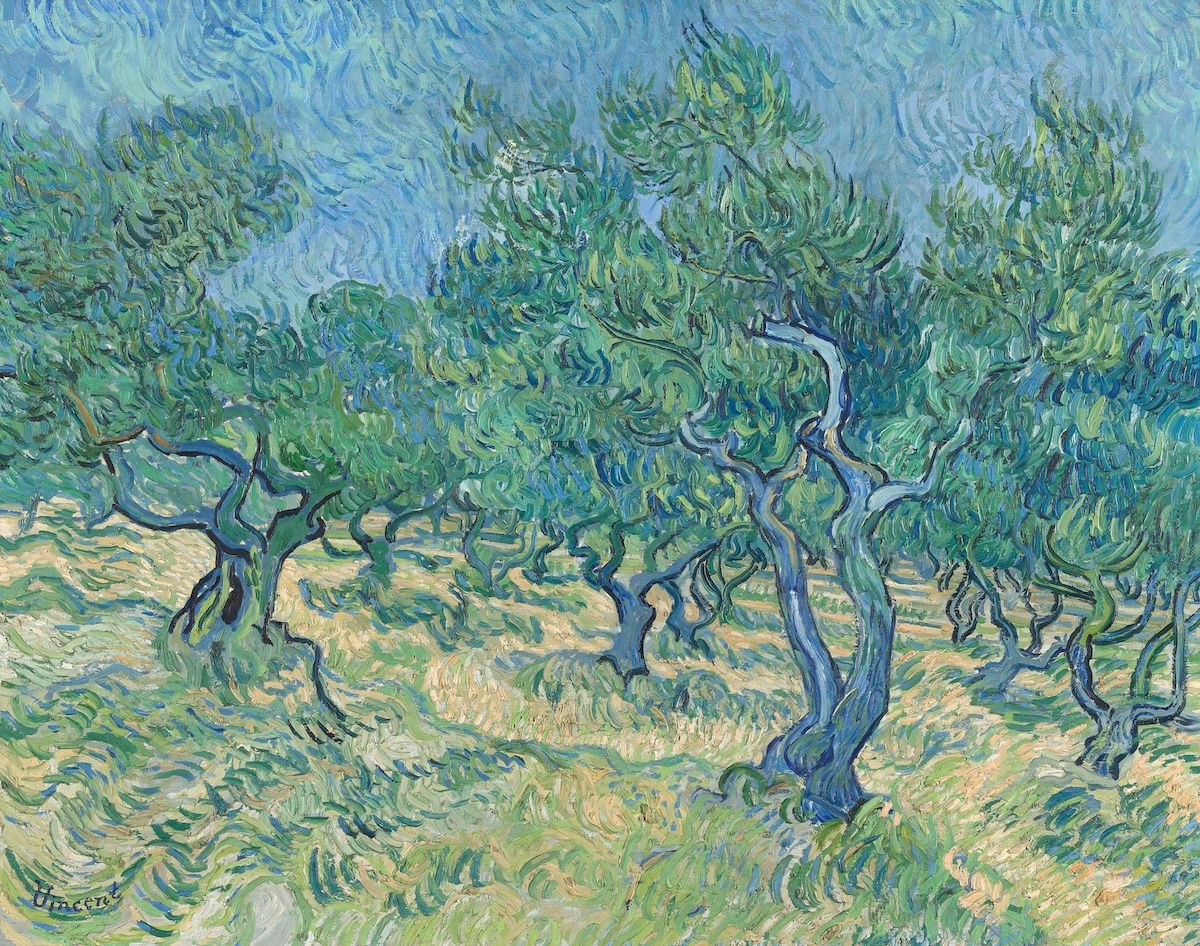 Upon arriving at the asylum of Saint-Paul-de-Mausole in Saint Rémy in May 1889, Vincent van Gogh was enthralled by the olive groves that surrounded the asylum at the base of the Alpilles Mountains. During his stay, from June through December, he created a series of paintings that capture the olive groves in different seasons and at different times of day.
The exhibition Van Gogh and the Olive Groves brings together these paintings for the first time. Co-organized by curators Nicole R. Myers of the Dallas Museum of Art and Nienke Bakker of the Van Gogh Museum the exhibition is the culmination of a years-long conservation and research project. The researchers analyzed the paintings using a variety of techniques, including microscopy, infrared photography and X-ray fluorescence analysis. In the process they discovered sand, seeds, Van Gogh's fingerprints and even entire insects that got stuck in the paint. This allowed the researchers to determine which paintings were painted outside and which in his studio in the asylum.
The team also discovered that some of the original colours have changed due to the exposure to light. As a result Van Gogh's purples, pinks, and reds have shifted to the soft blues that we see today. The blue walls of Van Gogh's famous Bedroom (1888) were also originally violet. Based on these insights the researchers were able to reconstruct the colours as they must have looked when van Gogh painted the Olive Grove series, as shown in a colour print in the exhibition.
Van Gogh considered his paintings of olive trees among the best he had made in the South of France. They are indeed pretty awesome. Van Gogh rendered the olive trees' twisted branches and gnarled trunks in swirling strokes and vivid colors. I particularly love the Olive Grove (July 1889) that is in the collection of the Kröller-Müller Museum, the Olive Trees (June 1889) in the collection of the Nelson-Atkins Musuem of Art in Kansas City and The Olive Trees (June-July 1889) in the collection of MoMA, the only painting not included in the exhibition.
One of the paintings shows an olive tree with a branch cut off. It is difficult not to see in this tree a subliminal self-portrait.
Van Gogh and the Olive Groves is at the Van Gogh Museum, Amsterdam until 12 June 2022.
More Vincent van Gogh
Steven Naifeh & Gregory White Smith: Van Gogh. The Life