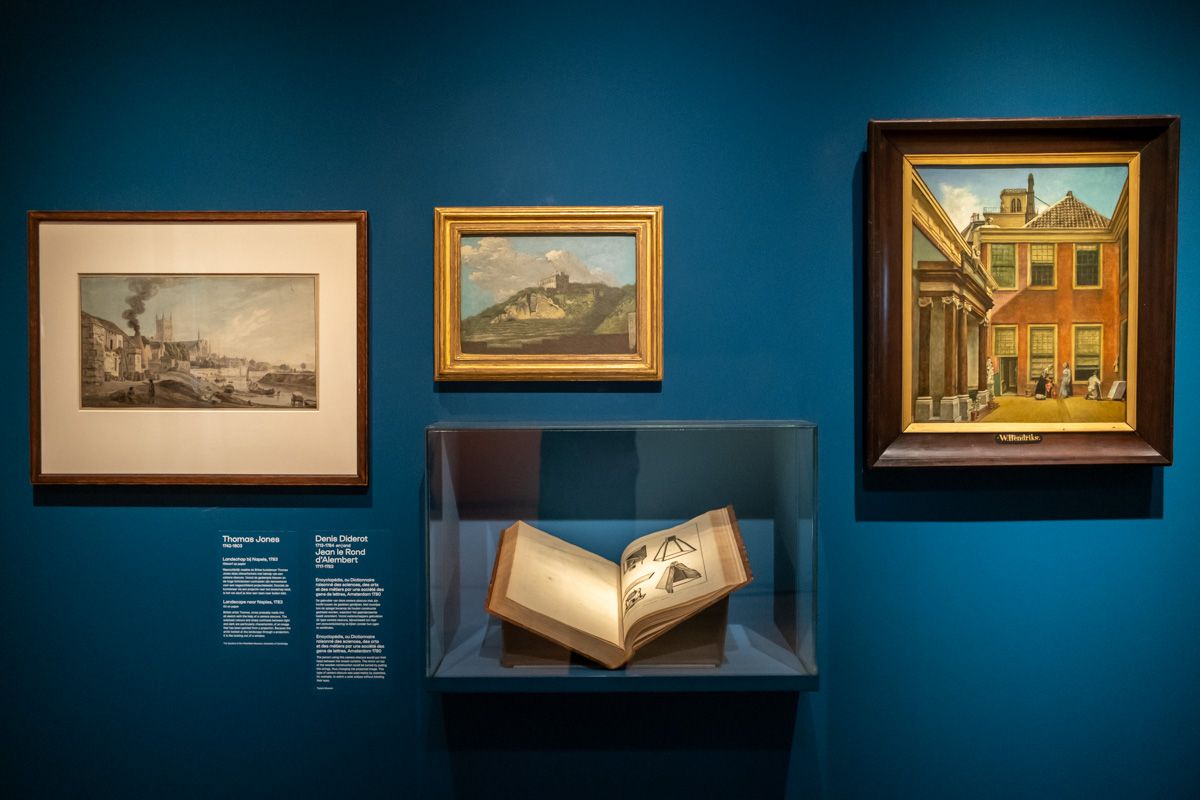 David Hockney is one of today's most celebrated artists. In 2018 one of his paintings from the 1970s sold for USD 90 mln making it one of the most expensive artworks by a living artist.
David Hockney also has some refreshing, idiosyncratic ideas about art and art history. One of his most contentious ideas is that for centuries artists used optical instruments to translate three-dimensional scenes onto a flat surface. Hockney first exposed these ideas in Secret Knowledge (2001), which I instantly bought the moment it came out.
As the curators write, the objective of Hockney's Eye is not to prove or falsify Hockney's thesis but to look at art that was almost certainly accomplished with the aid of optical devices and to examine Hockney's own creative experiments with such devices.
The exhibition now at the Teyler's Museum was organized in collaboration with The Fitzwilliam Museum and The Heong Gallery, Downing College in Cambridge. The Teylers Museum in Haarlem has slightly adapted the original exhibition including some works from its own collection. The Teylers Museum is the oldest museum in The Netherlands and has a fascinating collection of scientific instruments, fossils and minerals, enhanced by artworks from the 17th century to the present day. Interestingly, the exhibition includes a painting of the museum's courtyard by Wybrand Hendriks (1744-1831), which was presumably painted with the aid of a camera obscura. An actual camera obscura has been installed in a room looking out on the courtyard so that visitors can see for themselves what the artist may have seen.
The exhibition doubles as a small-scale David Hockney retrospective. Some of Hockney's recent iPad paintings are hung on monitors among the museum's painting collection, which works surprisingly well. I was underwhelmed by the David Hockney career retrospective at Tate Britain in 2017. I like his early work and I love his photo collages, but his later work doesn't really appeal to me. At Hockney's Eye these two poles are illustrated by a fascinating photo collage of the Grand Canyon, which hangs opposite a brightly coloured painting of the same and which I find pretty awful. This is more than made up for by two other photo collages.
According to Hockney photography will never replace painting, "because it is not real enough", whereby "real" does not refer to an accurate correspondence between picture and pictured, but to the expression of the painter's experiential process. I believe most professional photographers will agree, because there's a difference between pressing the shutter and capturing a landscape or a portrait. The portraits and self-portraits by David Hockney included in the exhibition reveal his mastery in this respect whether using pencil, coloured pencil, acrylic or charcoal on canvas or the drawing tool of an iPad.
Hockney's Eye is a small, but wonderful exhibition. The richly illustrated catalogue contains some scholarly essays and a wealth of additional material.
Hockney's Eye is at the Teylers Museum, Haarlem until 29 January 2023. Tickets must be booked in advance.