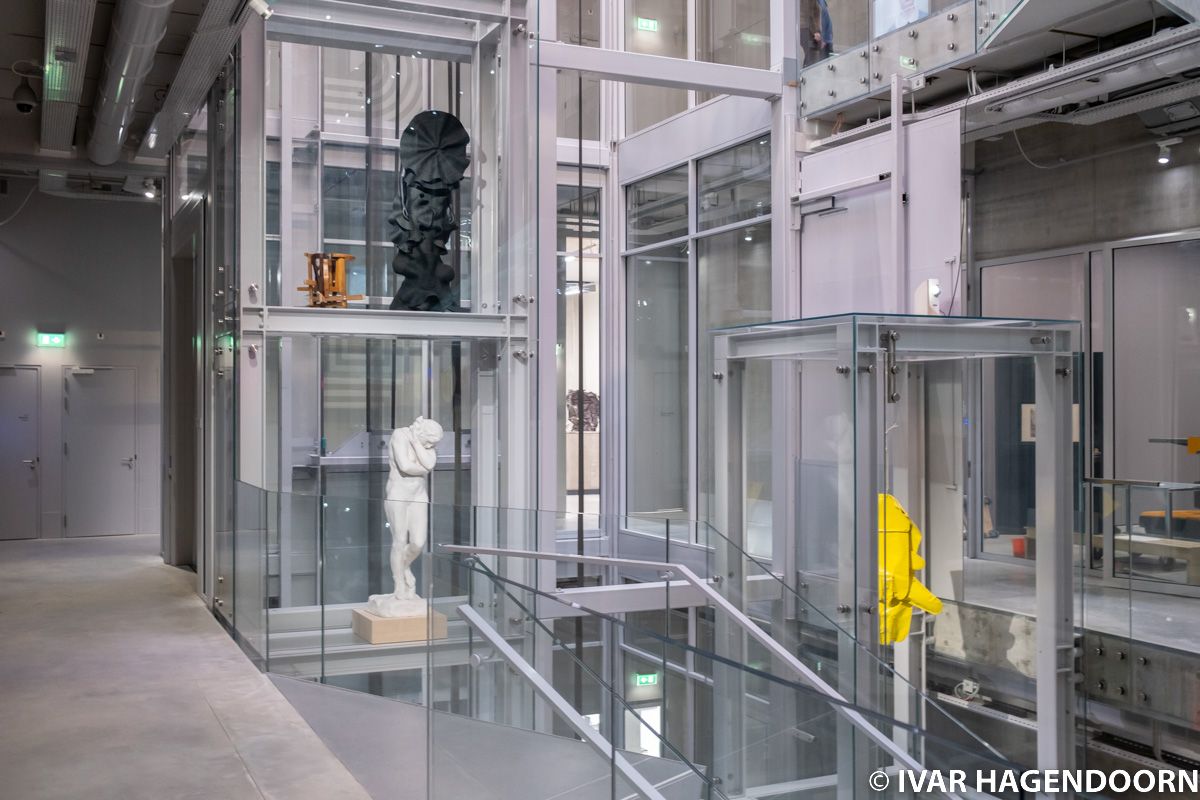 I finally had a chance to visit the Depot Boijmans Van Beuningen in Rotterdam. It is a spectacular building and I love the concept and the design. I had been wanting to visit since before the opening, about a year ago, but because of corona and because you have to book a timeslot in advance, I hadn't come around to doing so. I now plan to go back on a weekday and to start on the top floor to avoid the crowds, because yes, it does get busy, despite the limited numbers of visitors that are allowed inside at each timeslot.
Depot Boijmans Van Beuningen is billed as the first art storage facility in the world that offers access to a museum's complete collection. This is not quite true. The amazing Schaulager in Basel, designed by Herzog & de Meuron, is also an art storage facility open to the public, albeit by appointment only. It is also slightly disingenuous. For while you can wander around the building, you cannot actually enter most of the storage compartments and say, browse the painting collection. You can switch on a light to peek inside some of the storage compartments and thus see how the paintings are stored. I should add that I wouldn't know why anyone would actually want to see the entire collection. With more than 150,000 objects that would take days, if not weeks.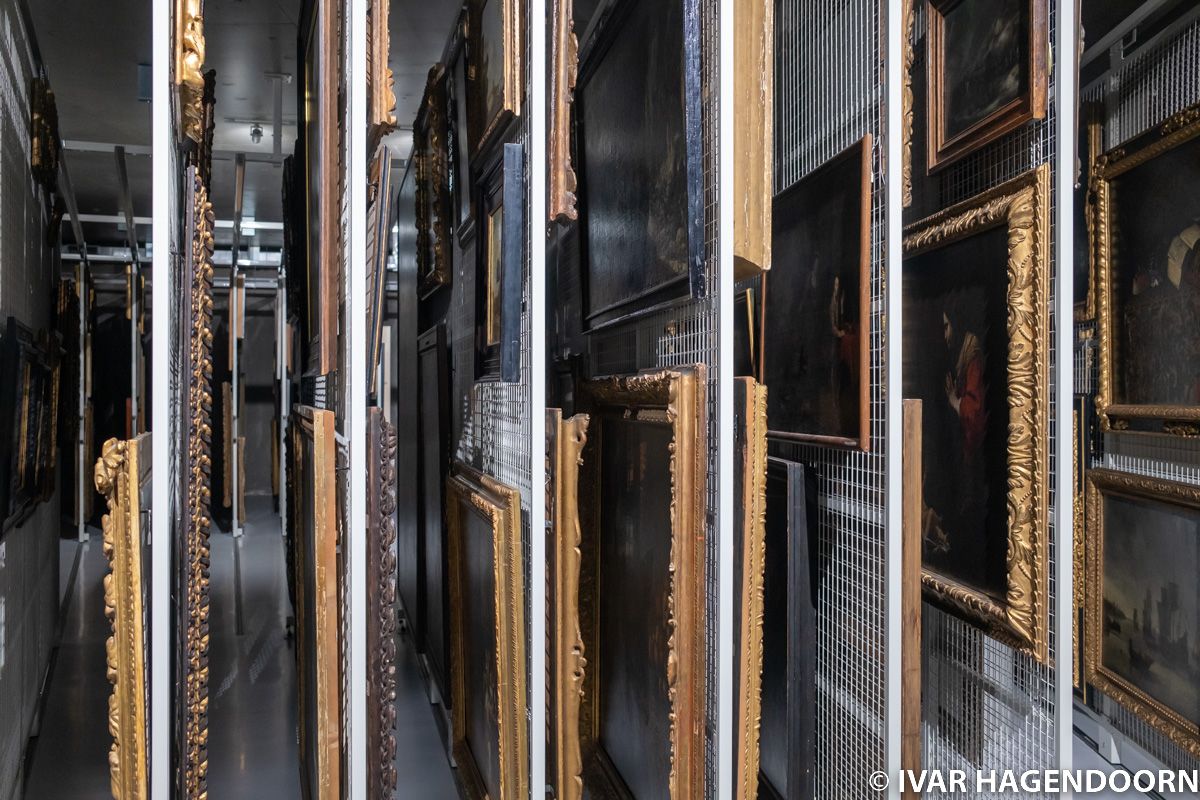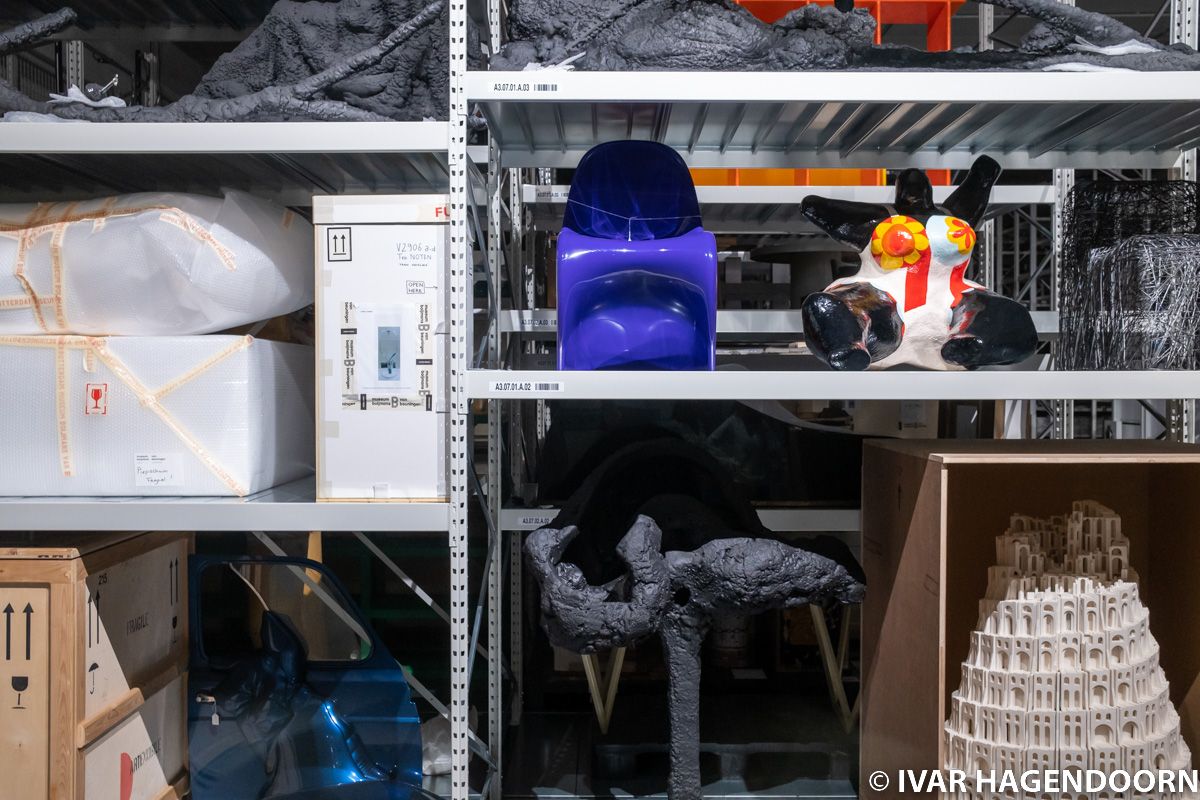 The depot is not just a storehouse, it is also a place where you can see people in white coats restoring a sculpture or studying a painting under a microscope. It is interesting to thus get a glimpse of what goes on behind the scenes and to learn a little bit about what those people are doing. I can imagine that it must have taken some time for the conservators to get used to working behind glass walls.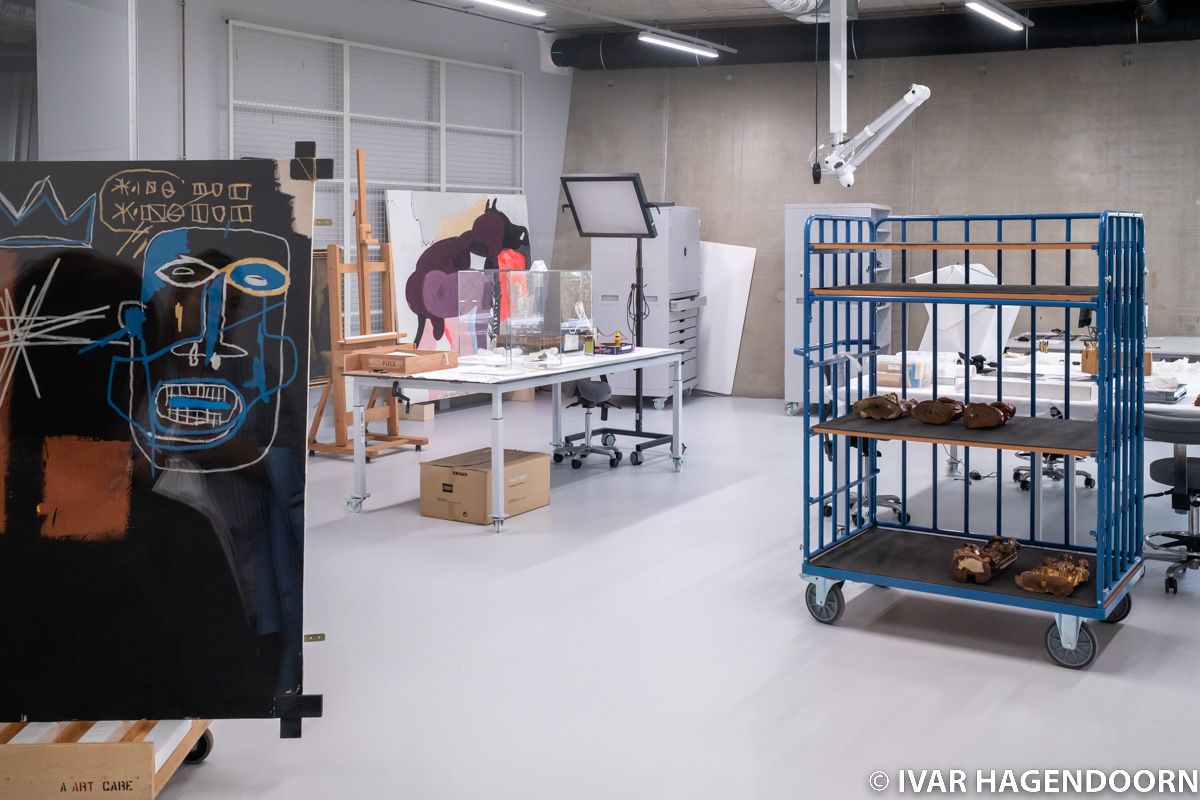 Some rooms are reserved for temporary exhibitions where curators can experiment with new exhibition concepts and where large installations or video works are put on show.
Since the Boijmans van Beuningen Museum itself is closed for renovation highlights from the collection, which includes major works by Rembrandt, Bruegel, Van Gogh, Magritte and Dali among others, are currently on show in the Depot. Instead of being hung on the wall, the paintings are displayed on free-standing glass easels, a presentation device conceived by the Italian-Brazilian architect Lina Bo Bardi (1914 - 1992). Accordingly you can walk around the painting and see both the front and the back. The back of a painting not only shows how the painting was made, it also reveals information about the painting's provenance and exhibition history in the form of stamps, stickers, labels and seals.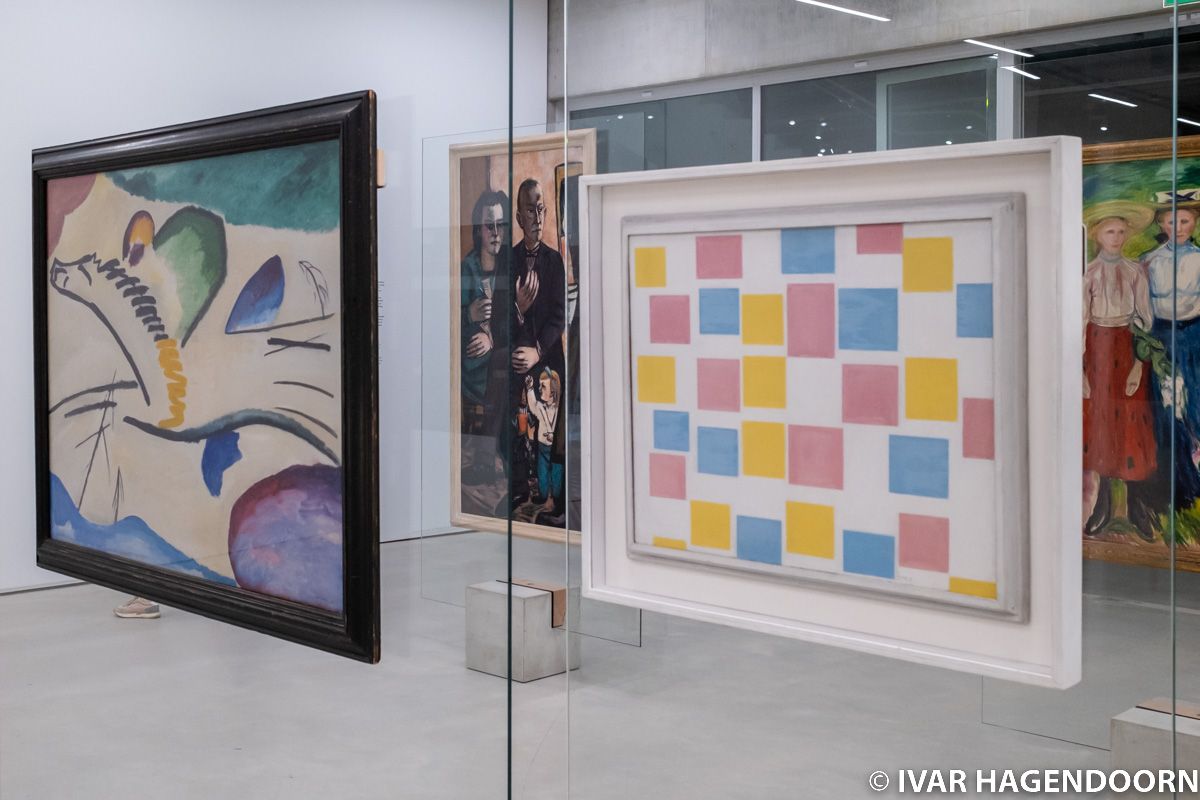 Depot Boijmans Van Beuningen was designed by Dutch architects MVRDV. The outside is entirely covered with mirrored panels reflecting the surrounding buildings. On a sunny day this should make for excellent photo opportunities (when I was there it was cold and grey and from time to time drizzling with rain).
The heart of the building is a five storey atrium with transparent elevator shafts and a maze of stairs. Walking through the building is tremendous fun with paintings, sculptures, fashion and furniture wherever you look. Just don't expect to learn anything about any of the objects on display, for that you would (probably) need to consult an app. There are no signs indicating artist, title and year. This is not a museum.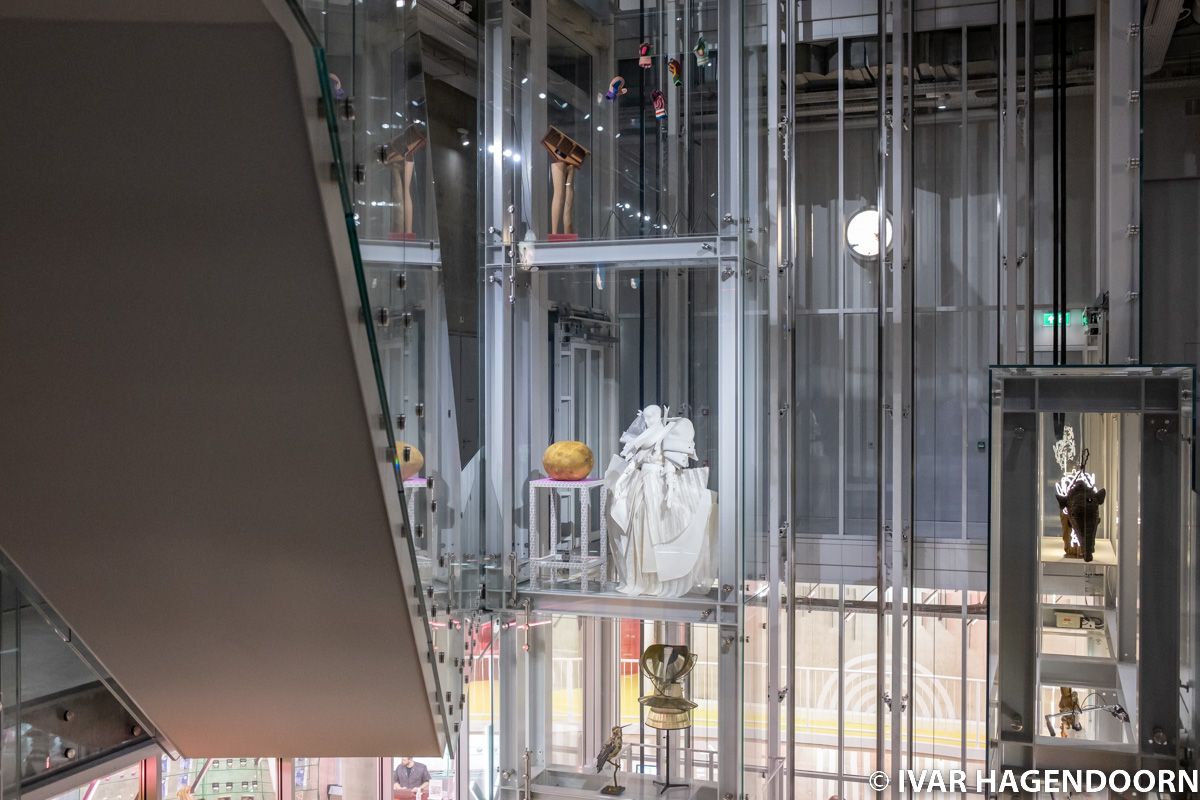 In the meantime various other museums around the world have jumped on the bandwagon and are opening up their archives to the public. London's Victoria & Albert Museum is building an accessible storehouse designed by architects Diller Scofidio & Renfro.
Beware that Depot Boijmans Van Beuningen is extremely popular, and for good reasons, and that tickets need to be booked in advance. It is possible to join a tour and learn more about the building and the collection.