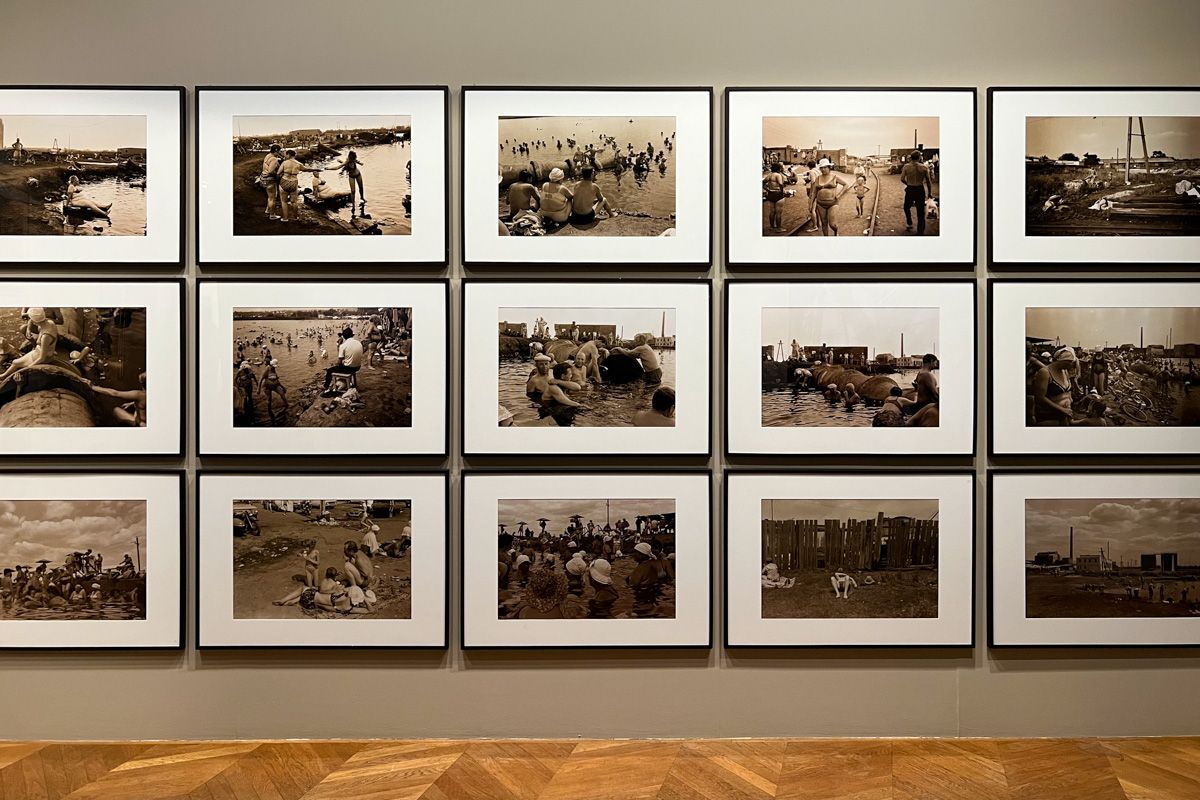 The exhibition Boris Mikhailov: Ukrainian Diary at the Maison Européenne de la Photographie (M.E.P.) in Paris was originally scheduled for 2020 but had to be postponed because of the Covid pandemic. Now, after the Russian invasion of Ukraine, it has taken on a whole new meaning. One photograph included in the exhibition called "The Theatre of War, Second Act, Time Out", taken in 2013, shows a scene from Kyiv's Maidan square where protesters had put up their tents and barricades. Little did they nor we know how brutal the next act would be.
Mikhailov was born in Kharkiv in 1938, which is also where he spent much of his life and career. It fills me with sadness that most of the buildings in his photographs have been destroyed or at least heavily damaged and that many of the people may have fled or died.
Boris Mikhailov is one of Ukraine's best known and most influential artists. He has represented Ukraine at the Venice Biennale in 2007 and 2017 and his work has been exhibited at the Tate Modern in London and at MoMA in New York. "Boris Mikhailov: Ukrainian Diary" is the biggest retrospective of his work to date and includes some 800 photographs, ranging from experimental and conceptual work to documentary photography.
Mikhailov trained as an engineer. Early in his career, he was given a camera and told to document work at the factory where he was employed. He took his camera with him to photograph everyday life in Kharkiv. Every once in a while he would be stopped by police, who would ask him why he took a photo of some ordinary building. He also used his camera to take nude photographs of his wife, Vita, which he developed secretly in the factory's laboratory. Upon their discovery he was fired and for several years afterwards he earned a living as a commercial photographer.
During this time Mikhailov developed his concept of "bad" photography. Instead of aiming for technical perfection he would deliberately tilt his camera, take out-of-focus photos and print his blurry, low-contrast pictures on low-quality paper, thereby subtly subverting the ideals of social realism.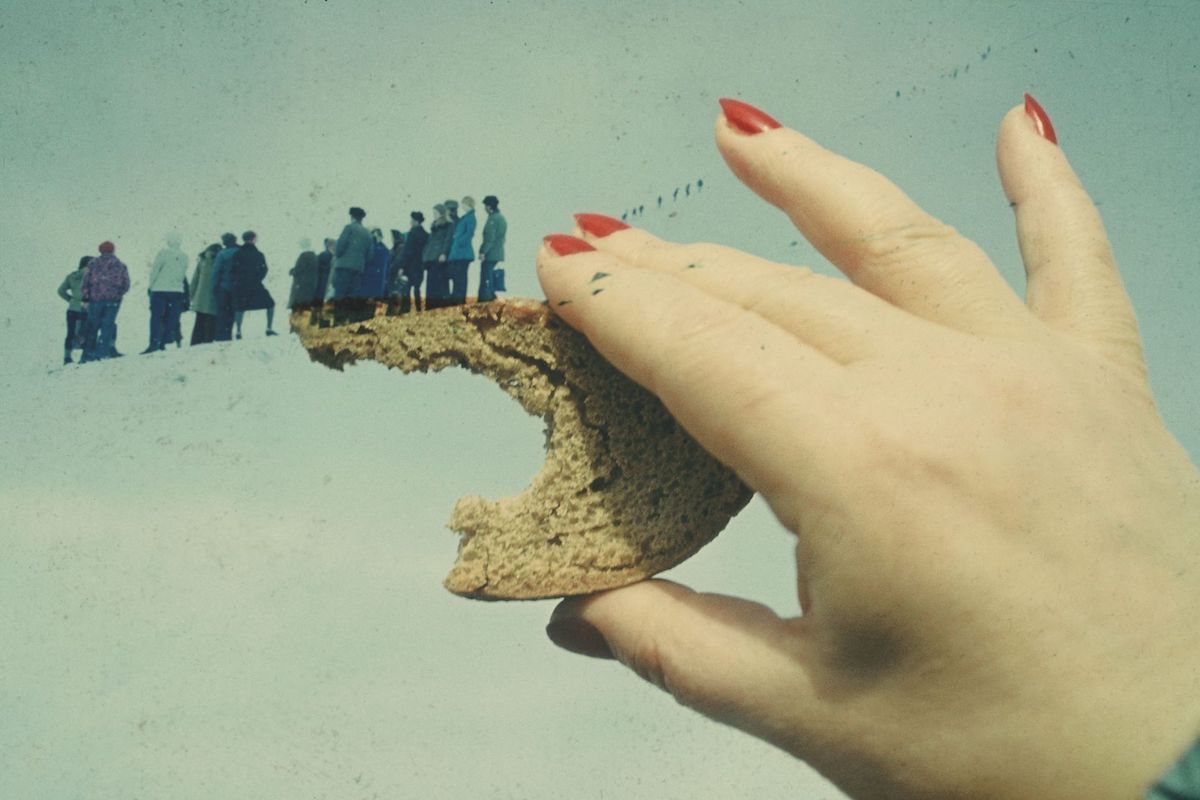 I loved "Yesterday's Sandwich", a series of photos taken during the 1960s and 70s, which consists of overlayed, superimposed slides. Mikhailov had inadvertently thrown a bunch of slides on his bed and two had stuck together. The resulting image looked fascinating so he began to deliberately superimpose one slide on top of another, much like a sandwich. Metaphorically the photos reflect the dualism and contradictions of Soviet society.
For "Luriki" (1971-85) Mikhailov took found black-and-white photographs of anonymous people and overpainted them with hand coloring, a common technique in the Soviet Union at the time.
The Salt Lake series taken in 1986 show people bathing and swimming in a lake near Sloviansk, believed to have curative properties. In fact the water was heavily polluted due to the nearby factories, which dumped their waste into the lake. Mikhailov printed the photos in sepia tone and deliberately scratched and damaged the prints.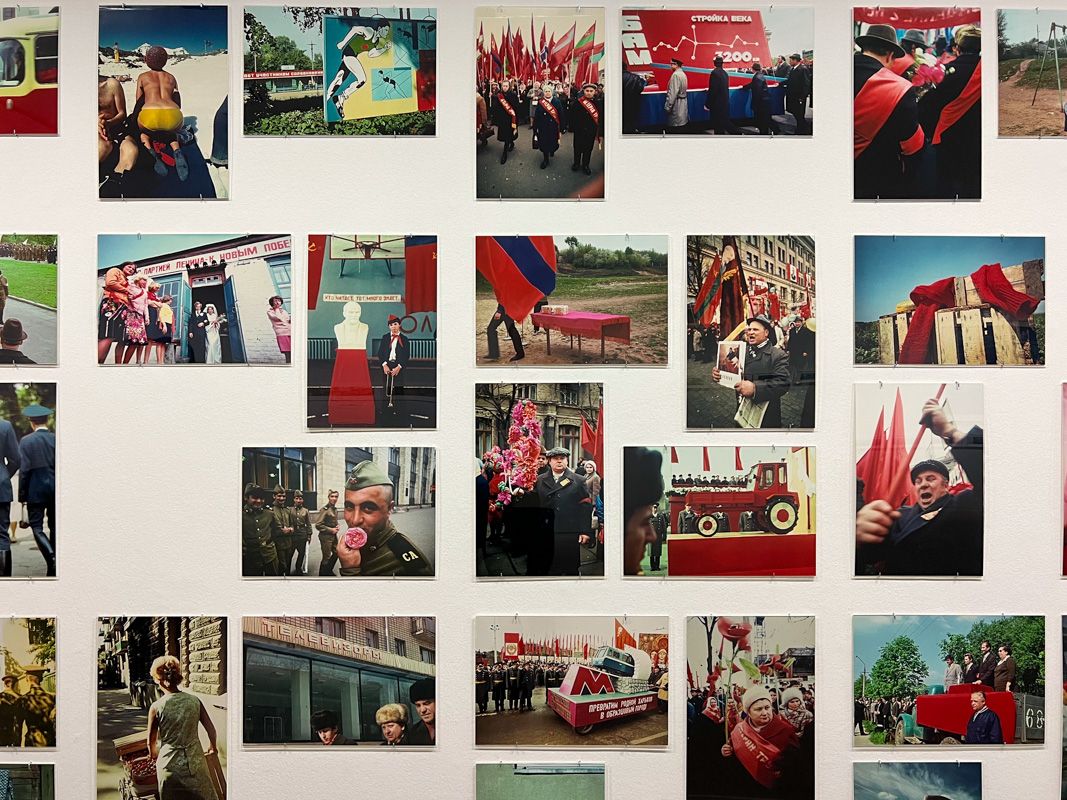 The Red series, taken between 1965 and 1978, consists of 84 photographs containing the colour red, a reference to the old Soviet Union.
I'm not quite sure what to think of "Case History" (1997-98), Mikhailov's most notorious project, for which he photographed the poor and homeless inhabitants of Kharkiv. Mikhailov and his wife paid their subjects, offered them food and sometimes invited them to their house. But why did he have them pose nude or seemingly drunk in the snow? And why did he ask them to pose in positions that recall a Pietà or the Descent from the Cross? Why didn't he portray them with dignity?
I really liked the photos Mikhailov took on the streets of Ukraine after the fall of the Soviet Union. They show the chaos and misery that came with economic liberalization, but also the newfound freedom of those years.
I'm glad I decided to visit the exhibition at the last minute.
Boris Mikhailov: Ukrainian Diary is at the Maison Européenne de la Photographie in Paris until 15 January 2022.