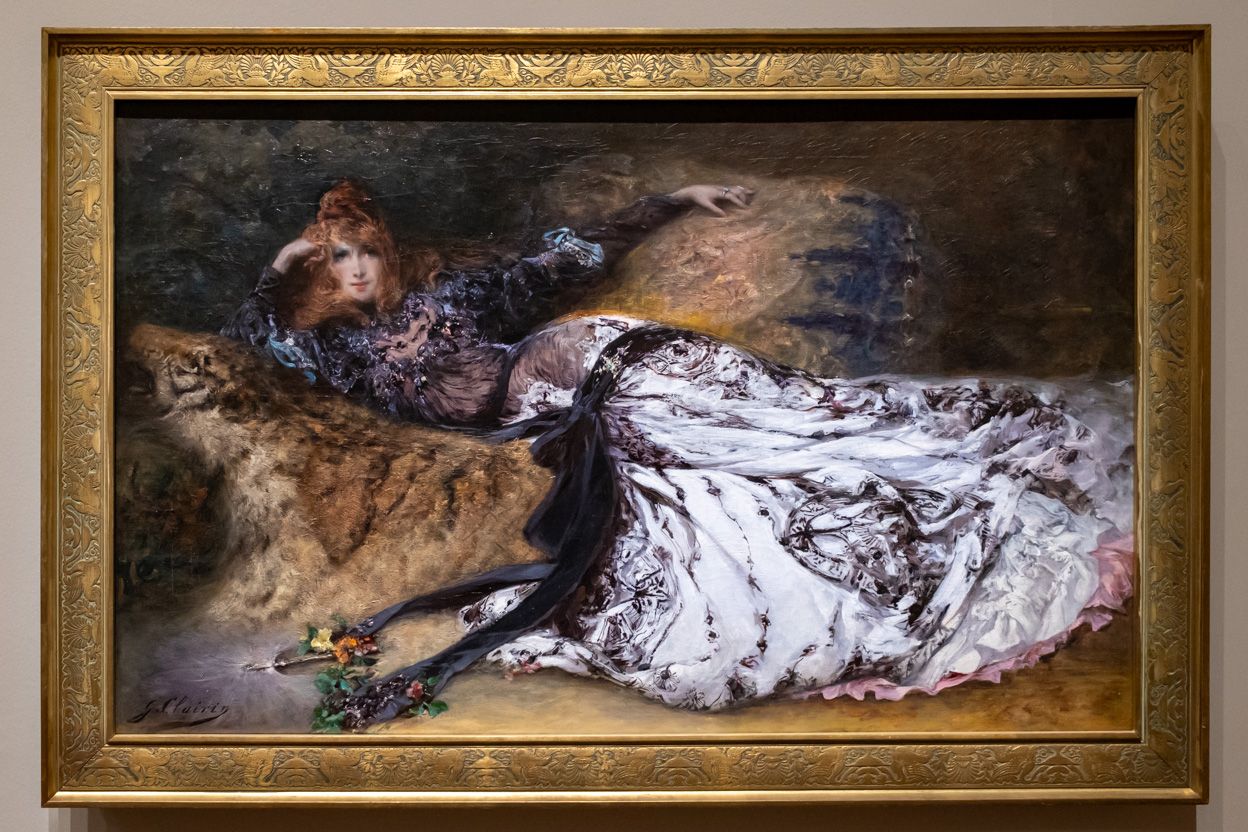 On the occasion of the centenary of her death the Petit Palais in Paris pays homage to Sarah Bernhardt (1844-1923) with an exceptional exhibition, bringing together more than 400 items, including paintings, stage costumes, posters, photographs, film excerpts and personal belongings. The exhibition was jam-packed when I was there. Indeed, I was lucky to get a ticket, because I hadn't thought it necessary to book in advance. It may seem a bit odd that a stage actress who lived more than a century ago and died before the golden age of cinema still captures the imagination. But Sarah Bernhardt was no ordinary actress, she was larger-than-life. Before Marilyn Monroe, Madonna and Kim Kardashian there was Sarah Bernhardt.
Sarah Bernhardt was the first superstar and an influencer avant la lettre, adored by her fans, stalked by journalists who reported on her every move and always surrounded by an entourage of other celebrities. She made a fortune, went bankrupt and then made an even bigger fortune. Of course, it helps that she was a muse for Georges Clairin, Nadar, Louise Abbéma and Alphonse Mucha, who created numerous posters of her that have become synonymous with Art Nouveau. Bernhardt is also said to have inspired Marcel Proust, Jean Cocteau and countless other artists of her time. Oscar Wilde wrote a play in French, Salomé, especially for her. It is thus that her legend lives on.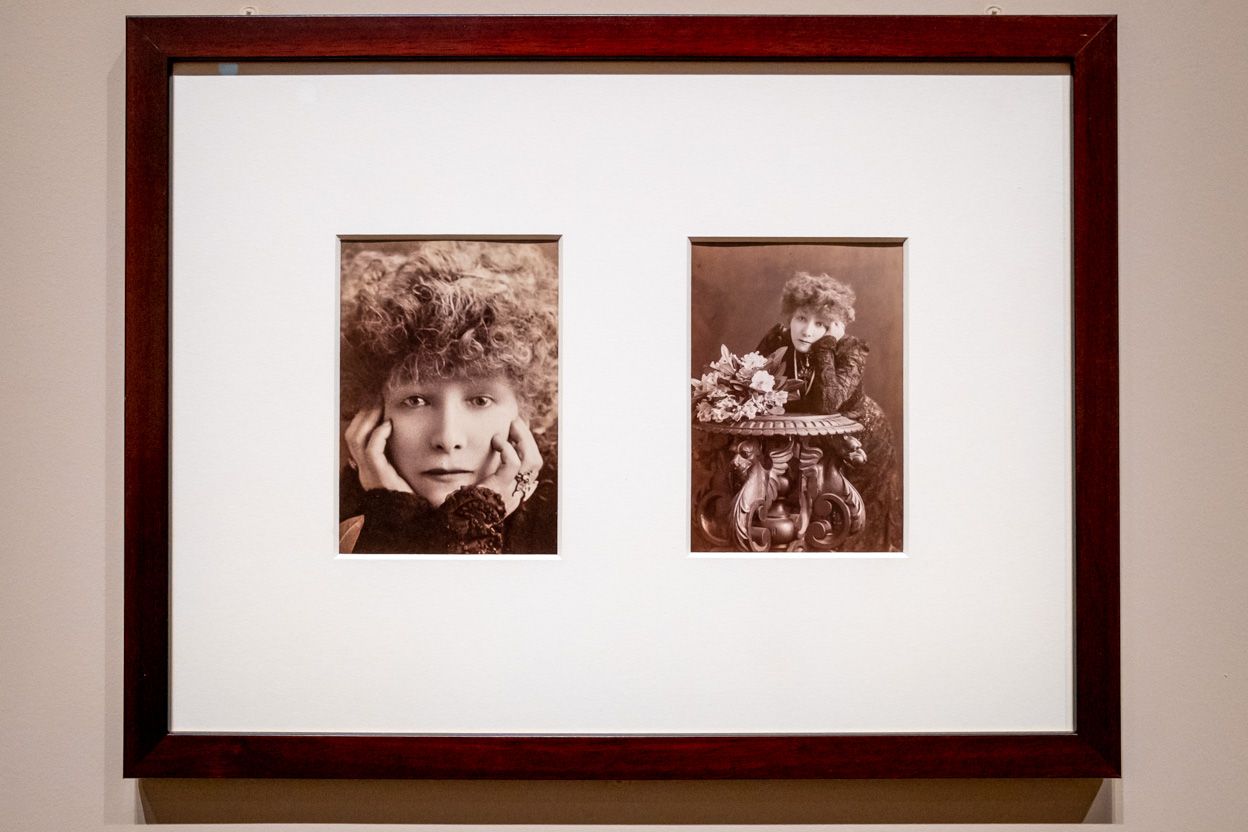 Sarah Bernhardt was born in Paris in 1844. Her mother was a courtesan of Dutch descent, whose patrons included Charles de Morny, Duke of Morny and President of the French legislature. With the sponsorship of Morny Bernhardt was able to attend the Paris Conservatory, where she studied acting from 1860 until 1862. In 1862, at the age of 18, Bernhardt joined France's most prestigious theatre company, the Comédie Française in Paris, but she was forced to leave within a year after she refused to apologize to a leading actress. It wouldn't be the last time that her strong-willed personality would lead to conflict.
In 1866, after having lived in Brussels and given birth to her only child. she was engaged at the Théatre de L'Odéon, which had a less traditional repertoire than the Comédie Française. Her breakthrough came in 1868 with her performance of the troubadour Zanetto in a play by François Coppée. Numerous celebrities would pay her a visit in her dressing room, including Gustave Flaubert and George Sand, with whom she became friends. The play was also performed at the court of Napoleon III who sent her a brooch adorned with diamonds afterwards. The brooch would be lost in a fire that destroyed her Paris apartment, one of multiple personal tragedies in Bernhardt's tumultuous life. In 1915 her right leg was amputated after she developed gangrene.
Shortly after the Franco-Prussian war of 1870-71 Bernhardt returned to the Comédie Française, where she would go on to play some of the leading roles in French theatre. In 1873 she played the lead in Racine's Phèdre, which she would continue to perform for years to come as she toured around the world. In 1879 she performed for the first time in London, during a tour with the Comédie Française. Upon returning to Paris she left the Comédie Française after running into conflict with the company's director and assembled her own theatre troupe.
In 1880 Bernhardt toured the U.S. for the first time performing in 51 cities. She enjoyed huge critical and popular acclaim for her role as Marguerite Gautier in La Dame aux Camélias by Alexandre Dumas fils, a role she would continue to play twenty more times between 1884 and 1914. The tour earned her a minor fortune. She went on to create many more roles, as Théodora, Tosca, Gismonda, Cleopatra and Joan of Arc, and would return to the U.S. several more times. She also toured around Europe, Africa, Australia and South-America establishing herself as the first global celebrity. In France she earned the nickname "La Divine".
Bored by being typecast in tragic female roles and eager to take on more demanding roles she also played various male roles, including Hamlet. But her greatest role was herself. Bernhardt crafted her off-stage persona with as much care as her stage roles. In 1880 she had a photograph of herself taken while sleeping in a coffin, which added to her reputation for eccentricity. Throughout her life Bernhardt was the subject of many caricatures, some of which are included in the exhibition, but she also lent her image to advertising campaigns and sold branded merchandise.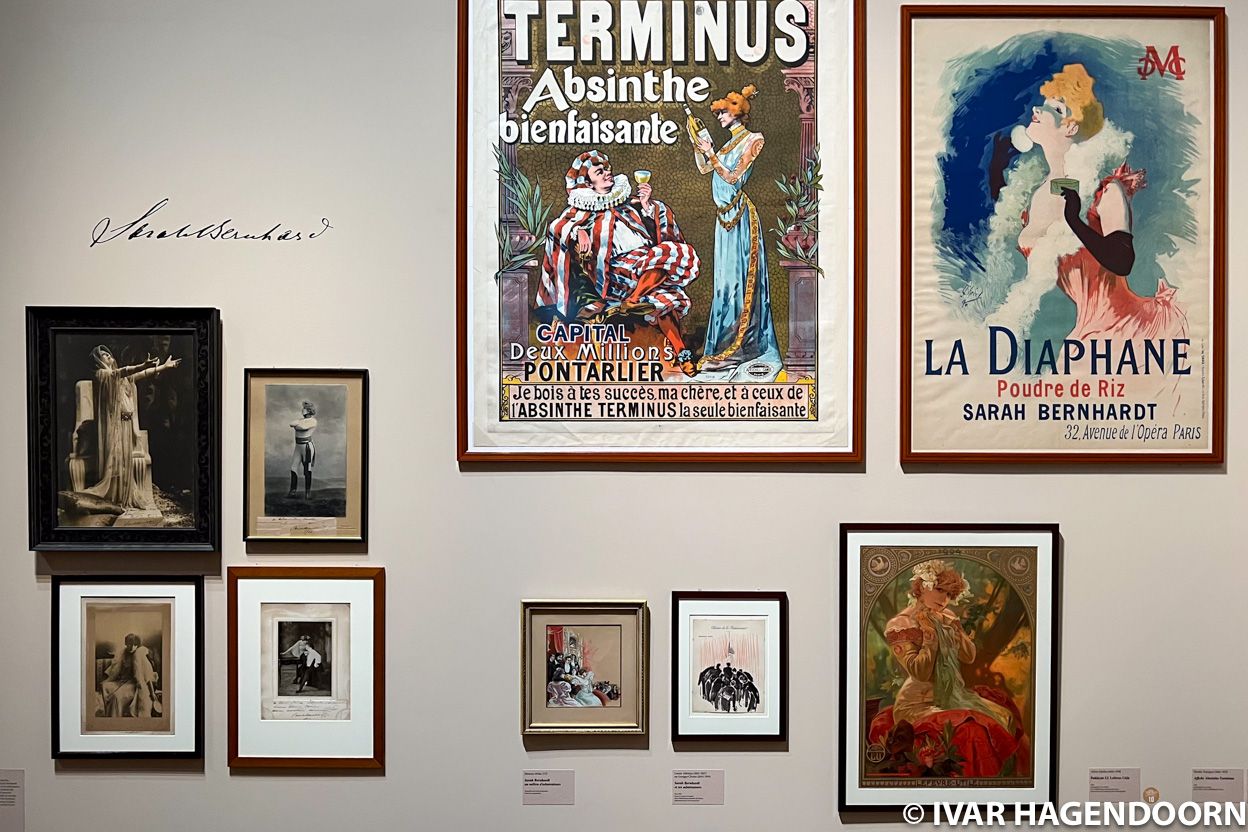 Sarah Bernhardt was known for her over-the-top death scenes and lavish lifestyle. She employed a large entourage of assistants and accumulated an extravagant collection of artworks and furniture. She also surrounded herself with a large number of pets. Whenever she ran into debt she would sell some of her jewelry and sign up for another lucrative tour abroad.
Sarah Bernhardt was more than a famous actress. She was also a businesswoman, a theatre director, a painter and a sculptor, but misogynic reviews prompted her to keep her work to herself after which they fell into oblivion. It's a real shame, because especially as a sculptor she definitely had talent. Bernhardt also wrote several books, about her life and the art of theatre.
The exhibition doubles as a survey of the fin de siècle and is not to be missed if you are in Paris this summer.
Sarah Bernhardt. Et la femme créa la star (And the Woman Created the Star) is at the Petit Palais in Paris until 27 August 2023.