Fauvism was the twentieth century's first and possibly also shortest avant-garde movement. With the works they produced between 1904 and 1908, Henri Matisse, André Derain, Maurice de Vlaminck and their friends paved the way for subsequent Modernist art movements, most notably Die Brücke and Cubism.
The exhibition Matisse, Derain and Friends. The Paris Avant-Garde 1904-1908 at the Kunstmuseum Basel documents the emergence and the heydays of Fauvism, before it gave way to other movements.
Fauvism has its origin at the École des Beaux-Arts in Paris. It was here that Henri Matisse, Albert Marquet, Charles Camoin, Henri Manguin and Jean Puy first met. The exhibition opens with some of the works they created as students as they experimented with new ways of representing the human figure. It is interesting to see that they also painted each other seated behind an easel while painting a model.
In 1900 André Derain and Maurice de Vlaminck became friends and rented a studio together in the Paris suburb of Chatou. When, in the winter of 1904, Matisse visited them, he realized that they were pursuing similar pictorial strategies. A few months later Matisse invited Derain to join him in Collioure in the South of France, where Matisse was spending the summer with his family. Over the course of summer Matisse and Derain developed a new visual language, which reconceptualized the relationship between light and shadow and between foreground and background.
When a selection of the 200 or so paintings and watercolours that Matisse and Derain had produced over summer were exhibited at the Salon d'Automne at the Grand Palais in Paris, public and critics were outraged. In a review the art critic Louis Vauxcelles referred to the artists as "les Fauves" or "the wild beasts" and thus the term Fauvism was born.
In the wake of the Salon scandal several other artists, most notably Kees van Dongen, Georges Braque and Raoul Dufy, sought to align themselves with the Fauves. For several years they would form a close knit circle until they all went their own way.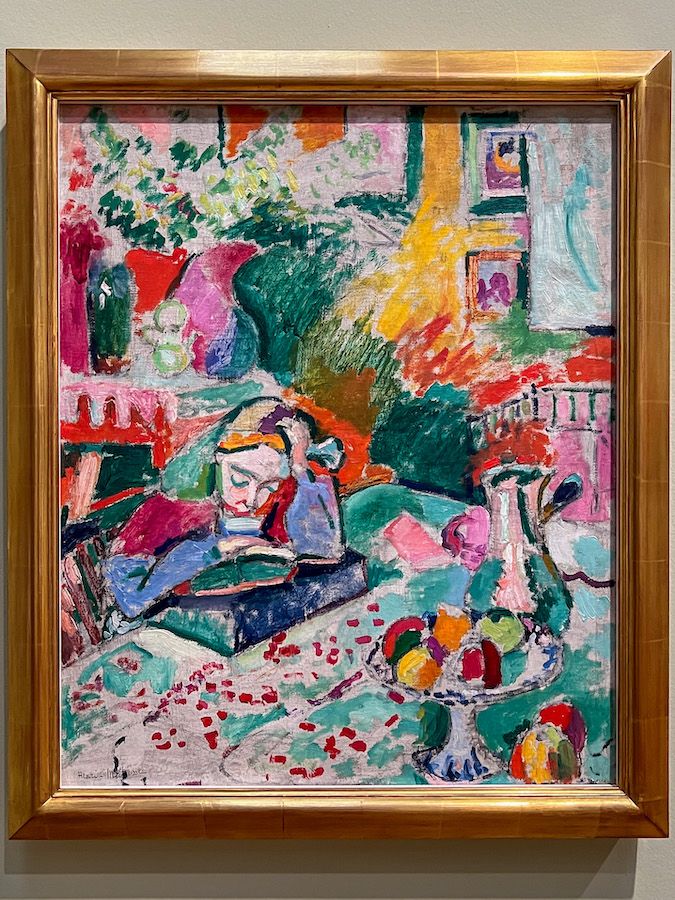 I found the exhibition mostly of art historical interest. The work of Matisse towers above that of Marquet, Camoin, Manguin and even Derain, De Vlaminck and Van Dongen. The highlights of the exhibition are The Red Carpets (1906) and Interior with a Young Girl (Girl Reading) (1905-06) by Matisse and Woman in a Chemise (1906) by Derain and Modjesko, Soprano Singer (1908) by Kees van Dongen.
Matisse, Derain and Friends. The Paris Avant-Garde 1904-1908 is at the Kunstmuseum Basel until 21 January 2024. Concurrently the Metropolitan Museum of Art in New York has organized an exhibition Vertigo of Color: Matisse, Derain, and the Origins of Fauvism, which is on until 21 January 2024.