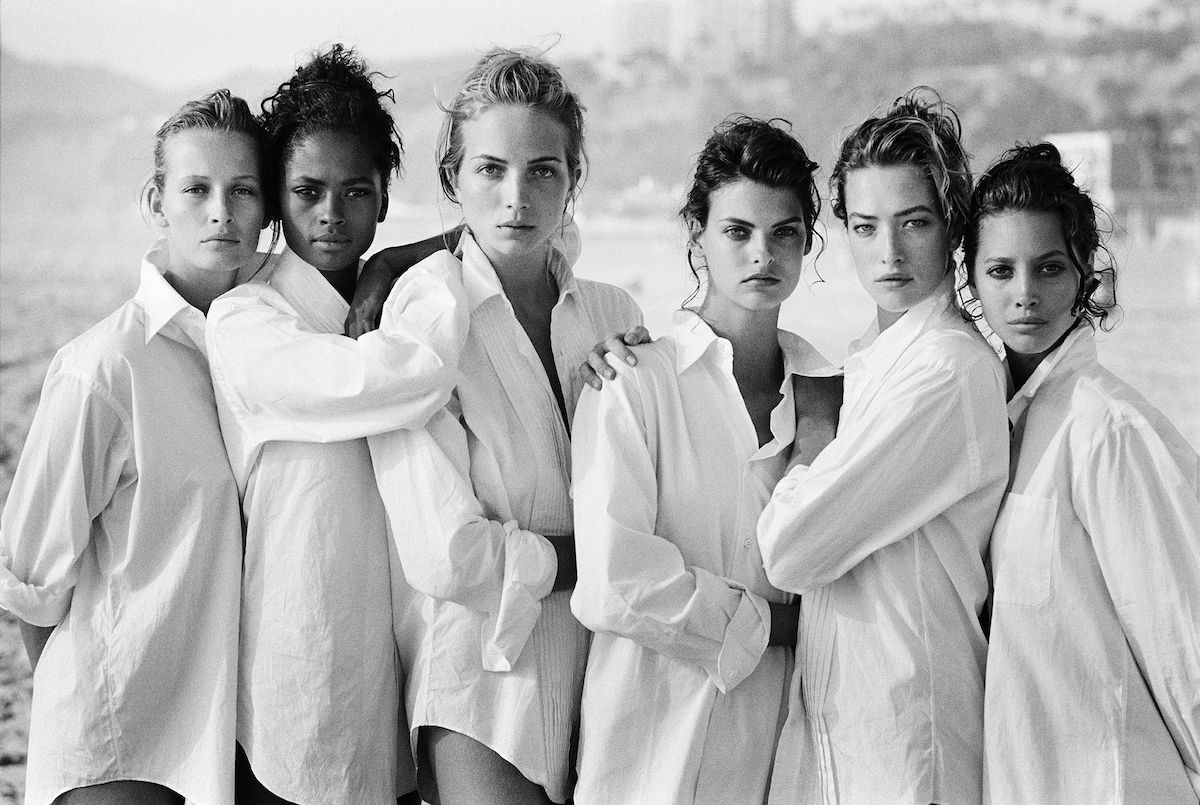 If you have opened a fashion magazine in the past twenty or thirty years you will be familiar with the work of Peter Lindbergh. Some of his photos of 90s supermodels, Linda Evangelista, Christy Turlington, Tatjana Patitz, Cindy Crawford and Naomi Campbell have become icons. Indeed, some of these models have become icons in part because of the work of Peter Lindbergh (and Steven Meisel).
The exhibition "Peter Lindbergh. A Different Vision On Fashion Photography" currently at the Kunsthal in Rotterdam (until 12 February 2017) offers an extensive survey of Peter Lindbergh's work and career. I enjoyed the exhibition, so much so that I even bought the catalogue. Even though I regularly look through some fashion magazines there were many photos on show that were new to me, such as Lindbergh's dance photos. The photos that I liked best were the choreographed group shots, which show that Lindbergh has an excellent eye for visual composition.
And yet, even after browsing the catalogue I find it hard to say what Lindbergh's different vision on fashion photography consists in. Whereas Steven Meisel and Nick Knight work in colour, Peter Lindbergh works mainly in black and white. But how does his work differ from that of, say, Richard Avedon and Irving Penn? I may be missing something, but I don't think of his work as different. This is not a criticism: a signature style can quickly become a gimmick and can easily be copied by other photographers.
What I did notice is that many models in Lindbergh's photos are smoking or holding a cigarette between their fingers. The exhibition could thus also have been called "Black and White Photos of Smoking Fashion Models". Either Lindbergh asked the models to light a cigarette, because he thought this would look interesting, casual, sexy or otherwise photogenic, for example, because the white of the cigarette provides a visual contrast with black clothes. Or perhaps the models were smoking and he didn't ask them to throw away their cigarette for the same reasons. In any case, once I'd noticed it took me awhile to un-notice and to just look at the photographs.
Why go to a photography exhibition when you can also view the photos in a book or a magazine? Indeed, why not browse Peter Lindbergh's website (which is a real treasure trove by the way)?  Why pay 12 euro to visit an exhibition? Years ago, after visiting a Guy Bourdin retrospective, I asked myself this same question. The question is as topical now as it was then, perhaps even more so.
The exhibition designers have pulled every trick from the photography exhibition textbook to make the exhibition worth going to: some photos are blown up to monumental proportions, one room has been turned into a dark room, another room has been covered from floor to ceiling with photos, yet another room has been decorated with shelving units and storage boxes. Lindbergh's old cameras, film rolls and sketch books are on display as well as other props such as an old passport. What I always find most interesting are the contact sheets, which show the photos that weren't published. Some photos are indeed "better" than others and sometimes an imperfect, out of focus, tilted photo has more power than a perfect photo.
After Rotterdam the exhibition will go on tour. If you're interested in fashion photography it is not to be missed. If you can't make it to the exhibition you can also buy the catalogue, or browse Peter Lindbergh's website, of course.
Peter Lindbergh. A Different Vision On Fashion Photography is at the Kunsthal in Rotterdam, until 12 February 2017.