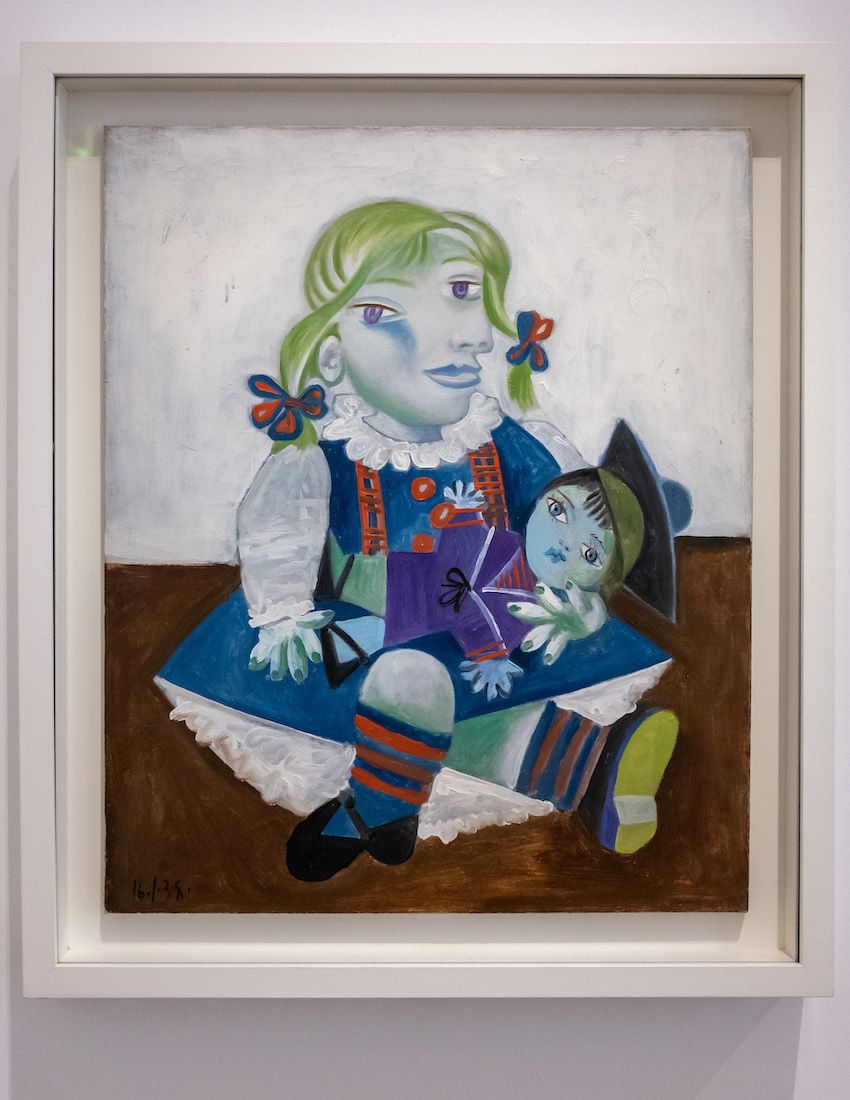 On the occasion of the donation of several works by Maya Ruiz-Picasso, in lieu of inheritance tax, the Musée Picasso has organized two exhibitions. One presents the works donated by Maya Ruiz-Picasso among the museum's permanent collection. The other is dedicated to the relationship between Maya Ruiz-Picasso and her father Pablo. In recent years Picasso has become one of my favourite artists. My bookshelves are adorned with postcard reproductions of his work. Needless to say that I greatly enjoyed both exhibitions.
The exhibition Maya Ruiz-Picasso, daughter of Pablo includes the portraits Picasso made of his daughter, various personal possessions and photographs, along with the sketchbooks and toys made from studio odds and ends, which Picasso made for his daughter and which are being shown here for the first time.
María de la Concepción, nicknamed Maya, was born on September 5, 1935. She is the first daughter of Pablo Picasso and Marie-Thérèse Walter. It is evident from the paintings that Picasso made during her childhood, fourteen in total, that he adored his daughter. Maya with a doll. Maya with a boat. Maya with a doll horse. Maya with a boat again. These brightly coloured paintings are a joy to behold. Looking at the drawings, paintings and sculptures, some of which were originally intended as toys for Maya to play with, I was once again struck by what an incredibly gifted artist Picasso was.
The exhibition also includes the sketchbooks and colouring books that Picasso created for his daughter when she was aged between five and seven. One page shows shows a drawing of a bowl by Picasso next to a drawing by his daughter. Another shows a clown and a princess, which were presumably coloured in by Maya. Given Picasso's interest in the theme of childhood the sketchbooks raise an interesting question: Who learned from who?
If you can't make it to the exhibition, it comes with a large, lusciously illustrated catalogue as well as a smaller catalogue.
Maya Ruiz-Picasso, daughter of Pablo is at the Musée Picasso, Paris until 31 December 2022.